Arch-Liar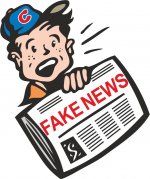 Sun, 03 Jul 2022
[Continuing the hymn-for-Sundays series]
Fake news! deceit and lies abound;
such poison everywhere is found:
misjudgments, rumours, slander stirs
up peaceful folk to angry wars.
So who enjoys to sow confusions,
false accusations and distortions?
and likes to mock truth, hide the light
to trick even families to fight?
Now truth can bring discomfort, pain,
rebuke, embarrass, cause us shame
– far better that than fake false peace
– let truth be grasped, and lying cease!
There is an evil prince of lies
who hates to see love kind and wise;
he hates the good Creator's plan
to bring good grace to troubled man.
But God is stronger and has won,
and that foul prince's end's begun.
He is restrained, full judgment sent
when our time's past to choose, repent.
Tune: LM