August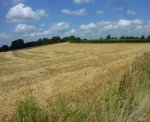 Thu, 13 Aug 2015
continuing the series on the months inspired by Eifion Wyn's series in Welsh:
The flower harvest of the spring
is past, now combines reap, to bring
the gold seed in that's multiplied,
and multitudes are well supplied.
The greenery's tired, its springtime flush
has dulled, the lengthening surge and rush
of plants that shot up thin and tall
has slowed, they wither, soon to fall.
The birds' songs hushed, nest duties ceased,
some moult, but all exploit the feast.
We soak the warmth of sunshine rays   
between the showers: school holidays.