Day of contrasts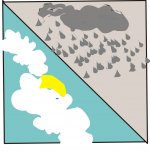 Fri, 27 Nov 2015
This I found, a bit uncompleted, from a couple of years ago.
as requested below – https://soundcloud.com/rhiannon-weber/day-of-contrasts
The morning was wet,
as wet as you get –
torrential rain
slamming, drumming,
making puddles to paddle.
We need to take the lady
from her house
for a hospital appointment –
door-to-door –
not much more than half a mile,
but in and out of a car
can seem very far
when you're 94
and can no longer dash
through the downfall and splash.
Then free for the afternoon –
what should we do?
a misty ride, then lunch for two …
the rain has stopped,
the grass is bright,
blue sky, leaves fly
refreshing wind blows by.
Find a lovely spot to walk, and talk
leafy carpet under beech trees, crunches,
sparkling Wye far below
viewed through autumnal branches.
Over wet soggy grass,
through avenue of trees,
flocks of birds flit by
but wont sit still
for us to identify.
home we ride,
the countryside
not now in that shroud
of mist and low cloud.