December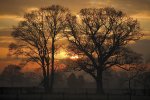 Mon, 14 Dec 2015
[last in the series that started with inspiration from the series in Welsh by Eifion Wyn]
Tired land, waiting
– waiting for its life to grow
again,
waiting for the snow
to clothe, and warm, transform;
silhouettes of sere trees on evening sky
– some graceful, symmetrical,
some tangled, meandering twigs –
all beautiful
raw-boned shapes held high aloft,
and lower down bright cushions velvety
of mosses, saturated, soft;
trunks with algal wash
of burnt orange rust
or bright green dust
smeared on with gentle brush,
fluffy greyish lichen tassel decorations,
and twig growth in contortions,
fungal distortions
– 'witches broom',
squirrels' dreys exposed,
old nests disclosed
and mistletoe orbs festoon;
metabolism resting, waiting
for the spring,
– like wise men, parched and longing
waited for the coming of the Saving King
new Life and love to bring.
It was suggested to try recording the series. Not sure how well I've done it, so don't feel obliged to listen! We have used the series on our friends/business calendar we make every year.
https://soundcloud.com/rhiannon-weber/a-glimpse-of-the-months-of-the-year