The Divine Exchange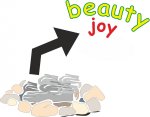 Sun, 24 May 2020
[Continuing the hymn-for-Sundays series]
Memory flashes
of happiness gone,
now only ashes –
dry, dreary, alone.
Bestowing a crown, see
grace, beauty transform –
beloved, and now happy,
his peace will adorn.
Poor, all seems hopeless –
given news that is good;
heart-broken, sadness –
hearts mended, their mood
is warmed, oiled with gladness;
the prisoners see light,
and captives leave darkness
they're freed from their plight.
Promised Messiah
awaited to bring
means and desire
that new life begin.
Displaying his splendour,
now many made strong,
despair turned to wonder
and praise fills their song.
Tune: 10 10 11 11
[Luke 4:16-21 and Isaiah 61:1-3]