Does Santa have a budget?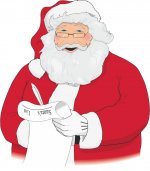 Tue, 26 Dec 2017
approx 7 and a half years old
"Why can't I ask him for
a horse … a bike … (or was it a car?) …"
(I didn't want a horse
or bike … [and certainly not a car!],
but
the question seemed to need answering).
Perplexed, embarrassed parents
didn't want a grasping,
materialistic daughter,
but how to draw her back to the appeal
of desires real
they knew she had …
within their budget?
Probably a year later
"If it's Mummy and Daddy not
fairies who bring the 'tooth money',
maybe it's they do Santa Claus."
'That's right, it is!'
Shock, bewilderment,
collapse of a comfortable world
of pretty magic,
resentful anger.
and the next day
'I hear you've been asking awkward questions!'
Hurt emotions,
feeling I've been made
a fool of, taken for a ride,
I spoke like a knife thrust
to cause discomfort,
heart-searching:
"If you told me lies about that
how can I know you haven't
told me lies about other things,
about Jesus, for instance …"
Upset mother shocked, but
thoughtful.
Despite the slight malice of the attack,
the honest outpouring
strengthened our good relationship.
[This week's IP: All I want for Christmas is …]