God at Work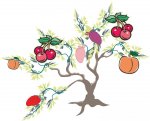 Sun, 15 Nov 2020
[Continuing the hymn-for-Sundays series]
Everyone who knows the Lord,
and is now a child of God,
God's own Spirit dwells within:
holy, hating every sin.
Changes in our lives he'll make:
holy fruit for Jesus' sake.
Love and joy and peace all grow
in each one that God loves so.
Patience, kindness, faithfulness,
self-control and gentleness
 – these, with goodness, all must be
part of joy and peace in me.
Tune: 77 77 'Gentle Jesus' by M E F Shaw
"But the fruit of the Spirit is love, joy, peace, patience, kindness, goodness, faithfulness, gentleness,  and self-control. Against such there is no law." Galatians 5:22,23