He put a new song in my mouth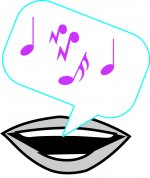 Sun, 22 Mar 2015
(Psalm 40:3)
Lifted from mire that sucks and grips,
set down to stand upon firm ground,
he placed a new song on my lips,
to sing of such a Saviour found –
such praises in my heart abound.
Some think him sham, or disbelieve,
and so his ways they scorn, resist,
but if my comfort you perceive
you may no longer shake a fist
at him you claim does not exist;
may turn to fear and love and trust
and find what great relief he brings,
the grace of One so kind and just:
your heart overflows, a new song springs
spontaneously with gladness sings.
Life is not easy while we're here
but he is with me to support,
– my Helper and Deliverer dear
can free when in temptations caught –
my pardon, grace on Calvary bought.
'I waited patiently for the Lord; he turned to me and heard my cry. He lifted me out of the slimy pit, out of the mud and mire; he set my feet on a rock and gave me a firm place to stand. He put a new song in my mouth, a hymn of praise to our God. Many will see and fear the Lord and put their trust in him. …
… the Lord takes thought for me. You are my help and my deliverer; you are my God, do not delay.' Psalm 40:1-3;17