Hostility Vanquished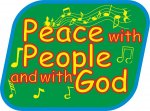 Sun, 14 Feb 2021
[Continuing the hymn-for-Sundays series]
Peace, Christ our Peace;
God's people can display
how men can live in harmony today.
Peace: Christ destroyed
the wall dividing Jew
from Gentile; breaks down other barriers too.
Christ bore our dues
and all must come through him
for mercy, grace, redemption from their sin.
These, these are those
who now have peace with God;
a Friend, in fellowship, one with their Lord.
All made anew;
Christ recreates each one
who comes to him – the work of peace begun.
Made one in him,
real unity at last;
though different backgrounds, types: the hatred's passed.
Peace, peace with God;
among each other, peace;
remaining flaws, temptations, soon will cease.
'For he himself is our peace, who has made the two one and has destroyed the barrier, the dividing wall of hostility' Ephesians 2:14
Tune: 4 6 10 (ie 10 10) eg Pax Tecum