Proclaiming – 'til he comes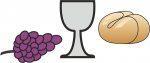 Sun, 05 Mar 2017
[Continuing the hymn-for-Sundays series]
He gave them bread to eat
to symbolise his death,
his body broken for their sakes,
his mission on the earth.
The cup of wine he shared
to symbolise his blood
poured out to bring forgiveness, peace
– new covenant with God.
These emblems we partake
should help remember him –
proclaiming thus his death until
he comes again, as King.
"Do this in remembrance of me … whenever you eat this bread and drink this cup, you proclaim the Lord's death until he comes.' 1 Corinthians 11: 24, 26
Tune: SM eg 'Franconia' tune of 'Blest are the pure in heart'