Ruth speaks …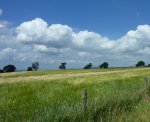 Thu, 14 Jul 2016
1 likes
(based on the book, 'Ruth' in the Bible)
They came here from Judah,
for scarceness of food
was making life hard.
They were hoping for good
in Moab. I married a son,
and slowly I learned
of the God they had known:
his saving provisions,
but hardships, afflictions
when his people forgot
and assumed that their lot
would always be pleasant
however they lived.
[When they realised they'd grieved
their holy Protector who
loved them so dearly,
and they showed they were clearly
sorry, and properly prayed
he helped and he rescued
and mercy displayed.]
The father, he'd died,
soon Mahlon died too,
and also his brother;
my mother-in-law wondered
what then she should do:
she heard things were better
in Judah, now blessed
with food, so decided
to return, but she stressed
my sister-in-law, Orpah
and I should abide,
stay here, but she prayed
God would kindly provide
us husbands anew.
But now I could see
her faith and her God,
and I chose that they'd be
mine also, and so
I stayed with her, went with her
to help her, we both
would lean on this Saviour,
in life and in death.*
*******
Arriving in Bethlehem,
as harvest began,
I went to glean grain
in the field of a man
named Boaz, who proved
to be thoughtful and kind
and ordered protection
and made sure I would find
plenty of stalks
left-over to thresh.
He had heard how I'd
stayed with Naomi
and trusted their God.
She knew him to be
a kinsman-redeemer
who could be allowed to
support us, accepting
me now as his wife,
and buying their family's
land. And my life
with him has been blessed
and happy, so glad
I found refuge and rest
and a share in God's care.
*Ruth replied, "Don't urge me to leave you or to turn back from you. Where you go I will go, and where you stay I will stay. Your people will be my people and your God my God." Ruth 1:16