Safe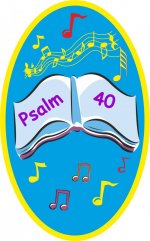 Sun, 28 May 2017
[Continuing the hymn-for-Sundays series]
on Psalm 40
The pit I remember, the slime and the mire,
with cries to the Lord as the troubles rose higher:
I waited in trust, and he heard me, and raised
up on to the rock – those who saw were amazed!
My heart now must sing, praise to him bring,
this song he has placed in my mouth, I will sing.
A body prepared, with a listening ear,
and Jesus came, lived as a Saviour so dear
whose sacrifice is all-sufficient to save:
now we love his law, while delighting to serve.
And now once again, many troubles surround,
my sins overwhelm me, my fears abound.
I'm poor and I'm needy, Lord, do not delay,
– think on me, deliver in mercy, I pray.
May all those who seek him, our Saviour, rejoice,
who love his salvation, lift up heart and voice,
and praise him forever – we cannot full well
recount all his blessings – too many to tell!
Tune: 11 11 11 11+ eg Shelter, by Ira D Sankey, tune 'O safe to the Rock that is higher than I''