Seasonal Provision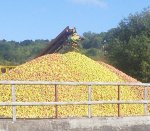 Sun, 27 Sep 2015
[Continuing the idea of one of my old hymns on Sundays:]
Through the winter's cold and snows,
trees are leafless, nothing grows,
– God has promised he will bring,
welcome warmth, return of spring!
DOWN come the showers,
UP come the flowers,
peas, fruit, potatoes,            
and crops the farmer grows!
Times of famine, time to share
all God gives, if we can spare,
we can help those who need more,
if we've plenty in our store.
Now it's autumn, and we're glad
for the harvest we have had,
crops, potatoes, wheat have grown,
– thank the Lord for kindness shown.
Tune:77 77+ eg  Jesus loves me W B Bradbury