Through turmoil …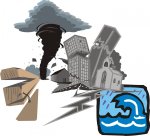 Sun, 03 Jul 2016
[Continuing the idea of a hymn for Sundays]
Our God is our refuge, our shelter and strength,
he's with us wherever we are;
he does not demand we appeal at great length –
never fickle, but faithfully near.
    Mighty LORD, with us now,
    mighty LORD, with us now, ever near.
Whatever the trouble, whatever is wrong,
if crashing upheavals surround,
things stable may fail that have lasted so long –
but the help of our God will abound.
Within, ever present, the One over all –
don't worry, we need never fear.
His people, the dwelling of God, cannot fall –
streams of grace will invigorate, cheer.
See nations in uproar, but judgement and peace,
the plans God has made will succeed,
collapsing regimes – one day fighting will cease,
for soon Christ will be Ruler indeed!
Exalted and honoured throughout all the earth:
be still in your troubles, and know
that he is the Lord God almighty; by faith,
in our fortress kept safe from the foe.
Tune: 11 8 11 8 + eg It is well by Philip P Bliss
"God is our refuge and strength, an ever-present help in trouble. Therefore we will not fear, though the earth give way and the mountains fall into the heart of the sea … There is a river whose streams make glad the city of God … God is within her, she will not fall … Nations are in uproar, kingdoms fall; he lifts his voice, the earth melts … He makes wars to cease to the ends of the earth … Be still and know that I am God; I will be exalted among the nations … The LORD Almighty is with us, the God of Jacob is our fortress."  from Psalm 46