Universal HoneyTraps (IP)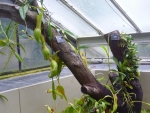 Tue, 14 Jan 2014
Sugar Coatings
[pic: pitcher plant at Kew]
Skill that's subtle, clever, deft
puts attractive gloss on theft,
drugs, unfaithfulness, and lies
– to stir desire, and please the eyes …
Place a toe in entrance wide,
slipping in a plunging slide –
Where's the promised thrill, excitement?
Turning bitter in a moment.
Can I struggle back on top?
– flounder, struggle, fall and flop.
Cannot clamber out unless
assistance strong lifts from distress
– more powerful than the one so caught:
help's at hand, but seldom sought.
"Food gained by fraud tastes sweet to a man, but he ends up with a mouth full of gravel." Proverbs 20:17
[This week's IP: The Honeytrap]