What Dreams?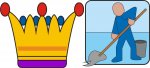 Sat, 21 Apr 2018
His megalomanic dreams of power
were crushed the hour
one stamped upon his schemes.
Her dreams of fame
collapsed again –
so many sought that gain –
their tread was soft,
but broke them all the same.
He dreamed of usefulness –
support through weariness,
to cheer the loneliness:
his dreams were mocked,
not crushed, or rocked,
no competition
for fulfilment's satisfaction
and reward:
they softly trod,
so glad that he would undertake
the effort of compassion.
[IP:  ''Tread softly because you tread on my dreams']