Relics of the Gods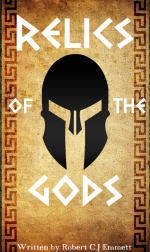 Tue, 23 Feb 2021
Walking through the village, Atheas turns to Sirosa and asks, "Sirosa
please tell me about your parents, your mother what is she like" she asks.
Sirosa replies, "my mother is an amazing woman, she is a skilled weaver and cook, always looking after me, as for my father, I do not know him as he left before I was born, but my mother tells me he was one of the strongest men she had ever seen fight and a very smart man always planning ahead, she didn't know him that well as he was only around for a few weeks when he met my mother, he left me my shield, it was his as a boy growing up she told me, he gave it to my mother for me before I was born, he told her as long as I had his shield he would always be with me, and always help me in times of need, and it was true whenever I go to battle my father's shield is the one thing I always have and it has protected me in every single fight". Did she ever tell you his name or
where he came from?" She asked. "No, she was always very secretive about those details she always thought if I found out and decided to leave one day, she feared I would never come back if I found him, I always wondered why she thought that, I could never leave her, she has always looked after me and raised me right", "I wonder why she didn't want you to know who he was", said Atheas.
As the two walk further into the village Sirosa asks Atheas about her father and why would he just disappear like that without letting anyone know, her reply is simple, "I do not know, my father was always a man of openness, he never kept secrets from his family especially my mother, that is what I find strange, that he didn't tell my mother he was leaving", Atheas is still unsure whether to tell Sirosa about Cyrus the Younger coming to see her father the night before he vanished, that would be very bad news for Lysander, but what would make it worse is Sirosa finding out that it was Lysander who invited him into Sparta and his home that night to discuss something very secretive.
As they walk further into the village Atheas overhears a local merchant whisper to his friend "it was him, it was Lysander", Atheas immediately runs to the man and asked, "where! Where did you see him, when did you see him", grabbing the man by his clothes and shaking him, "where did you see him!" she asks again, "get off me, you're crazy", the merchant says to her, "I don't know what you're talking about, have I seen who?" He asks. "Lysander, now tell me where and when did you see him?", "oh yes Lysander, yes I seen him two days ago outside the walls with a very shady looking fellow dressed with a black cloak, they didn't look to be talking very friendly", "why would you say that", Atheas asked, "because Lysander killed him with one strike of his sword", "did you hear what they were talking about" she asks, "Afraid not I was too far away I could just see there was an argument and Lysander unsheathe his sword and struck the man down", "did you see which way he went after the argument? Please I need to find him", she pleads with the man. "sure, he was heading towards the black trail to Athens, But if you're going to follow him I would be careful of the black trail, it is home to some of the vilest creatures known to Greece, some say they have seen hundreds of suffering statues along the black trail", the merchant says.
"Ok so we know which way he went we need to move" Atheas says to Sirosa, "no, Atheas we need to rest, it is nearly night fall and we need to sleep and I don't know about you but I'm starving, I could do with a big bowl of black broth right about now", Atheas then realises that all of a sudden  her stomach is growling at her like two wolfs fighting, "oh eh yeah I could do with some food too", "ok great" says Sirosa, "we should find a tavern for the night so we can get some rest and food". They find a tavern for the night and settle in after a nice bowl of black broth and bread, they spend some time drinking wine and discussing different topics throughout the night, they then go up the stairs in to their rooms, Atheas settles into her bed and in the room next to her, she can hear the snores of Sirosa so loud it is shaking her bed, she rolls over and covers her head with her pillow, but it doesn't make a difference, "ahhhh shut up!", she screams, but Sirosa doesn't hear her in fact the snoring gets worse.
After a sleepless night for Atheas and a great sleep for Sirosa they are ready to get started and make their way to the black trail to Athens, they head back to the sewer to collect their weapons and realise they need to stock up on supplies, so they go back into the village and stock up on more bread and cheese, finally they can make their way out of Argos and make their way to the black trail. As Atheas and Sirosa crawl out of the sewer from where they entered once again covered up to their knees in urine and excrement, they get themselves organised for a long trip through the black trail to Athens, "how long is the journey to Athens" asks Atheas, "it will take us 4 days to make it to Athens", Says Sirosa, "the black trail is not an easy journey I have been told, there is all manner of creatures and beasts lingering there so they will not make our journey easy, maybe if we quietly make our way through we can go undetected, it is surrounded by mountains so if we stay off the main track we should be fine, no one will be expecting us to travel off track, ok let's go", says Sirosa. As they approach the entrance to the black trail, both are amazed by its sights, mountains left and right as far as they eye can see, and the path is made of stone and gravel, blackened by the lack of sunlight and dust produced by the mountains, as they make their way through the black trail, they see hundreds of stone statues of people with sad and painful faces, all lining the trail and scattered around the mountains for miles and miles.
Atheas suddenly gets a rather odd smell of something, "oh what is that smell", she says, "wow that is very stro-", "ssh, be quiet", says Sirosa. "That is the smell of snake's skin Atheas. We are close to medusas lair, that would explain all the statues we keep passing, all those statues were once people, petrified by medusa, we need to be very careful until the smell is gone". "What? Medusa!", she asks, "yes", Sirosa replies, "she is one of the gorgon sisters, there are three, her sisters Euryale and Stheno, the two older gorgons were born as gorgons unlike medusa, she was born the most beautiful woman in all of Greece, until she had a love affair with Poseidon in the temple of Athena, Athena was so outraged by this she turned medusa into the monster we now know, Writhing snakes were entwining her head in place of her hair, her face was deformed to be the most hideous in Greece, bronze hands and gold wings, her lower body also transformed to the body of a snake, if you are to look at the face of medusa it would turn any man to stone.
We need to be extremely careful passing through her lair, if she hears us passing we will not survive", said Sirosa, as they walk further into the black trail the smell becomes stronger and stronger, slowly moving, being so careful not to make noise, they come to a bend in the trail and the smell is so strong now they can barely stand it, as they turn the corner they both gasp, sitting on a rock is medusa pulling and biting at what seems to look like a dead goat, they cannot be sure as there is so much blood they cannot tell, as they get closer they realise the carcass is a Satyr, half man half goat, as medusa is occupied by her food they try to sneak around her before they are noticed, as they try to sneak past, Sirosa steps on a small pile of stones and makes a rustling noise, they freeze in their tracks hoping that medusa did not hear, the noise attracts the attention of the snakes on her head but medusa continues eating the satyr, her snakes continue to scour the area for where the noise had come from, hoping the snakes do not alert medusa to them they remain perfectly still and wait for the noise of the hissing to fade away, after a minute or two the snakes turn back to medusa and watch as she finishes her food. "That was a close one" said Sirosa, they continue to walk around medusa and manage to get by just in time before she finished her food, they reach the end of her lair and start to walk faster and faster, as there is no sign of medusa, they continue to walk fast eventually starting to run, they reach an opening as big as a town, still surrounded by the mountains, they decide to find a place to rest for the night and set up camp.
The next morning, they pack their things and start off again hoping that this will be their last day on the black trail, walking now for some hours Atheas turns to Sirosa and asks, "how will we know we are coming to the end of the black trail?" Sirosa replies, "we will see a giant statue of Athena in the distance, she had it erected to remind medusa that this is where she belongs forever, once we see that statue we will be close to the end of the black trail, just past the statue is the temple of Athena, where medusa once had the love affair with Poseidon", "wow" said Atheas, "the gods can be very cruel, being reminded of what you are everyday by a statue of the person who made you what you are", "yes, the gods can be cruel" said Sirosa. As they reach the end of the black trail, in the background is an enormous statue of Athena, at least one hundred feet tall, Athena is standing with spear in her right hand and her shield in the left hand in her full battle Armor, as it is almost a threat to medusa, to never leave the black trail.
They reach the end of the black trail and in the distance, they can see the temple of Athena just through the legs of the statue, "we only have another mile or two to go", said Atheas. "Let's get moving then", replied Sirosa and they make their way to the statue and to the temple of Athena. In front of them is a vast Greenland of plush shrubs and flowers, in the distance to the left you can see a beautiful waterfall coming from the mountains and to the right in the far distance you can just about make out the city of Athens.