A Quality of inertia (WIP)

Image: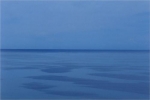 Sat, 30 Nov 2019
It was Crowe's kind of ride, neither he nor the taxi driver spoke. Their silence was broken by the sporadic bursts from the Satnav. Crowe flicked his eyes across the laminated ID – the driver's name was Precious. Like her photo her braids were piled high on her head. A thick-beaded wooden rosary swung from the mirror. An adhesive 3-D Jesus doled out a plastic benediction just above the glove compartment. Precious reached out a bejewelled finger and turned on the radio. A gold watch shimmered on her ebony skin. Crowe tried to block out the midday talk show. Newly appointed Minister of Justice, Noreen Gartland feinting awkward questions about police corruption expressed her 'unequivocal support' for the force, all brisk and business-like. Crowe folded his arms and allowed her increasing ire at the talk show host lull him into a doze. The city's pale of suburbs gave way to the southbound motorway that siphoned off twelve junctions later to a dual carriageway that dog-legged onto a secondary road. Dilapidated lines of greenhouses fell away into large tracts of grass and gorse. The roads, pitted with potholes became narrower, flanked by unkempt trees and hedgerows. Two bedraggled roundabouts later, they were on the main street of Róscarraig. TO LET signs hung over a line of shuttered premises in decrepit defiance. A default layout of careworn church, local community centre, flanked by pubs, Chinese takeaways, Polski Sklep, Post Office and bookies, offered all the basics. A family supermarket festooned with floral hanging baskets made a heroic attempt at a little local colour. Its wares were proffered on trestles beneath old-fashioned shop front writing that read in white – 'Today's specials'.
It was a town dismal and forgotten; out of time and out of luck, thought Crowe.
His destination, Gallagher Estates had a collage of hopeful lettings and sales in its polished shopfront window. The façade though was pock-marked with flaking paintwork and darkened by years of HGV diesel fumes. The paving at the front had a dip that could twist the ankle of the unwary gave the building the air of sagging slowly into the ground. Gallagher himself came out to meet the taxi. He practically wrenched the passenger door off.
                "Gallagher, Derry Gallagher."
Crowe peeled a few notes including a generous tip for Precious. He appreciated the silence. 
"Grateful for your help, too – John." He offered Gallagher a hand. Gallagher's grip was strong but sweat-fuelled.
Precious stayed put. Crowe fished his big sports holdall and a newly acquired backpack out of the boot.
            "You alright?" asked Gallagher.
Crowe shifted the weight of his holdall – it contained his world.
            "You look like you've come to relax," said Gallagher.
            "I've come here to recover," replied Crowe.
            "I can see that." said Gallagher. His laugh seemed to emanate from some sort of respiratory condition, "But discretion is my watch-word. Yesssir, dis-cretion."
Gallagher tipped a wink. His dense grey eyebrows were neatly trimmed to match his thinning business-cut hair.
They watched the taxi leave. A spring breeze idled up the main street, cutting to the bone.
            "Quigley told me it was important. I've given my secretary Hilary an extended lunch. We can talk in the privacy of my office, John. Is it Pius, John or Podge?"
            "John."
            "John it is then, if you would follow me please," said Gallagher.
Derry Gallagher was average in height, but feminine at the hip and gait. His well-pressed suit was a decade out of date with a bow tie that would give a circus clown a serious run for his money. Shrugging off his jacket, and hanging it from an antique stand, large sweat pools clung to the armpits of his shirt. The office was small, painted in faded tangerine and gave off a strange mix of damp, strong perfume and Chinese food farts. A coffee pod machine pulsed in black and chrome with a stack of disposable cups. Gallagher's chair, a vast black leather throne squeaked as he sat at his desk. He tapped his laptop keyboard as if he were headlining Carnegie Hall.
            "Help yourself to coffee," said Gallagher.
Crowe was already at the machine. He crushed rather than inserted the pod. Viscous black coffee oozed into the cup.
            "How is that old reprobate Quigs, still singing?"
            "Haven't seen him in in years, to be honest. Think so, yes," said Crowe.
There was a basic high-backed chair facing the desk, Derry Gallagher liked to conduct brisk business. The wood sighed under Crowe's weight.
Gallagher peered closely at his screen and stabbed the print key. A small cream-coloured printer at his elbow began whirring into life. A plastic container of disinfectant wipes kept the desk studiously clean. Gallagher gave the laptop a hearty wipe. No rings but a solid block of metal watch peeped out of starched cuffs and links in the shape of golf balls. The desk beside him, Hilary's, was a shining testament to optimism; perched on top of the monitor was a small soft toy – a reindeer with a red 'Merry Christmas' jumper. Dotted around the keyboard was the usual feminine armoury of hand-moisturiser tubes, water bottles, tidy pen holder and a lip-stick stained pint glass. Pinned to a single cubicle wall that separated them was a remembrance card with a smiling old lady framed in oval with a dove above her head. Beside it was a recent photograph of a Labrador dog. A desk telephone was blinking a missed call. Like Gallagher's desk it was an obsessive-compulsive's picture postcard.
            "I have a small garret, modest. I'll be brutally honest, John, you'd kill the cat swinging it. But it's out of the way of prying eyes."
He arched a conspiratorial eyebrow,
            "How do you want to play this, John – off the books?"
            "Preferably, less paper the better – cash?"
            "Of course, now, John, with the summer season approaching, it will become a premium Airbnb let after June. Double the rental in fact."
Crowe thought about the ten unanswered texts to Sinead and Cathal. Separation papers were probably migrating across Dublin, flocking with the circling lawsuits, seeking him slowly out. He looked at the calendar over Gallagher's shoulder nailed to a corkboard with curling multi-coloured post-its and a crumpled looking taxi flyer. It was the second last week of April.
May, June, July.
            "I can give you three thousand. Cash. Right now. Covers me 'till end of August." He said.
Derry Gallagher grinned. His teeth were unusually bright amid the tan lines.
            "That would certainly do it."
He handed Crowe the print-out of the lease. Crowe stood and opened a money belt. It seemed to offer underwire support to his gut.
            "If I'm left alone and no details appear suddenly on Twitter or any other social media platform, I can guarantee a bonus at the end of the lease."
Gallagher nodded. Quigley had too much on him to allow anything like that to happen to Crowe.
            "I can recommend the golf course here," said Gallagher.
            "Don't play it," replied Crowe.
            "Man should have a hobby – there's the library here, a good one, so I'm told. We have a local GAA club, a rowing club on the outskirts, but that's about it."
            "Garda station?"
            "Closed down years ago. Cutbacks," replied Gallagher, "Never really a need for one in this town. Migrants are seasonal and keep themselves to themselves. Gets a bit rowdy on St Patrick's Day. The old cop-shop, sorry, station is now a scout hall."
"Bank? ATM?"
            "Closed after the crash, there's an AIB and a credit union in the next town. It's mostly farmers and market growers around here – cash under the mattress; old school, spit on a handshake." This amused Gallagher as he mimicked the gesture.
Crowe declined to enter the improv. He kept his arms folded. He wondered if Gallagher's safe had shelf space for rent.
            "Internet?"
            "Utterly shite, John, might as well try to dial up. Broadband roll-out like everything else passed us by. Card machines take forever, so business here is mostly cashmoneyboss."
Gallagher's Louth cadences mashed into mock-itinerant.
            "I see Quigley is the owner / occupier on the lease?"
            "Yep. He bought it ten years ago."
Trust Quigley to find somewhere completely anonymous and practically off-the-grid in twenty-first century Ireland.
            "Electric or gas?"
            "Both."
            "Alarm?"
            "A fob comes with the keys. I can arrange a cleaner."
            "No need. Best place to eat?"
Gallagher's laugh echoed,
            "Usual haute cuisine of burgers and chips or cattery-chow-mein if that's your thing, though a new Café has opened facing the Harbour – The Boogie-Woogie, great open prawn sandwiches."
Derry Gallagher rose and put Crowe's cash in the safe. A potted plant stood proudly verdant beside a water sprayer.
Looking back at Crowe, Gallagher saw a man who seemed to have pulled his wardrobe out of a charity shop donation bag. Ragged black peak cap, stained olive cargo pants, cheap running shoes and formless t-shirt peeping out of an unwashed fleece; a man with his entire existence stuffed into pockets and bags. Backlit by the sunny street, Quigley's ward looked like a paper-jammed photocopy with the toner running out. A man who had crossed the edge a long time ago.
Gallagher would have to give the chair a good lash of the wipes once he'd gone.
            "Tell you what, John, I'll take you out for lunch, show you around and then take you to your new digs. My shout." Derry Gallagher laughed asthmatically at this for some reason.
Crowe wondered how many more rubs he'd get off the lamp, before 'Quigs' Quigley would shut up shop and cut him loose to fend for himself.
            "Love to," he said.
Parked on a side street, Gallagher's Lexus had seen better days. Though it was spruce and valeted, the tyres were balding, and the tax disk was a month out of date. Without too many Gards venturing out this far, he'd probably get away with it for another few weeks. The comfortable interior gave off that faint waft of sweat, damp and flatulence that seemed to accompany Derry Gallagher as his calling card.
            "Eleven years ago, Róscarra ig had a population of fifteen hundred. Today, its ten thousand – mostly starter homes. It's a ghost town between seven am and five-thirty."
Gallagher did a slow circuit of the town. The main street wove past a stone horseshoe harbour with a few small fishing boats and larger trawlers moored. A latticework of ropes held them tightly to the wall. The road meandered along lines of fields where labourers toiled in bright day-glo amid muddied John Deeres and canvas sided trailers. It snaked along the coast for several miles. Long lines of houses, builds and estates were pocketed suddenly amid the fields, giving the whole town a loosely assembled appearance. A train station and an Aldi supermarket marked the town's outer boundary. A simple graveyard with a ruined old church marked the limits and the road disappeared over a rise to the next town.
Crowe glanced at his watch only to remember he didn't have one.
            "It's a small fishing town, really. If you're up early enough you can purchase some of the catch when the boats come in. And over this rise, the piece de resistance; Inis-Carraig," said Gallagher.
Gallagher pulled up to a dusty, worn-out siding bordered by nettles. He lowered his window.
It was a large island, several miles across. A Martello Tower and compact old house were visible at the western lee. Behind it, shrouded in a mist was another small island and close to the horizon the black barber pole markings of an automated light house. Fishing boats bisected the channel between Inis-Carraig and the mainland, laying out nets and lobster pots. Orange markers bobbed in the currents. The sun fought its way through the gloom dappling the island in yellows, greens and rich ambers. Crowe filled his lungs with sea air. The possibility of summer rolled around his chest.
Gallagher viewed the island like an unrequited love,
            "It's owned by the Canadian property billionaire, Richard Norcott."
            "Never heard of him," said Crowe.
            "Don't you read the papers, or the internet? Oh, yes, sorry – ignore the internet,"
Crowe found Gallagher's lack of personal space and giddy laugh irritating.
            "Messy divorce, wife wants half his billions, new high-maintenance squeeze and Inis-Carraig is on the negotiating table, rumour has it."
Crowe sensed Gallagher was drooling over his shoulder.   
            "Now, I'm starving – let's hit the Boogie-Woogie Café," boomed Gallagher.
He launched the Lexus into a sharp reverse without checking his mirrors. Grinding the gears, Gallagher slid the car onto the road and accelerated toward the town.
Having a cop riding shotgun must've made him think he was on TV, thought Crowe.
The stone harbour came into view.