24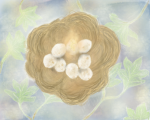 Fri, 30 Mar 2018
Heartbeats.
That's how many there were.
Ever.
24.
And each one different.
I remember each one as if it had its own life, its own will.
And I remember her diamond-bright eyes.
I remember a winter's day.
A winter numbness.
A nakedness of trees,
And a certainty that spring would never come again.
Words spoken over a tiny gap in the earth,
Over a silken, sunset-coloured jar.
Words that couldn't penetrate my walled heart.
Fell down off a branch I suppose.
I stoop to pick it up,
To see the little oval capsules of life.
A tiny crack slips through one of them.
I secure it up amongst the branches, cover it, wish for its safety:
Here's your chance, do your best.
Look up and notice:
Blossoms.
Picture credit/discredit: author's own work