This Darkness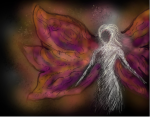 Sun, 11 Dec 2016
I'm born from a purple, twilit sky. I rise when the sun falls. I will sink – I know this somehow – when the sun wakes again. In between: this darkness.
This darkness will be the only thing I know. But I don't know enough to mourn, just to stretch out in it, unfurl; to let my birthwet soul dry in this drugged, dark air. I rest, crouched, while my soul flares out around me, I watch the sky, watch the last shades of copper drain from its depths, watch purple deepen into black. The stars fade into its face, white and tiny.
This world is a thing of sound – I can hear and feel it; vibrations come up through the ground, through limbs as yet made of air. I can hear the clash, and the melody – the rumble of rough, metal beasts; the equations that underpin competing musics. Staccato beeping, a harsh shriek, a flickering patchwork of underlying sounds, too many to absorb at once.
But I learn. These metal beasts are hollow conveyances for the flesh kings who rule here. The patchwork pattern is stitched together from voices, words. Thoughts drift out at me just as voices do. Crude and complex. A jumble. There's a red chaos inside there. A shouted voice calls: "I'll catch you later" - a thought makes the harmony: don't leave me, don't leave me. The figure who called is draped all in white, and in a sand-like colour, red at the feet, soft curly yellow on top. A man – or so the floating thoughts describe him. He leans against a post, waving toward another figure, his face is cut in half with a smile, a mouth full of teeth and laughing: his thoughts are ragged with confusions and griefs – layers of them, ending in this moment, stretching back hundreds and thousands of moments, linking up with old, old threads of memory.
All around me are buildings: dark; dappled with patches of heat and light; their shadows are sometimes less dark than they are. Streetlights cast their own shadows – yellow against the dirty black of night. Coloured lights stream across dark ground. A thousand footsteps parade over them – a cacophany of shoes in different colours. Bare feet in spite of the cold.
My soul flares around me, reds and oranges, citrus and gold, fire and clay. Wings. Petals. I'm a tiny thing inside it, waiting to be formed. More possibilities than truths. To my own sight I'm as bright as a sun, but I know none of these ones can see me.
I stand fragile in air that is thick with sounds, saturated with the thoughts and feelings of the flesh beings who move all around me. They're never still, these new creatures, and their minds are even less still. Their emotions drench the air – happy, sad, tired, angry, hateful, frightened, confused. More dark than light in them, the light and dark so entangled that new colours are perpetually conceived there. These flesh kings: so full with feeling. I feel like it must be drowning them, like it would drown me too if I venture too close.
They flutter along, all in bright colours. Moving about in packs. Making noises that I know to be laughter and conversation, pulling melodies out of the air, a thing that I learn to call 'song,' which is subtly and perfectly different from speech.
Thoughts reach me at a different pitch. A different resonance, a different shape of wave. At first so infused with speech that I can hardly tell them apart. But one is for the self; the other is for the world. I think flesh makes a barrier, letting only words inside, insulating these creatures from the pain and immediacy of what those around them are thinking. But I am all air and fire – ether and void – no flesh to give warmth nor armour, so their thoughts reach me unhindered.
Will she leave me? Will she leave me if I tell her?
Where does it end? How will it, when will it, ever turn around? When do I get my chance?
I hate her!
I love her so much. I wonder if she knows.
…three, four, five.... no, wait, start again... one....
Each thought gives me new understanding. I flow through them – bodies and souls – absorbing the electric feeling of their consciousness, living life after life in the few hours I have. A jumble: even more so, packed and unsorted into this thing that's becoming my mind. Modelled on all of theirs, with so many pieces, so many working parts. It runs through me like wildfire.
I catch my reflection in a window. I'm nothing so much as a supernova – small inside the fire that constitutes my soul. My light dives into the glass, infusing with its atoms, pouring out of me and dissolving into the night air. I can see the air changing with it, but only for me. Only I see me. There's pain in that.
….there.... something....
A thought comes from amongst the orchestra. There's no reason for it to snag on my soul the way it does. It comes from a young man standing behind me. I know something now of what a man is, and this one is thin, young for his kind, wearing a green T-shirt and a pair of loose jeans. His hair is pale, flat; the way it falls makes his face long. Grey-green eyes look out from beneath the shadow of an overgrown fringe. He could almost be looking at my reflection, but maybe he's looking at his own. Mine almost drowns it out, but only for me.
Unless.....
I'm not sure I know what I'm doing, what it is about him that draws me in, but I flow his way, circling him with affection, not as prey. I whisper in his ear.
I couldn't tell you. And I don't know if he hears my whisper, or if he takes it for a thought of his own.
I had asked him: What is life about?
I know he doesn't see me, though he looks my way, though he maybe senses some small part of me. I don't know what he sees when he looks where I stand, but I know it isn't me: we are too far apart, constructed out of different matter, the stuff of different worlds. And still I persist: Can you teach me what life is about?
I don't think I know.
How can't you know, you've lived it so long?
Not that long. He's walking and I'm following, billowing around him, shivering in the air, running my hot and cold energies over his soft, complex skin.
Young, yes. In the way of his people. He has just crossed the cusp of maturity. So much left to know, and yet he has experienced so much. At least compared to me. So very new. So brief. And I'm drawn to him, to the world-weary thoughts and unfocussed longing that I can read in his thoughts. So I stay with him, I focus my energy: What is life like?
It sucks.
Something new. I'm not sure I follow.
And his mind arranges the thought again, so that I can better understand: that means its not so good.
But life... life is everything I have, and it's flowing by like water. This is something that I want to understand, but the understanding escapes me. How is it that all of this can be tainted and cheap and dull?
He says, not knowing that he says, perhaps not even hearing his own thoughts: I'll show you. Let me show you what I can.
He walks along the street, and I walk in his shadow – as his shadow – existing on these husks of his lifeforce. His name is Ricky. A name: a foreign thing, something belonging to flesh kings and monuments, to things that can expect to endure. I become his student. I take his arm though I know he doesn't feel me. It's warm – though his hairs stand on end – maybe only because my own fire flares so cold.
#
This. They call it a nightclub.
This: it is like the streets outside, except that it's condensed into a closed-off place; and with it the noise and the colour, the heat, the scent, are all condensed as well. Concentrated. And it's never at rest – movement flows through the bodies like a river, and at the same time the lights flash, and circle, and pulse. The sea of thoughts is so rich, saturated – and they all think to the same rhythm, all subjugated to the music that bounces between the walls. Deep and loud, it vibrates through my still-forming body, threatening to rattle it apart. It ripples in the walls, back and forth across the air. Deafened and overstimulated: I'm writhing it in – ecstasy encompassing agony – a tossed coin.
Ricky is always nearby, he guides me through the crowds, all-unknowing. We dance in the small space we've claimed. He dances through me. And do I dance? I don't know what it is that I do. My colours burn all over me, new ones are born. But I know he doesn't see that.
He drinks from a tiny glass – a drink he calls whiskey.
I can see my reflection in the amber liquid. It's a face and it isn't a face, I'm surrounded by an aura that never rests. Two eyes seem very black, sunk very deep into a white face. It's all made from few and simple lines. I'm not sure what I had expected to see.
#
There are others. Nightclubs. There are streets which seem to exist to link the clubs to one another. The metal beasts are cars. They drive by irregularly, and the flesh kings inside them call out, some of them hanging out the windows. One of them reaching as if to touch me.
I shrink. Not wanting to burn him.
And then there's a place where the sounds are muted. The whiskey is sweeter: this one is brandy; this one is port. And his inner thoughts pour out of his head: what am I doing? - what am I doing? - what am I doing?
"Don't cry." I whisper.
"I wasn't going to cry." Suddenly he's looking right at me, not through me.
"You can see me now?"
"Yes." He's reeling, but he holds it inside; then he gives it to the wind, letting be what will be.
I want to know if he finds me beautiful, but his thoughts seem hard to reach now. Something with the substance of skin en-cloaks me, something crinkled and crackly, white, rough, hazy; it shields me from the intensity of the surrounding world.
Ricky touches my hand. "Is it real?"
"Yes."
"You feel it, the way I feel... skin?"
"Yes."
"If I kiss you. Would it feel like a kiss?"
"Yes."
"If I touch you..."
"Then I'd feel it, so would you."
"If we made love...."
"Then it would happen. It'd be real."
"But you're a virgin."
"In everything." But I know what he's talking about because his thoughts graze over the memory of past lovers. It's a window into his bed – I see all the intimate ways he's touched women, all the ways he would touch me if both of us were equal – of equal age and equal flesh: but he sees in me all the fragility of a tiny life lived hotly: I'm glass to him.
He says: "Lets get out of here."
#
I've seen the streets go from being full with life, to being all but empty. The life that remains on them is different, heavier. The figures who cling to the streets seem duller, drained; gravity seems to embrace them a little bit harder. Even the colours they drape themselves in are different. Some of them have eyes that can follow me. Some shield their eyes from the brightness.
Not Ricky. His eyes change as he learns to see more of me; but he never flinches.
He tells me quietly "The sun will be up in a couple more hours."
That's what it is. I can feel it already, a fire-haze at the periphery of my senses. A crackling, buzzing sound; it rubs against me like sandpaper, hot like the heart of a candle-flame: all these images collected from the minds of the longer-lived.
He admits: " I don't know what to do now."
"Just show me something."
#
We walk uphill. This place is quiet enough that I can hear the silence properly. His breathing is there, his footsteps crunching on pine-needles, the breathing of beasts and insects – their small, scurrying legs. Beneath it all, atoms dance with atoms, neutrons embrace protons. I can feel their movement against my spreading skin.
"This is the place," he says, "this is where I spent half my life as a kid."
"I like it." The tall trees are so towering with life, brimming with it – just the way he is, and the small flowers that grow underneath.
At the top of the hill we have a view of the world. A view of more world than I've ever seen. The distance is something my experience has no place for. The streets are just scratches on a greater, huger earth. The clubs we spent the night in are just dark splotches on a dark landscape, with a lightening sky above and behind them. Streetlights are only stars, when viewed from far away – at a certain distance they twinkle.
"Have you ever climbed a tree?"
"No."
"I don't want you to fall."
"I won't" I think I can fly. I think the air, the ground, would embrace and absorb me, I'd flow through it and still be me.
He holds his hands together in a foothold for me, helping me onto the first branch. It's easy. What I do reminds me of images I have seen in human minds: of snakes, of monkeys. I coil my way around the branches, gliding upwards. He follows me, trying to keep up.
From this height the view is tinier, the same except for a few more edges, a bit less detail. The sky is already becoming bronze and blue, I can see the nascent light reflected from rooftops, from water. I feel surprised, seeing how much stronger the colours are as the night fades, and the kingdom of daytime is reborn.
This darkness. It was all I'll ever get to know. I can grieve at last, because I can see the day, see it coming, and know that I'll never see it into fruition. And this man – this soul that I've found - I feel as if he's part of me, that he shaped me and showed me what a life is. I know that he tries not to look at me, as we rest side by side here, he doesn't want to see me fade and burn. I wonder if he knows that I'll always be there with him, a trick of the light, a half-seen movement out of the corner of his eye. I wonder, because I don't know myself, because I've no teacher except these next few moments to tell me what death is.
The edges of my soul burn away, brightly, leaving scars in the air. I can hear the drumbeats in my head, feel the heat soak into the construct that I've learned to call a body. I'm all colours and wings and petals again. Flaring bright. Look at me: I want him to see me for a moment for everything I am. Maybe he does. My mind, touching his mind, feels his astonishment. I'm stretched as wide as the world, atoms spread over acres, a lifetime measured at once in hours and eons.
And then.... then I can fly.