Gluttony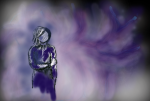 Fri, 09 Jun 2017
Just one hotdog, that's all.
I know I can stop at one.
Half-way charred onions, spicy sauce, melting cheese…
The mirror warns me: don't
You, you don't understand!
Paper thin glass!  What do you know?
 "Hey chops!"
I don't forget that, not through all the intervening years.
A pale face under spiked hair,
A funky leather jacket,
Leaning over his beer at his mate:
"… bit fat though, isn't she….?"
Saffron, savoury curry.
I could follow it like a piece of string;
Like a trail of gumdrops,
Threaded popcorn,
Leading me home.
Just the smell fills me up, invades the hollow places,
Barbs them with promises; with rainbow temptation.
Grey-hearted clouds nudge me along there.
He always said he loved me, though.
He never looked me up and down,
Dismissed me as too big.
Always said 'just perfect,' 'just right'.
It's all in the eyes.
And I could see where his eyes were going,
All up and along her long golden curves, the slender shape of her,
The absence of edges.
"Sorry," wasn't word enough for the moment, could never be.
The rain came pouring down, dusk sweeping in on crows' wings.
Picture credit/discredit:  author's own work