The Gypsy Girl and the Accountant's Brother (4 of 5)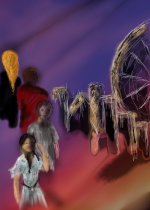 Tue, 08 Jan 2019
"She's dangerous," Jodie explained.  "I don't know if I can make you understand, but she's a threat to your brother, and she knows she is."
Simon walked along beside her, "Well, I don't quite see how."
Jodie took a breath.  "It's really… it's just really… Us and them.  The Summers and Winters. It's best that we're not in the same place at the same time.  It's the effect we have on each other.  We bring out the worst in each other… we bring out… the dark… the dark impulses."  She clenched her fists in frustration.  "There's no good way to explain it.  When we get too close to them, we become our worst selves… or… our different selves.  And it spreads, it gets into the population.  And vice-versa, us to them."
"But do you hear yourself?"
"Yes.  Yes, I do.  And it sounds mad to someone like you."
"Like me?"
"Not raised on this.  But listen: there's a lot more of us than of her.  So most of the influence is going to be one way.  And she's the only target.  She can put up as many wards as she wants but the influence is going to creep through there.  I can't believe she doesn't know it.  She's so bloody arrogant.  I don't know what the others are going to want to do…"  She rubbed her arm in a way eerily similar to how Gretchen had last night at the restaurant.  "But Simon, you have to take me seriously: she's not safe for your brother.  If she stays with him someone is going to get hurt.  He's got to get away from her.  For his safety.
#
Easier said than done.
Dirk was in love.
And it was something to see.  Something Simon had never seen before.  True love was an emotion he'd always imagined Dirk to be somehow too hard for, too rough around the edges, too fiercely watchful of his own borders, ever to give himself boundlessly to somebody else.  But then he'd never met Gretchen before.
He told Simon once.  "I could probably marry her."
"Are you serious?"
"I don't even know."
"Well, she's gorgeous."
"But?"
"No.  No, buts…"
"Jodie doesn't like her.  Right?"
Sheepishly: "Right."
"Well Jodie's hot. She's way out of your league.  So I'd never ask you to give her up.  But I'm not having her making any trouble for Gretchen, okay?"
"Not having her?"
"Yeah."  He looked as if Simon was stupid; there was something razor sharp in his eyes.  "Gretchen's my girl."
"Jodie's mine."
"But the gloves will be off."
Simon caught himself off guard by laughing.
"What?"
"Can you imagine either of those women thinking either of us could tell the what we were or weren't having?  They can both take care of themselves, and come on, she'd kick your ass for thinking you could interfere in anything that was going on between them.  She'd tell you it was none of your self-important male business."
Dirk laughed with him.  Almost like brothers.  Because they could both imagine Gretchen doing just that.  Even from the small amounts of time he'd spent in her company Simon knew she was formidable, that she didn't stand down from a fight, or a rude word, or the prospect of anything she wanted.  And she certainly didn't need her man to fight her battles for her.
No more than Jodie did.
They drank to their women – a beer each – laughing, as if their relationship had never been difficult.  Maybe she brings out the best in him, Simon thought.
#
Jodie thought otherwise.  And she was relentless about it.  "You just don't see it yet, that's all.  But I have seen it.  Before.  It's a real thing, and it's going to happen."
"He loves her."
"She probably loves him.  But it won't protect either of them."
When they looked out the window and saw a group of birds fighting, Jodie frowned.  She said, "It's happening."
These birds, darting in and out, pecking at each other, drawing blood, wings flapping, squawking.
Simon put his hand on her shoulder.  "It's just birds."
"When do you ever see them fight like that?  Sparrows?"
That much did catch on his mind.  "Okay, it's a bit weird."
"It's not good," Jodie insisted.  "All of it.  It's not good."
#
But it was good.  For Dirk.
At least until it wasn't.
At least until he lost his job.
He tried to make no great deal of it, over at his family's home for drinks and catch-up.  He tried to just slide it into the conversation as if it were nothing much of anything.
Their dad hit the roof.  "What do you mean you've been fired?!"
"I didn't use the word fired."
"Well, what would you call it then?"
"They just don't need as much staff as they did.  I was the last hire, so it's just the way it works that they don't keep me on."
"What about all the praise, and these letters of endorsement?"
"Well, what?  I earnt all that."
"And what about your contract?"
Dirk shoved himself to his feet, shaking the table, rattling the dinnerware.  His anger was volcanic, and it was nothing Simon had ever seen him employ towards their father before: "For fuck sake, Dad!  Do you think this isn't a problem for me?  Do you think it's how I hoped the whole damn thing was going to play out?"
Dad, on his feet as well: "Now you watch what you say…"
"To you?  To my good old Dad…?"
"You might be a man now, but it doesn't make us any less blood."
"Blood.  Fine.  But don't test me right now."
"Don't test you?"
"I've had one fuck of a bad day."
"And there's no need to speak like that in front of your mother…"
But he was already up and marching away, a flurry of additional expletives under his breath, fists clenched.
#
"See," Jodie said.
"Not really," Simon lied.
Because it could just have been that moment: when the son realises that he is an adult now too, on the same playing field as his father, both men.  When he understands that the tellings-off and warnings, the slaps and pointed fingers are no longer applicable.  Bigger and stronger, wiser in some ways if not in others.  It could just have been a milestone, but it felt to Simon as if Dirk had lost control in a way Dirk just didn't – not with his parents.
Jodie insisted: "He does need to leave her."
"Well, he won't."
"We're talking about it, you know?"
"What?"
"Them.  At the fairground.  We're talking the whole thing out."
"Is it any of your business?" and he winced at himself for taking a tone like that with a woman like Jodie.
But she was unoffended.  She had more on her mind than his way of talking to her.  "It's everybody's business.  It affects everyone."
"I don't think it does."
#
But there was an accident in town a couple of days later.  Jodie read about it in the paper.  Just a minor little prang, but the drivers had tumbled out of their cars and set about shouting one another down, and those shouts had ended with fists.
"Next time with a knife," Jodie said.
"They weren't the type to carry knives."
"The time after that with a gun."
"And then a tactical nuke?"
"She has to go."
"She's not going to."
"If she doesn't…"
"What?"
"If we have to make her…"
"Jodie…"
She looked sorry to be saying this, to be saying it to him.  "Simon, we do what we have to do.  And we do have our ways. We really do."
"What happened to being no witch, no fairy?"
"I was only talking about myself."
"And what about Dirk?"
"Dirk: this is for him.  This is so he won't end up his own worst nightmare.  Can you imagine your brother as all the worst inside him, as all the worst bubbling up to the surface?  Can you imagine what that would be like?"
Unwillingly, he shuddered.
#
But he did, also, love Dirk.
"I don't really know what they mean…" His head was hung.  He felt ashamed of telling.  And he felt ashamed at the very idea of not telling.  He felt like a dumb kid.
"They're going to put a gypsy curse on me?"
"Oh, I don't know."
"Because they don't want me with Gretchen?"
"I'm not sure if it's that."
"But you're taking her seriously."
The words slithered out reluctantly: "I think so."
"Bloody carnies."
"So is Gretchen."
"Of a different kind. Hers are… sophisticated, dark. They belong in the twenty-first century.  They have some class.  They have cellphones."
"So does Jodie."
"Yeah, well.  Hey, do you want to give Jodie a message for me?"
"Probably not."
Dirk came to stand beside him.  In their parents' living room.  He put a hand down on Simon's shoulder that was like a massive iron claw.  There was a new level of menace in it, in Dirk.  Who still hadn't apologised to their parents for his outburst, who felt he didn't have to.  A subtly changed Dirk…?  He said, "There ain't nobody in this world that's going to split up me and Gretchen.  Not Jodie.  Not you.  Not anybody.  So, brother," and he let the word drawl over his tongue, "you tell your little girlfriend to tell her little buddies, that they had better mind their own business.  Understand?"
"Or what, Dirk?"  What kind of a threat was this meant to be?  Was it levelled at Jodie?  Because he couldn't have that…
His brother revealed a broken smile.  "Give them this message then: they're wasting their time.  Gretchen's going to do what she wants, when she wants, with who she wants.  And the who she wants is me.  And they don't get a say in that."
That message?  Sure.  He had to shrug away from Dirk with some effort, with some actual promises.  And the next day he found dark bruises on his shoulder, such as Dirk hadn't left on him in nearly a decade.
It was over though.  He'd warned Dirk.  And Jodie would understand. And Jodie would say she just hoped he could take the real warning and separate himself from Gretchen before things got any worse.
It was over with.  Simon thought.  Until that afternoon, a week later, when the phone rang.
Picture credit/discredit:  author's own work