Imagine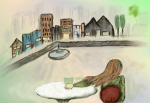 Mon, 02 Dec 2019
She sits where she always sits, at her table, outside her café. And she drinks what she always drinks: the caramel latte with a swish of cream. And she lets the sun soak into her skin while the noise and bustle of the streets soak into her heart.
She tells herself she needs this. In a few more minutes she'll have to stand up, she'll have to sling her handbag over her shoulder and head off to the supermarket. She'll have to work out what to have to dinner, and what to buy for the kids' lunchboxes, and what she's going to take to the Baxters' place on Saturday night, when Liddy Sinclair is almost certain go to high-gourmet, and Penny Sanderson will bring a casserole big enough to feed sixty…
…Jeffrey's going to want to talk about the mortgage again…
… Tilly's going to be going on about ballet shoes…
Veronica takes another sip – the taste and texture, the creaminess, all make her smile. A thin, sweet barrier that's just enough to keep the pricks and prods of life at bay.
She sometimes wishes she could be like those kids. Those ones, sitting around the fountain, with their bare feet dangling in the water, playing at toes with each other. Or like the woman who can't be older than twenty, walking confidently along the street in her long black coat and her vibrant red boots. She has a half smile on her face, and the breeze in her hair, an expression that captures innocence and hope, and the hundred-and-one possibilities that still stretch out before her in this world.
Veronica takes another sip.
She notices the guy on the corner, the one who's frying doughnuts. God only knows he's a decade or so too young, but still, he's got a pleasant figure, and those loose, dark curls, against a deeply tanned complexion, a similar darkness in his eyes, a Mediterranean touch. His hands might be both soft and strong, hot to the touch, a tingle of electricity. Going home with him would mean going home to his fifth-floor apartment, with a massive tv and fluffy rug. And he'd have a coffee maker… he'd barely say a word, but somehow, they'd still speak volumes to each other…
Her phone rings.
She jumps.
"Jeffery, hey."
"Hey, could you pick up some cornflakes at the supermarket before you come home?"
"You caught me just in time."
"Great. Thanks."
She's about to say something to the effect that she loves him, but she realises that he's not going to say the same, and anyway, anyway, he's already hung up.
Veronica sips the last of her latte. Time to go. She slings her bag over her shoulder and starts on down the road. She thinks as she's heading towards the shop, hm, maybe I should grab a couple of doughnuts to snack on on the way.
Picture credit/discredit: author's own work.