Immortality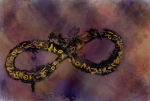 Sat, 05 May 2018
Begin.
One.  Two.  Three.
Inhale.
You can see to the edges of this universe.  You see almost – almost – beyond.  You see the edges curl like over-thumbed pages.  You feel this universe: folding ever-ever in on itself, smaller and smaller squares until it exhausts itself in the folding.  Always elastic. 
Four.  Five.
You close your eyes.  You can never quite watch this moment.  The stars winking out, one after another. 
Six.
It rebounds on itself, chasing its tail.  That's what you feel of it, the concussion of it colliding with itself.  Smaller and smaller and smaller squares, until it's bursting with density. Until.  Until…
Seven.  Eight.  Nine.
Exhale.
Ten.
All darkness.
#
And change.
Switch partners.
You're coming up for air.  You come apart in the explosion – all white heat and fragmented thoughts.  All memories tumbling over each other, seeking immortality, scratching at the barest hint of a refuge.  And this next universe unfolds itself.  A chain reaction that once it starts, has to keep on starting and starting and starting, engendering new life, radiant energies, vast landscapes of violence.
It all streams away from you.  The patterns forming.  The same, same patterns.  There's nowhere to run from these.  Only the snake.  He poisons himself.  Choking on his own tail.
#
A fireside.
The years are always counted differently.  But they're always the same years, always populated with the same truths, the same follies, the same stages that have to be gone through.
Their feet should wear the universe out, dancing this circle on its face.
But a bang, not a whimper, in the end.
By the fireside, a girl sits and reads.  There's a kitten rested in her lap, with its head in the crook of her arm, its back paw obscuring what she's trying to read.  Rather than disturb the cat, she tries to read around it, tries to fill in the gaps.  Even knowing that she'll have to turn the page soon, and the cat's going to get up and move away, huffy at being so inconvenienced.
She remembers something: a day when it was pouring with rain, and she was running to trying to catch up to somebody.  She was calling a name that sounds foreign in her head, and she can't recognise the place she remembers.  When was she ever there?  The memory digs claws into her head, hanging on.  It makes her wonder; and in wondering, she commits that puzzlement to memory, and the memory along with it.
Immortality.
Against all odds.
#
This universe folds over.  You've seen it all before.  You watch a chain reaction that burns from one galaxy to another.  This is like Christmas tree lights, like a chain of pearls, like runway lights guiding a plane home.  Flares of inconceivable brightness, then fading into unfathomable dark.
But somewhere out there.  Beyond the dark.  A different kind of dark.  Another shade of void.  As if one universe touched the edge of another, retreating at once like a frightened animal. 
And then stillness
And cold.
#
You remember warmth.  You remember being flesh.  You remember being surrounded in the soft cushion of it.  The sensation of sunlight on spongy, organic skin.  You remember it as armour, and at the same time as a prison.  That part of you that is all quick-moving light believed it could fight its way out of that prison.  It hunted freedom like a slippery, wild quarry.
That part of you flew.
Memories clung to it of the other part.  A face in a shopping mall. A smile from a man who loved you one time.  A walk along a beach where a wave came up unexpectedly, frothing up around your knees despite your attempt to run; bitterly, achingly cold.  Him catching you and dancing you into a low kiss, the scratch of his beard against your softer skin.
These memories rotted.
Not unlike flesh.
They fell away into the void.
Saved themselves when they could.
Immortality expects nothing less.
#
Dark.
Cold.
A speck of existence that can't be explained.  And yet there it is. A pressure point forming around it – the size of a coin, the weight of an elephant.  It digs itself deeper and deeper, puckering the nothingness that hems it in.
…. Eight.  Nine.
Exhale.
Ten.
A universe spills out.  It races through non-existence, erasing it, supplanting it with itself.  All heat and fury, at least for now.  All clouds and explosions, and gases racing each other.  Cooling and hardening.
You know the drill.
Out of gas comes liquid, out of liquid comes solid, then life, flesh, thought.  They think they will one day kill this universe – grotesquely overimagining themselves.  With their stars already dying slowly around them.
#
"Can we go to the park?"
A woman leans over a table towards a girl.  Her curly hair reminds the girl of caramel. Her blue eyes and reassuring smile are what the girl needs most in the world.  But also: she wants to feed the ducks.  She likes the ducks, the way they wobble when they run away from her, the same wobble when she holds out bread and the ducks come charging up to eat it out of her hand.
 Her mother says: "The park sounds like fun.  Do you think we should bring your sister?"
She giggles.  She nods.
"What about the dog?"
She nods.
"What about… the cat?"
Shakes her head; shy, twists her hands around in her lap.  "No."
"And the TV…?"
"Mummy, you're silly."
A perfect hug, full of warmth and safety.  Why should this moment be remembered forever when other moments dissolve quickly and leave no mark?  How did it latch onto the cosmos, hold on inside the heads of strangers while other memories couldn't?  Why should its grip on immortality be stronger?
#
You wait.
It rebounds.  It always does.  The elastic reaches a point where either it'll ping back on itself or it'll break.  A universe spread too thin; or a universe racing backwards, undoing itself over millennia.  These are the options.
You see it coming.  From all sides.  Speed of light.
And beyond it.  That other darkness.  Eyes that look back at you.
Eyes like yours.
Picture credit/discredit: author's own work