Just Past Three in the Morning (1)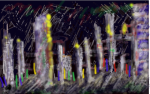 Mon, 25 Apr 2016
We all stumbled out of the Goodhearted Owl. One big lump of rowdiness. Justin still had aglass in his hand, he was drinking out of it, not noticing that it was empty, that it had been for the last ten minutes. He spun around, head thrown back, glass upended over his face. So probably just as well it was empty.
Davey, saying: "You're stealing that."
Justin, grinning stupidly: "Come and arrest me! Somebody arrest me!" Spinning. Tossing his virtual lager back one more time.
We all came out together – maybe to the relief of the bar-staff back in there: me, Penny, Roger, Davey, Justin, Savannah. It was dark and it was raining. There were street lights bleeding orange, yellow, silver, over the dark asphalt, bleeding heavily and brightly; while the sound of the rain was like tiny drums being beaten all around us.
Ever hold a glass of newly opened Coke up to your ear? No? Well, I guess I don't know why you would. But it sounded, anyway, like that - only louder, sharper, mixed with horns and snatches of music, mixed with strangers shouting at each other as they went past.
It was just after three in the morning.
#
Six blocks away, they were coming out of the Woodpecker Lodge. It was quieter there and they'd sculled a few drinks – they were looking for action and sound. That's Norton, Randall, and Pigsy – whose real name is alternately rumoured to be Aaron or Calvin. For the moment they were making their own noise. Norton was challenging strangers to arm-wrestle, he was spreading his arms wide and offering Randall up as a bet. Pigsy was shaking his head at the strangers, or winking at them if they were girls.
"You and me!" Norton was roaring at Randall. "Arm wrestle!"
"Nah, bite me."
"Come on! To the death!"
Randall suddenly roaring like a stag.
Was that him taking up the challenge? There was Norton circling.
Norton calling out to strangers: "These two: they're my best gay buddies! My best gay buddies! I love them!"
Pigsy, shaking his head at the girls. Mouthing the words: 'very drunk'. He didn't want those girls to get the wrong idea.
It was six minutes past three.
#
Penny was saying: "I want to go to Cage One."
"They're closed."
"No they won't be."
I was on Justin's side there: "They close at two."
"But can't we just go past and look?"
Penny. Young, pretty, a whiskey shade of blonde. The guys were all ready to indulge her. "What harm in taking a look right?" "We can swing that way past." "May as well."
Me: built a bit like a tank, chunky, round-faced – round all over, let's face it – eyes too small in a too-pale face. Davey's cousin, anyway. So that was that, wasn't it? The bunch of us dancing and hooning our way across town with a wild goose to chase. Penny putting her arms around my shoulder, Savannah putting hers around from the opposite side. We three: the guys were a sideshow compared to that rock-solid, eternity-guaranteed wall.
Penny started singing I Guess That's Why They Call it the Blues.
Davey joined in with all the wrong words.
Twelve minutes after three am.
A car came round the corner.
#
Randall was walking backwards along the road. He was still roaring periodically. Norton joined in. He waved to strangers. He nudged Pigsy as he they went along: "Hey, check it out, the blond one on the end."
Three girls. They were all walking along, connected at the shoulders, laughing with one another. Looking like they'd been best friends for life. Pigsy could see the attraction well enough, her slim figure, shadowy gold hair, beautifully angled cheekbones in a face that radiated life. The way she tossed her head as she talked alongside her two friends did seem to spark a little magic. The others weren't bad either: the redhead; the big, sexy brunette, wearing her curves like a badge of honour.
Norton: "I have to go marry that girl."
"Not a chance."
"I'm going to. I'm going up there and I'm going to ask her..."
"Soooooo far out of your league."
Norton, slicking his hair back, adjusting his shirt. Norton whose left shoe was – unnoticed – missing, his left sock sporting a hole that showed off two of his toes. Everything coming together in that moment that could have ended a half dozen ways, but instead, it played out like this:
A car came round the corner, it was travelling faster than it should – if not by all that much – and the lights were glaring and reflecting off the road. Penny had just dropped her lipstick and was crouching down to pick it up. Norton saw that. Drunken or not, he made a run for her.
It could have ended in a spectacular tackle: Penny on her back on the footpath, Norton on top of her, the car screeching past, their hearts racing a bit, Penny gasping in shock, Norton grinning and shaking. It could have. It would have, but for about a second. That's a second long enough for the car to clip Norton's knee, for it to spin him and expose Penny for the moment she looked up and saw the headlights barrelling towards her. There wasn't time to think properly, never mind to act or move or blink.
Both of them went flying.