Just Past Three in the Morning (10)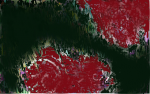 Fri, 06 May 2016
Norton showed up at Pigsy's flat just short of midnight.
"What are you doing here?"
"I need to take a dump, there's no public toilets around, and so I thought of you."
"Wow, that's the nicest thing you've ever said to me."
"Can I come in or what?"
"Sure. Sure, go ahead."
Norton had a look about him like he'd already had a few beers, but Pigsy tossed him another one. He sat back and surveyed his friend for a moment, trying to read what he thought might be going on with him. Eventually, it was easier to ask.
"Penny," he said with a disgusted twist of his mouth.
"That's what you're doing wandering around here at midnight?"
"More or less. I just wanted to get out, Pigs. Tell me straight, anyway, am I that bad of a boyfriend?"
"Probably." Which was both the wrong and the true answer.
"Gee, thanks."
"Just saying. I know you. I've seen you with girls. I've been around you with Penny. You kinda do an act like you're entitled to their affection, and don't need to do anything whatsoever to earn it."
"She can talk." Which was at least not denying the fact.
There was a certain inevitability about the next thirty minutes or so. Pigsy leaned back: "So, tell me, what exactly happened?"
Norton laid it out for him: a party her cousin was having – same night as he'd already said he'd go drinking with Jerry Tonkin – acted like he was just there to do her bidding – always her first with her – thinks she has to be romanced and waited on – needs to be treated like a princess – blackmail isn't it? Saying she'll go with some other guy - "Pigsy, you'd better not have already agreed to go with her."
"What? No. I haven't even spoken to her."
"All right. Because your name came up."
Upstairs, a beat started up, low drums beneath the rumble of voices, the sound penetrating through floorboards and plaster, vibrating slightly in Pigsy's chest. He glanced up "It might get loud soon."
"Oh. Them."
"Yeah. I saw them lugging crates earlier."
"You want to invite ourselves?
"They're kids, dude." Or he guessed it, just out of school, just out on their own, still high on the thrill of it, still loud because they could be loud. All the maturity of an adolescent. And when did old age creep up on me like this? What the fuck with the ambush?
"We could go bust some heads."
"The hell we could."
"Pretend, I mean."
Yeah, because that won't end badly. Who even knew if Norton was kidding sometimes? "Where did you leave things with Penny?"
"I told it like it was."
"Uh-oh."
"What? I said that I was just another penis to her, that men all are."
"Seriously?"
"Sort of. She's been around a bit. And it was her saying how she'd replace me with some other guy if I wouldn't go with her and- Okay, maybe that line was a bit much. But I was mad. I mean it's not like I have to drop everything and do whatever she wants..."
"Norton."
He waited.
"You're right here, right now, telling me about this."
"Yeah..."
"When was the last time that happened?"
"It's not exactly my style is it? I'm not a girl... Hey, are you...?"
"I'm saying," and he was doing that saying in competition with a fierce beat, excessive bass and some screeching excuse for lyrics, "that you're really into her. You really like her. Otherwise you wouldn't be here, you'd be at home playing X-box, or watching porn or something."
Norton had that look on his face that said: Oh.
Sometimes he was the kind of guy who just had to have these things explained to him.