Just Past Three in the Morning (14)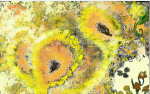 Mon, 09 May 2016
My fault.
The moment I heard about the incident, that was what I thought. All because of me, and my railing, and the beers I offered, the extra time spent talking. If he hadn't come over to fix that railing, or if he'd left a bit earlier, it might all never have happened. If he'd had a bit less to drink, maybe his thinking would have been sharper and he would have seen the danger in time, he'd have gone a different way, called a taxi, reacted in a series of different ways that would not have left him bruised and battered.
What if he'd ended up with a knife in his chest or something?
What if something like that had been my fault?
I don't even need a railing, I can walk down the steps without one. Why did I have to go mention that in the first place? Because if I hadn't....
Savannah and Penny thought that was crazy. They were good friends: they reassured me with vigour that I was daft to be blaming myself. I didn't turn those two thugs into muggers, I didn't send them out there, armed, and set them on Pigsy like attack dogs. And of course I knew that. But it didn't mute that little tune skipping around in my head: my fault, my fault, my fault...
Maybe there'd been a bit of instinct there, I don't know. Because I'd texted him to check up on him, and got the text back, the chilling one, that he was at A&E right now. Don't panic – not that serious – just a scrap. I'd been there as fast as an urgent taxi ride could get me. Sat watching his head being stitched up, wincing at the needle going in there, not sure if I ought to be offended or not by Pigsy laughing at me.
"Should I call someone?"
"It's not that bad."
"Or... I mean, if you don't want to be alone..."
"I'm fine."
"You can sleep on my floor. Or me, on yours."
"So you fancy coming home with me?"
But it fell flat. Wrong moment. "Just... if you need me to. I'd be freaking out at being alone in the house if the same thing happened to me."
"There's only a couple of hours until dawn... Do you mind?"
I hadn't. And nothing had gone on. I'd just sat on his couch, watching TV. I'd made us sandwiches. I'd called Penny, Randall, Norton, Savannah. We'd all rallied round. I'd done my best, and what I should have done.
And still, now... that weight of guilt.
So Penny said to me: "Is that the sound of some real affection?"
"What do you mean?"
The scene was this: we were sitting around on the foam couch I'd recently dragged up into my flat. It was all soft parts, no frame, no structure – glorified foam-filled set of bean bags really – and it sagged on the floor, plush with it's faux-fur, generously letting a body sink into it, embracing that body such that it really didn't want to get up. Penny had brochures out in front of her. She was signing up for a photography course at polytech, and suddenly her horizons were full of dreams – she was bubbly and enthused, already planning projects, possible careers. We drank pineapple juice, and pored over the paperwork together.
She was looking at me with a knowing expression. "All this talk about Pigsy, and concern for his welfare, it's almost as if you like him."
"I do."
"More than just platonically."
"It's not that."
"How sure are you?"
"He's a nice guy. That's all. A friend. And he was probably only beaten up because he came over here to help me out. If he hadn't knocked down the original of that railing out there, he wouldn't have been walking down that road..."
"It sounds as if it's getting kinda mutual."
"Again..."
"He comes over to fix things."
"It's his uncle's flat."
"His uncle busy?"
"I don't know! Probably. He's just helping out."
"If you think so."
"I do."
She just smiled that quirky little smile. "Can you really tell me you've never pictured him naked?"
"Yeah. Yeah, I can tell you, that is."
"Never?"
"Why, have you?"
Penny shrugged.
I shoved her shoulder. "You should be picturing Norton naked."
"Oh I've seen that."
"Enough information."
Another shrug. "Just saying." And: "What do you think he's like in bed?"
Pigsy. What came to mind when I thought of him wasn't the bedroom, it was the sterile, angular walls of a hospital. A face mottled with new bruises, a pained look that intensified when he walked, that cut on his head, held together with stitches, the blood black and hardening around them. That epitome of vulnerability. The tears in his eyes trying to find enough change for a soda. He'd been shocked and traumatised, determined not to show it, especially in front of me. The nonchalant front he'd put up had just deepened that sense of vulnerability. It'd been hard to look at his face right then.
Penny kicked her shoes off, she leaned back and pointed her toes up towards the ceiling. She had ballerina feet – all elegance and effortless grace. After a while she said, "He's not fat."
"Huh?"
"Pigsy. He's not fat."
"No, not really."
"So why do we call him Pigsy?"
"Could be anything."
"You should ask."
"One of us could."
"Hm," she slid her legs beneath her, rising into a cross-legged position with all the ease of a child. "I suppose it should just be whichever one of us sees him first."