Just Past Three in the Morning (17)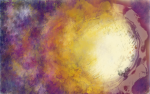 Fri, 13 May 2016
And what can you say of us? Spring turns into summer, summer ripens, deepens, and there's hot days and blue skies for a while – skies deep and heat-waved, blossoms darkening and greening into leaves, fruit hanging heavy on trees.
And one of the best places to get that – if you want it for free – is out by Gilbert's Creek.
It was a place we'd known about for a few years now. Off the beaten track, requiring a walk through thorns and prickles, and a muddy climb down a steep bank. But we were young, we'd been out on the piss for a while – we were singing and merry – and in that state the walk didn't seem overly harsh. The stars were angel-white, up there in the sky, wisps of pink-purple cloud against a black, expanding vista. Ants in the face of the universe. But we were okay with that.
There were blackberries along the way – so we ate as we went, listening to the sounds of hedgehogs in the undergrowth, ducks nesting, probably a stoat or two, rabbits, mice. Other nights we'd found a drunk or two, or maybe a couple of young lovers. Vegetation was thick and concealing – and delicious, if you don't mind getting hands and arms scratched. Then, when you get to the creek itself, there's moonlight on the water, trees hanging - branches scraping grass - with plums, peaches, greengages, in big, welcoming clusters.
The core crowd were there: that's me, Penny, Savannah – that's Davey, Roger, Justin – that's the new guys: Norton, Randall, Pigsy. Two social circles blended in the middle, like those set diagrams you have to learn in primary school; like two different coloured spotlights shone together against a dark surface, and the colour that forms at their intersection is something different from the first two colours and not really the colour you expect.
That was us.
It had been a hot summer, and some of the fruit had fermented on the branch – late at night but it still had the heat of the sun in it, still warm and super-sweet. We flopped down under the trees and ate greedily, passing a whiskey bottle around as we did so. I felt younger and freer than I had in ages.
Pigsy: his scars were faded, his hair grown back over the spot where he'd been hit and then stitched. His bruises were gone and his face had regrown some its youth and sureness. He lay there like a big cat, satiated, at peace. Randall, beside him was trying to remember the lyrics to some old song, and failing badly. He was singing the chorus over and over again – I thought: wrongly, I thought: that's not how it goes. But I didn't interrupt him. Norton: seeing if he could juggle some pebbles he'd collected on the way – six of them, small ones. And no: he really couldn't. His attempts ending with them falling in a shower around him, and with him hunting for them in the long grass so he could start all over again.
Me, Penny, Savannah, all leaning back, forming a semi-circle with our ankles crossed over each other. Penny, finding her feet in the world; in a way maybe, growing up. Savannah: if she seemed to be stagnating, that was only my perspective – seeing her through her own eyes I saw her settling into life, finding a pattern. She had a good office job, a nice third floor apartment; a boss who listened to her and applied her ideas. A wall, lined with shelves, lined with books. A violin sitting in a case in her bedroom, next to the wardrobe.
Staring at the stars. Idle thoughts: was that the three of us – Id, Ego, Super-Ego?
The boys: All Id? All Ego? Roger having been struck with a sudden urge to tie his shoe laces together. Justin, full of energy, running around and drumming on each of our heads, stopping longest on us girls, copping a feel if he saw the chance. Davey, shaking his head at him, scolding him mildly, even though us girls didn't mind too much. Davey: he'd been great, late in spring. He'd talked to his Dad like we'd asked him to, and Uncle Harry had come to the party, he'd taken Dad out for a beer, talked and talked – between games of darts – nutted things out. And Mum and Dad seemed better for it: Dad returning from those drinks with a bunch of yellow flowers, and the two of them laughing up in the bedroom – so Shelley told me – for hours that night. She was still waiting on that party-flat she'd been promised a place in; but with less desperation now. Things had settled down so much at home.
Roger: getting up to his feet with a graceless jump: "We should go swimming."
Savannah told him: "You're drunk."
"Not that drunk." To prove his point, running for the water, falling over his tied-together shoes and landing roughly on his face.
We laughed. We checked he was okay. We laughed at him some more.
"I don't need shoes to swim." He kicked them off – kicked, shuffled, and tried hooking his toes under them, but he got there in the end.
"You're still too drunk," Savannah insisted. The Super-Ego. And technically correct.
"I'll look out for him," Norton volunteered.
"You're as drunk as he is."
"Nah. Not really."
"Oh, let's do it!" Penny chimed in. And it was young, blond and beautiful Penny. Anything said in her voice just seemed like a more charming, more inviting idea. Her, Norton, Roger, Randall were all suddenly in the mood for some cool, gently running water. I watched them all stripping off to their underwear. Penny hesitated for a moment before she unhooked her bra and discarded it in the long grass. Norton's hands went straight for her tits.
I said: "Really?"
"They have a mind all of their own." His boxer shorts were bulging too.
"At least one of your minds is getting some use." Two, if you counted the lower one.
The four of them raced for the water, jumping in, legs kicking. They were whooping and laughing, pushing each other around. The rest of us, me and Savannah, Davey, Justin, Pigsy, we found ourselves in the role of lifeguard. Just keep your eye on them all, I told myself, make sure they don't go under and not come up.
Pigsy had a leftover filled roll, which he offered me a chunk of while we sat watching.
"We're lucky," I told him, feel philosophical.
"Are we?"
"Look at us. This is like the perfect moment. Look how we've all gelled, all come together. That lot can hardly keep the smiles off their faces."
"They're all fuelled up on vodka, that's all."
I wasn't having that: "It's still precious. This moment. This time in the sun – well, not sun, but you know what I mean. It's still precious."
"You're a bit vodka-fuelled too, aren't you?"
"And beer-fuelled. And whatever the hell that cocktail was back at Twisted Pepper."
"Oh, yeah." He considered me. "You do look pretty happy yourself."
"Do I?"
"You do."
"Well, I've got all of us." And gestured over at Norton, swirling in the water with Penny, all up-close-and-personal. "Just look at them."
He admitted: "Bloody magic, isn't it?"
But it wasn't ready to last.
Penny and Norton were the ones to kill it. I didn't notice the change in them at first. Moved a bit away from each other, Penny with her back arched, standing knee-deep, and the moonlight shining off her wet body. It was inevitable and probably harmless that Roger and Randall were both stopped and momentarily staring. But out of the blue, Norton was suddenly not okay with things. He splashed angrily over to Penny.
She looked puzzled at his expression.
"Are you going to give them blow jobs as well?" He demanded.
"Huh?"
He gestured at her near-naked body. "That's not for me at all is it?"
"I'm swimming."
"Showing off. You want the whole bloody world to see them." He was stalking out of the creek.
"It's just us lot."
"A bunch of guys who aren't your boyfriend. That 'us lot'?"
"Grow up," she sneered at him.
"You are a slut aren't you?"
"You're drunk. And you're an asshole. You ruin everything."
He'd been walking, he turned around suddenly: "Me? It's because of you I can't walk straight anymore!"
"Fuck you!" She grabbed her t-shirt and she half-marched, half-ran towards the bushes.
Norton would have gone off in the other direction, equally heated, enmeshed in his random tantrum, but I caught him by the elbow. "Go after her." I told him.
Three months later they moved in together.