Just Past Three in the Morning (19)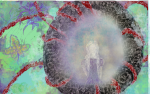 Sun, 15 May 2016
He considered sending Heather a card. Would that be over the top? Maybe. She'd really helped him, she hadn't faltered, she'd had the patience of a saint that night. But still, maybe awkward, maybe too much. He settled for a text instead: thanks for last night. I really owe you one. very grateful. And that somehow didn't seem like enough.
He walked away from the graveyard, in the best suit he'd been able to borrow – feeling fraudulent for that; and beyond it, not really sure what he was feeling. There was a late autumn wind in the air, and it sprinkled the world with amber snow-flurries – leaves blown off branches and cartwheeling around in the wind. There were kids coming through the park across the road, they were eating chips – shared amongst all four – and laughing, checking the their texts. A woman walked two children, one on each arm, pulling in opposite directions. A man walked two dogs in almost the same way. What was startling was how it all just seemed to go on – in such stark contradiction to the grim, grey tragedy he'd just left.
None of these people had any idea who she'd been, what she'd meant to such a patchwork of different people – in all probability none of them had known she existed.
Nor had he, in an odd sort of way. He'd learned things about her today that he'd never known. He learned about her health problems as a child, asthma that had left her so debilitated she could sometimes not get out of bed. He learnt about a childhood that had involved moving around a lot – about a closeness with her grandmother – about the way she'd supported her younger sister through an unplanned pregnancy and an abusive teenage boyfriend. All this, aged twenty-one. An award won for her art work. Her time spent rescuing oil-soaked birds. Laugh-out-loud tales about a summer camp he'd never even known she'd gone on. He knew, rationally, that in amongst all that there were boyfriends, men she'd known intimately – his rivals, replacements, predecessors. One had been there at the church: a relationship barely begun before the devastating news had hit – in the place I should have been, beside her – and still he'd felt that he was the bereaved one, the one just this moment losing her. And in that same moment he'd felt so far away from her, as if he'd never seen past her face or honey-laced eyes.
Her photo: dark lashes, dark hair, fire flowing out of her, undeniable even from the canvas she'd been printed on. He'd known that woman. And hadn't. He remembered the fire, and still didn't recognise it. So many patterns in her life that he'd never been part of.
"Thank you so much for coming."
"Yes. Yes, of course." Stooping to lay a flower on the coffin.
And now, such everyday thoughts seemed to intrude. He was aware of the chill in the wind, the passing cars. He walked past a dairy and he knew he needed milk. It seemed wrong to go in there and get it - too dismissive – but the thought had been there. He was reminded by a woman walking past of another woman – a colleague: he'd told her he'd check out a problem she was having printing to one of the printers. He hadn't gotten around to doing that. He remembered a half-eaten casserole in the fridge, and thought about it for dinner. He remembered his washing – desperately flapping on the line, he assumed.
He wanted to think about Heidi. He wanted to be overwhelmed with such thoughts – but he simply wasn't.
On the corner a mime was feeling his way around an invisible box. He was good, fluid. He returned Pigsy's smile and nod with just a gliding motion of eyes.
In town, by the fountain, a busker was singing Glory Days, clapping his hands along to it. His patched jacket and bright green trousers offset the music. His hat - out in front of him for coins - was huge, and had a red-and-purple feather in it. Pigsy flicked him some change as he went past. He could smell something – doughnuts, he guessed; and he could overhear a couple of teenage girls talking about how they could convince their mothers they were staying at each other's houses.
He stopped for a bag of those doughnuts.
Heather texted: How you doing? Holding up?
He responded: You were right. I'm glad I did this.