Just Past Three in the Morning (6)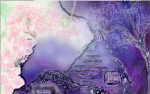 Sun, 01 May 2016
Pigsy warned me as we walked: "It's not a big place. It's a studio flat, self-contained and all, but the kitchen and the laundry share space, so do the bedroom and the lounge. The stove's got three elements. Just so you know."
"I don't need big."
"The décor's a bit.... well, it's been around a while."
"Whose place is it?"
"My uncle's."
"You've got faith in me then. That I'm not going to turn it into a P lab."
"Well, you don't really strike me as the type..."
"I'll try not to keep twenty chickens there either."
"That'd be best."
We stopped, and he pointed towards a weathered old villa. It was run down, had paint peeling and rust patches on the roof, there were weeds growing under a charcoal-painted verandah. But it had an old-world charm about it, cream and beige walls, faded and peeling, but still caught and amplified in slanting winter sun. I felt a brief and silly surge of certainty: for some reason I was going to belong here.
And Pigsy, pointing: "The studio flat's round the back."
"And the rest?"
"It's rented to an old guy. Uncle Josh knows him from golf or something. I don't think he'll be very much trouble."
Inside: I was absorbing the effect of yellow-citrus walls; rough wooden floors, some carpet in primary-school-stripes. And it wasn't big, just as Pigsy had said it wasn't. And there was an unevenness about it that spoke of shoddy workmanship once upon a time – some rippling in the walls and floors. Kitchen too, small and dated, but still managing to project a sort of charm. I stood in the doorway imagining where my stuff could go.
A little garden had unkept grass, weeds, flowers, rocks. A small picnic table occupied a corner by the fence. The washing line was largely abandoned to rust and overgrowth.
"So you see..." Pigsy held his arms wide.
"I like it."
"Really?"
"Yeah." The decision felt great – sudden and inspired – but I guess decisions always feel a bit like that. I asked "What are my chances? I don't have any references, I've lived at home and all
that..."
"You have me."
"God, are you sure? You hardly know me."
Pigsy shrugged. "You seem all right."
"So you'll talk to him?"
"Just leave it to me."
I jotted my number down, folded and gave it to him, quite unromantically. If it'd all been a ploy... but of course: thin, graceful girls; blond princesses... And Pigsy didn't seem like the type.
#
"Well, are you sure?" Mum was saying. Was saying now, not bringing up what she'd said earlier. Maybe she didn't remember, or hadn't thought I'd take it to heart.
I wrapped myself around a kitchen chair, chin perched on the back. "It seems nice."
"Well, what about work? Are there regular buses?"
"It's walking distance."
"And the money?"
"It's reasonable."
"Oh, honey... I don't know..."
Which just goes to show: you really can't please some people.
#
Davey was more enthusiastic: he thought it was a great idea that I move into my own place, explore my freedom and true personality. Great idea, and another nice little party spot.
"Hey, I can't wreck the place..."
"Oh, I didn't mean..." Veiled mischief flickered behind the innocent protest.
"It's just... Oh, you know. Mum and Dad at the moment. I need some space from it. And they probably need some space from me."
"You can't be that bad to live with."
"Maybe I can."
"I'll keep that in mind if I'm ever looking for flatmates. When can I see this place?
"Maybe when you're helping me move in?"
"That comes with pizza, right?"
"And Mum'll bake cookies."
"She'll miss you, cuz."
"I'm not planning on falling off the edge of the earth."
"That's good, because she'll be running out of kids."
"There's still Shelley." For all the good that was doing right now. And poor Shelley, she'd be bearing the brunt of parental attention all the more. She'd already confided that she wished we could swap places, and dismissed the age question with an irritated flap of her ringed fingers and an "even you think I'm still a kid."
I did. Davey did. What could I have said to that?
And Davey, now: "She won't be Mama's girl for much longer."
She isn't now. No, Shelley would leave the nest quickly, just as soon as circumstances manoeuvred themselves to give her the half-chance.
And Davey warned: "I'd be careful if I were you, she might decide to move in with you at Party Central."
"Hey, no. I promised Pigsy..."
"That's Penny's guy's friend right?"
"Right. But: 'Penny's guy'? I wouldn't go as far as calling him that."
"Oh, really?"
"Do you know something I don't?"
"As if! But I'm telling you: watch this space."