Just Past Three in the Morning (8)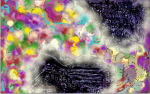 Tue, 03 May 2016
Just us girls. We marched on into town with our credit cards and our determination. I knew I was on a budget, but I resolved not to let myself care too much. This was my space, my home. I was going to stamp myself all over it.
Savannah and Penny were only too keen to help.
We made a list over lunch. Penny played with her ravioli, glancing over at a guy across the road on a motorcycle.
"Hey," Savannah slapped her knuckles. "You're supposed to be taken."
"Just looking."
"Well, if you look..."
"I look." She tossed her hair pertly. "And as long as he doesn't touch..."
I started a list:
Drapes
Pictures
Rug
Bedspread or Duvet
Savannah could belabour a point sometimes. And she had a pretty firm sense of her rights from her wrongs. She tried to keep it inside her skin, but sometimes... "You've done more than look before..."
"What? That again?"
"Well, you did cheat."
Doing my best to ignore all that:
Bathroom scales
Bedside lamp
"Oh, come on! Heather-"
So much for that then.
"Heather: does she need to go on about that?"
No way was I going to risk a verbal response.
Savannah: "You did cheat on Jeremy. Look what happened..."
"Say it: you think I'm a slut."
"No. Just: it was a mess."
"I know it was. I was young. I made my mistake – were you Little Miss Perfect all your life?"
Yes. Penny, think about it. The answer is yes. She didn't look it – she wore figure-flattering jeans, a top that mixed lace with braids of rough denim. She wore some lace braided into fantastic auburn hair. She knew how to party too. But Savannah: sensible to the core. And still owned a bit by her Catholic upbringing.
I shut it down: "Guys, don't rain on my parade."
Savannah said, "Oops."
Penny leaned in: "What are you up to?"
I scribbled down: Coffee-maker on my list. "Let's do this thing."
#
We did that thing.
FURNITURE DEPOT:
I gathered up a rug and held it up to my face. Soft like fur, ragged in white and silver and blue. It had a heart-stopping price tag, but I was just then in love.
"That's a rug to have sex on." Penny declared.
Yeah? Who with? But I was taking it. One hundred percent.
The duvet was a mix of silver and light blue. A subtle pattern of suns and moons – crescent, waxing, waning, round and full.
"Can you afford this?" Savannah wondered.
"Somehow."
A wooden screen was perfect. I hadn't even known I wanted it. It was tall and ornate, made for a studio flat like mine.
"We should have brought one of the guys along to carry that."
"Like a pack-mule?"
"Exactly like a pack mule. Oh, you know they would have done it!"
LIGHTS AND LIGHTS:
A bedside lamp that looked as if it could have been made, whole, from one huge drop of molten glass. The colours in it were all jewel-like and sunset – carnelian mixed with amber and garnet. It possibly clashed a little with the duvet, but it was beautiful, and I was on a bit of a high: these spreading wings I had now were leading me their own feathered dance. I just had to follow the music, dance along with them.
EVERYDAY WAREHOUSE:
Curtains are supposed to be expensive, you get them cut and measured for the size of the window, for the house. Spend thousands. I found my ones in a bin for $19.99 a pair. They looked thick enough, and came in options ranging from orange through dark blue to crimson and maroon.
"Go with the blue." Penny advised me.
"You think?"
"Have I ever put you wrong?"
"Really?"
"About anything important?"
"Joshua Guthrie."
"He wasn't that bad."
"He wasn't that great either."
"You've had worse. You know you have. A learning experience is what Joshie was." And there's no getting past Penny when she has that triumphant smile. She tossed it over her shoulder at me, already gathering up a couple of packs of the curtains. She'd decided, and that was the end of it.
Savannah had a coffee-maker in both hands. "Is this what you're looking for?"
On special. Half price.
TOLINO'S GALLERY:
The art seemed terribly important right then. I still don't know why. Maybe something about the individuality of it. I wanted to take my time here, go through everything, choose the best, and just the most... me.
Penny was getting impatient, but she managed today not to say so out loud.
Savannah's all over art. She was a cow in a clover.
I was attracted in the end to a small painting of a cottage. It was rendered in dark and earthy colours, with bright flowers out front. And another: of a dancer – a ballerina in red. There was a sadness in her expression – captured so perfectly – that just made me want to keep looking back at her. I was sure I saw something of myself in her, or of my past – the lonely girl in a sea of other children, trying to find herself in herself, because really, who else...?
But that'd been a long time ago.
Penny admitted: "These people really do have talent don't they? I wish I was like that. Wouldn't that be amazing?"
Savannah found a painting of her own; small, depicting a bride. She reminded me of my ballerina, head bowed a little, faced turned away. Clear that her one true love had chosen not come for her on the day.
Penny shook her head: "You guys are depressing.
#
Back home, we had popcorn in jumbo sized bowls – courtesy of a previous shopping trip – saturated in butter and icing sugar; we had old movies watched on bean-bags, and glasses of wine.
Only fair – since they'd helped me with the shopping and helped me setting stuff up, hanging pictures, moving my few small furnishings around to make room for the rug.
Lying on it, with just the TV for lighting, soft fibres rubbing up against my cheek: "Okay, some day I'm going to have to have sex on this."
"Ever thought about rogering Roger?"
"Ugh!"
"Never?"
"No. Never."
"He's going to be so hurt."
"Don't you dare!"
Savannah, imitating Roger: "But I'm really a pretty good guy."
We all fell about laughing. We couldn't help ourselves. And we like Roger. He's nice, he's a puppy-dog, but imagining the guy in bed... I know, we're shallow. Guilty as charged.
Savannah, flicking through the blu-ray cases: "In Her Shoes; Fight Club; A Winter's Tale; Bridget Jones: one and two; Jane Eyre, the most recent one. What are we starting with?"
"Jane Eyre. I want to see that." Penny's taste in movies could sometimes be surprising. She looks all Confessions of a Shopaholic, but she gravitates to the literary and historical movies – almost never having read the books.
We kicked back amongst blankets and bean bags. How did I feel? I think I felt like I was at home. Like I hadn't felt, anywhere, in half an age.
#
Much, much later, faces hurting with laughing, we went back out, down to the corner, to my now local dairy. We went out for cheesecake. We were still laughing and singing, teasing each other. We danced about the pavement like teenagers. For just a moment I set myself back from it mentally, saw us as if from a distance, all arm in arm, all so at ease and so confident, so full of our friendship, our lives. Saw that night for the precious thing it was.
Well, shit, there are people living in war-zones, hiding in their freakin' cellars while bombs go off around them. There are people in other countries who daren't leave their front gate sometimes. Us: warm, fed, radiating happiness.
"Girl's night in," Savannah explained to the middle-aged man behind the counter in sort of apology for the jumbo-sized cheesecake.
"Yeah, my daughter does much the same."
"Does she go for strawberry or boysenberry?"
"They make chocolate cake."
"Oh!" Penny had drunk the most. "We should do that next time!"
Penny: baking.
Out in the night again, rain came down suddenly and hard. One minute we were walking along, the next we were running for cover. Savannah held the cheesecake over her head for shelter, fat raindrops soaking through the cardboard.
At home we laughed and laughed. We ate some more. We laughed again. We kicked back for our next movie. It'd just gone three in the morning.