Just Past Three in the Morning (9)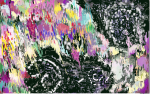 Thu, 05 May 2016
"Asshole!" Penny was pacing around the room, I could hear her footsteps.
I'd just come home from work, tired, my head full of shelves, full of groceries, emptying and refilling; that pointless, endless, low-paid cycle. That always-dim sense of I really gotta find a way out of all this. Crowded bus. Diesel fumes. I walked up the path to the phone ringing, to it ringing and ringing as I walked in the door, and then, when I picked it up, to: "Asshole!"
"Nice to hear from you too, Penny."
"Not you. Him."
"Who Norton?"
"Him."
"Ah."
"He's being an absolute piece of shit, Heather."
Two sides, I reminded myself. But I was duty bound to only hear one of them, and then to believe it with a whole heart and moral outrage. It's what you do, right?
"I'll show him who's a slut."
"He'll called you that?"
"Indirectly."
"Penny, sit down."
"Who says I'm not?"
"You're not. So sit down."
"Fine." And I could perfectly picture the toss of her head, indignant and triumphant. "There. Sitting down. And I'm still just as mad."
"Well, what did he say?"
"Too busy."
"For?"
"Adelaide."
Her cousin.
"Look," and I knew Penny was up on her feet, pacing around again, fiddling with the curls in her phone cord. I knew her. "Look, she's having a party, a first anniversary thing. Her and Eddie, right? It's going to be epic. Awesome. It should be like right up his alley. He'd have a great time, but no, no he's busy. Can't make it that day."
"Well, is he? Busy?"
"I don't bloody know!"
"It might be something important."
"More important than his girlfriend?"
There was the nail then. Hit on the head. "What did he say?"
"He said: 'I can't go that night. I've made plans with some friends.' I say: 'Cancel them.' He says: 'What? I'm just going to come when you call, I'm going to follow you around like a little puppy dog?' He said that. Those words. I told him this was a big deal, and this was something I wanted him to come to, I wanted people to see me with him. He wouldn't budge: some boys' loyalty crap: bros before hos and all that."
"What, he said...?"
"Not in those words. That was the gist though. And it wasn't even that, not really. He lets his friends down all the time - twice on Tuesdays. Ask Randall. This was him trying to make a point about doing what the hell he pleases."
"And then?"
"And then I said, 'Well, fine. I'm not going to go to this thing unescorted. I'll find someone else to take me.' And I just mean like a friend, someone safe, like Davey or Pigsy or something. But then he's saying how of course I will, because I change boyfriends like underwear, and all I want is something with a penis to show off, and I don't really care about him after all.' I said, 'Well, come to Adelaide's, like a real boyfriend.' And he said: 'For that I'd need a real girlfriend... That's how it ended really."
"I don't think he meant it."
"Yeah? Which bit?"
"Any of the mean stuff."
"Oh, sure he did. He knew what he was saying. And he knows this thing with Adelaide is a big deal for me. I really wanted it to go well."
She really wanted to look good, to show Adelaide – long-time, loved rival – that she could score a long-term boyfriend too. That Adelaide's marriage didn't put her a step above Penny on some familial ladder. She'd been talking about – she'd been shopping for – this party for weeks now.
"Don't you defend him, Heather."
"The absolute epitome of male scum. Totally."
"Or make fun of me."
"Okay. Well, you'll have to talk to him."
"Who says?"
I held back a sigh. "Do you want to break up with him?"
Reluctantly, snaking over the phone line, crawling with ifs and buts, but: "No."
"Then you guys'll have to talk."
"When he's ready to grovel."
"And what if he's not?"
"Oh, he will be. He'd better be." Never a second of doubt of herself, not a trace of fear in her that he might not call her back. Imagine: being that way. Having cause to be. "But Heather, you do think he was being a jerk? That he should have been there for me?"
"Yeah. Yeah, he should have."
#
I sank into my bean bags, hot chocolate in a big, blue mug – top heavy with marshmallows, spicy with cinnamon. What I felt towards Penny, right now, was envy. Was it wrong of me? Probably. But all this drama, these overblown arguments; that was life. That was the absolute stuff of living. Passions and tantrums, dreams, the prospect of make-up sex. Things like that make a life. Shelves filled with cans of soup, spaghetti, beans, peas, corn, beetroot, potato salad – those don't. My quirky little home felt lonely for the first time.
We can never be properly thankful for the things we have, can we?
The phone again, intruding on those thoughts.
"Still an asshole?" I expected Penny.
"What?" It was Shelley.
"Sorry, wrong caller."
"Who are you talking about? Because Greg's okay."
"No. Penny's boyfriend. What's up?"
"Mum and Dad."
I found a few shreds of sympathy: "Fighting again?"
"As always."
"Yeah, sorry. Is it something new?"
Shelley was silent on the phone.
"What?"
"Mum. She's using the D-word now."
"She doesn't mean that."
"How do you know?"
How? For no more reason than because it was unimaginable. And these fights, didn't they just come and go, flaring up and dying down? It was just the way the two of them operated. Ever since I'd been a kid. It was their dynamic. Maybe it even worked for them. Although, I'd never heard Mum mention divorce before either. "They get all worked up, but then they calm down again. You know how it is."
"I do. This was worse. I don't know..."
"Hey. Hey, they'll be okay."
"Heather.... is it my fault?"
"What? How could it be?"
"I'm the subject of about a third of their fights."
She keeps track? "You're seventeen. Of course you are."
"I'll be eighteen next month. Maybe then... no, it won't will it?"
I stepped out into dangerous territory. "Look, you can come round here tonight if you want, I don't have a spare bed, but if you don't mind the floor...."
It said something, I think, that her voice was small when she answered: "Yeah, I think maybe that'd be a good thing right now."