The Lady of the Red Forest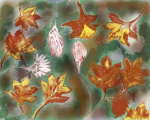 Mon, 23 Apr 2018
She tends the blooms every day.
The way her mother did.
The way her mother would tell her that her grandmother had, and her grandmother before that, and her grandmother, trailing off into a grey-distanced history that has defined her family, her kind, since before there was writing to record such things.
Or so it was said.
#
She doesn't wait for her mother any more.  She used to.  Every day.  With patience.  With breath-held hope.  With loss and desperation and profound loneliness.  With the memory of her promise burning in her ears: "Yes, Mama. I'll keep the faith.  I'll stay true to my duty."
She was a child when her mother left.
She remembers her kneeling in front of her.  "Eshloe, sweetness, I can't stay with you anymore."
She remembers her confusion, her need to ask: "Why?"
Her mother's face.  It's captured in memory as something incredibly beautiful.  Creamy skin set against dark, shimmery hair, eyes like the Deepwoods: ashy and shadowy, gold-hinted and haloed in the slightest, deepest green.  Her lips the same colour as ripe, red roses.  A face that would forever be synonymous with perfection.  She took Eshloe's hands in hers, looked into her eyes: "I have no choice in the matter, my love.  The Giant King sends for me.  No living soul can refuse such a demand."
The forest would burn.  Their precious forest.  And the great feet of giants would come trampling through.  The forest would fight back, and maybe it would win, maybe it would lose.  But it would bleed, and it would be forced to shed blood.  And that should not be.  So she whispered: "I understand."
"And you will be brave.  Kind.  Conscientious.  Above all, you will keep the faith?  Stay true to our calling?"
"Of course, Mama."
"You're a good girl."
"Will I see you again?"
"I don't know."
"I'll sing to you at night, will you sing to me?"
"Yes."
And she does.  Every night.  Though her mother can't hear her.  And she takes it on faith that her mother sings to her too.  Although she can't hear it.  She knows.  They're bound by this song, no matter what comes.
#
The Red Forest is in her blood.
She's a part of it and it of her.  She's been taught this.  And anyway, she feels it.
The forest has a beauty that others imitate but will never master.  The earth is a mix of loam and auburn clay, thick with mosses of green, blue, russet, snow-white.  There are curly ferns and tangling vines.  A forest floor of petals, of flowers that stretch for miles; great colonies of colour.  And proud old trees, with leaves in a mix of green, blood-red, radiant gold. To see the forest from above is to see a patchwork quilt, all in bright colours.  And to see it from within is to see its richness, the plurality of plant and animal life.
These things speak to her.  In their own language.  The words took many years to comprehend; but few of the forest's thoughts are expressed that way.  She catches them in feelings, in hot and cold, in scents, insights.  The thought patterns of her forest shape her mind, they train, educate her.  They're the surrogate mother she clings to while her own is far away.  The forest's song is her mother's song, and she knows all three of them sing it in the night.
She tends to the ancient blooms in the forest's centre.  A verdant area, green and gold, rubied with poppies and red-leaved trees; where a pool is embedded like a diamond in the centre, with flowers growing around it. These white and silver blooms are a measure of the forest's heart.  These are its treasure.  White-barked trees that grow – twisting – around here are the roots of its magic, flowering in a multi-colour.
They were not friendly at first.  Eshloe has the scars.  She treasures the scars.  She'd expected the forest to test her, she'd known these flowers would be bladed and enspelled.  She'd had to fight thrown daggers, mists of poison and misdirection.  These flowers had only given her their trust as she'd come to earn it.
She loves them and feels their love.  She feels the strength of the whole forest, underpinning her all the time.  She rarely speaks.  Her conversations are deep and many; but her voice has no human ears to receive it.  Alone, and not alone.
#
She was alone, and not alone, the day the deeptrolls came.
The forest needed her mother.  She knew that.  A full-grown woman, secure and enmeshed in her powers.  Towering and mighty, without a drop of fear in her blood.  Benevolence wedded to fierceness, mercy to fury, to startling, entrancing beauty.  That was the mother she still remembered.
Instead: a half-formed girl.  A child not finished in the making.  And still she had to face the threat, gather up her forces, march to where the trees whispered danger was coming from.  To where the earth called her, where it rippled against her bare feet, entreating her to come, before the trolls reached the surface and plundered the garden that was the Red Forest's beating heart.
By the time she stood her ground against the enemy, she had the forest flowing in her veins, her heartbeat had merged with its, and its power rested in her hands.  She was itchy with its eagerness to strike, with its readiness to defend. She buried her fear in that, clenched her fist, bit down on her lip, waited for the trolls to emerge.
They were creatures she'd never seen before, and she felt from them an intensive wrongness.  They did not belong in this forest, maybe not even in the world.  They had faces which belonged to the darkness, to the places underground where the earth turned savage and crushed the light out of anything that lived there.  Faces that were hard, leathered, grey-green and tusked; long snouts crunched and folded, pitted lips curled over crowded, jagged teeth.  Their hands dragged the ground, claws scoring the ground as they emerged, leaving trails of unliving where they raked the forest floor.
The garden recoiled from them.
Eshloe wanted to.  But she had the forest's strength at her back, she was the towering might of thousand-year old trees, the wealth of new saplings, the tangling cunning of vines, the compressed hope of raw buds.  But she was trained to nurture, not murder.  With her hands blazing power, she waded into the long grass, snarling, seething.  "Get out!  Go back to where you came from!  The Red Forest does not belong to you!"  And she knelt to strike her fist on the ground, sending waves of energy towards the deeptrolls, warning them.
The trolls stumbled, they clumped, a few fell.  There was a whispering amongst them that sounded like a landslide in miniature.  Words she didn't understands; thoughts and feelings that were alien.  Theirs was no forest language, it was no language of fruitfulness, or patience, not nourishing or giving.  Staccato and guttural, it offered up feelings she couldn't thread her mind into, images that tried to form in her mind but wouldn't hold.  Eshloe had learnt over time to communicate with everything in the forest, but this language, these words, were something else.
"Do you hear me?"  She stepped in closer.  She raised a fist that glowed sunlike.  "Do you see this?  The forest is NOT helpless.  This garden isn't yours to plunder."  She felt the trees lend a boom to her voice, the clear water glistened in her raised fist.  The blooms were spread wide and angry, showing their daggers; poison pouches bulging with their most potent defences.  War.  They knew it.
The trolls did too.  Those ones that bore arms now bashed their short brass swords against stone-clad shields.  They roared and laughed.
Eshloe brought her fist down on the ground.  The ground surged to meet her and earthquake force fanned out from where she struck.
Trolls stumbled, were knocked over, were battered by branches and whipped at by vines.  Daggers and thorns flew at them.  Felling some.  Eshloe learnt what it felt like to spill blood. She killed living creatures for the first time in her life.  And she felt each one of them die – a pain such as she'd never known could be.  Each one scrabbling at life, tearing the veil with its claws, trying to fight its way back into the light.  Each death stung her, her heart mourned, even as her fist struck, even as she screamed war-cries to summon the animals, to wake the old stone, and deep roots.
And still they came.
Go back.  Go back.  We only want to live in peace.  Go back!  Please!  Go back, go back, go back…
And she knelt, striking her fist a last time.  A massive concussion of energy.  Grass grew, and thorn-studded vines.  Trees dug themselves up from their roots and came to stand beside her.  A mighty force. Even their shadows were surely invincible.
The trolls wouldn't see it.  They came.  And Eshloe rushed to the forefront to fight them off.  She lost herself in the brutality of killing and dying.  Lost time to the endless thrusts and screams, to the lives that flared and failed, to an ugly, goading heartbeat that raced inside her brain.  She watched their retreat between bouts of dizziness, the flickering of light and dark, the meshing and blurring of everything she saw.  She lost the world to silence, and fell into the arms of her forest, knowing she'd kept the pact, kept faith with her duty.  As she'd promised her mother she would.
#
Eshloe thought she must die from this battle.
As she lay in the garden, on a cushion of her own blood, only waiting, listening, as the thudding of its journey through her veins slowed and quieted.  She felt her life slipping into the forest, and was glad to give it.
But the forest would have none of that.  Every spark of life she shed, the forest returned to her.  And returned it with more.  Every breath she buried in the earth came back to her, and with it a breath exhaled by the forest.  The power of that found its way into her veins, came to rest inside her heart.
Until she finally stood, taller, more golden.  She had never seen a mirror; but when she looked at herself in the still pool, she saw what the forest had wrought: the vines that now grew through her hair, the golden-glitter that had become her skin – both soft and hard, petals and bark – the supple branches that now grew in and out of her bones, emerging along her skin and following the contours of her body, emerging in coils above her shoulders, as horns that grew from the sides of her head, pointing upward like spears.  She flowered; she was covered in mosses and lichens.
The Lady as she ought to be.  Her truest essence.
She hadn't known it, but she did now: this was the form she should always have taken, the form the forest had offered all this time.  She'd been partially sighted, and perhaps her mother had too.  But her eyes – sea-blue – were opened all the way.  She could never leave this forest now, never would; and no army of giants would be strong enough to evict her, no Giant King would ever dare a summons.
#
She hears rumours about her mother.
That she has followed her duty all the way to the Great Castle, and there she wed the Giant King.  She has borne him mighty sons, and these sons have sown sons of their own.  Generations have passed in the world of men and giants.
She sees these children from time to time, as they come and go along the forest's edge, sometimes daring to go a little deeper.  They're respectful, offering stones – which they bury in the earth – offering ash logs, live saplings.  They're a mixture of her mother and their father, having her fine skin and their father's size, but also having the strength of trees, bark-skinned, with golden eyes; hair more like grasses and vines than hair.  They have traces of the forest's blood, and they are powerful.
It was a compromise her mother had to make; but there'll be no such compromises now.  She's stronger than her mother has ever been, and the forest is stronger too.
At times she'll see one of these giant-forest children come into the woods, and she'll hear them singing.  It's a song she knows; one taught to these children by their mother, or perhaps they have only heard her singing it night after night.  When she hears it, Eshloe raises her voice, and the forest raises its, and so the chorus reaches up into the skies, and is carried on the wind, alongside the clouds, through the halls of an oversized castle, to where she knows her mother hears her and knows what she's become.
#
In time the forest whispers to her that she should raise her own daughter.
Centuries have come and gone in the world of men and giants.  Her mother is widowed, long gone, no longer spoken of.  The wind, the leaves, the branches are all silent on her account.  Her lifespan should be measured in thousands of years, but she's slipped out of the forest – protecting it – and never become fully merged with it.  So maybe her years have shrunk, become the years of giant-kind, she has aged with her husband.  Might she be gone?
Eshloe wonders.  She cannot know.  She sings every night all the same.
And one night, her song attracts a young man.
He's lost in the woods, and though he won't admit it to himself, he's becoming afraid.  A storm has brewed up in the clouds and now it unleashes itself, tearing about in the canopy, throwing gusts of ice-water down below the leaves.
Wet, this stranger stumbles upon Eshloe's cottage.  He's drenched.  Pitiable.  Pretty in that strange, insipid-yet-charming way in which humans are pretty.  She wonders if he will find her terrifying.  Probably he should.  But he only seems grateful to be taken in from the cold, to be fed nourishing soup, to wonder at the warmth of a cottage that has no fire.
His name is Lochthryd, and of course he is of royal blood.  He's no prince any more, he tells her, since his brother took an army into the field and robbed him of his lands.  He has been exiled, and one by one his retainers have left his side since he is unable to feed them, and cannot pay them gold nor offer them safety.
"There's no blame attached to them," he tells her freely, pouring himself out before her, without thinking to question why.  "I can't play the part of a prince, why should they play the part of my men?"
"For love of you."
"Love for a prince: it's a matter of gold and swords.  It always has been."
"Not here," she tells him.
And overnight they know love.  What she offers him is purer than anything he's known before in the arms of a woman.  He is uplifted, cleansed, broken, healed and reborn.  In his turn he shows her the warmth of human company, the long-forgotten art of words, the hot touch of his skin against her own.  He unlocks secrets the forest has hinted at, that the trees and animals know.  Now she knows as well.
She gifts him spells when he leaves her, knowing that he has gifted her a child.  A daughter.  As it must always be.  And her daughter is a soft, blond creature, with eyes like sapphires, owing some of her loveliness to her father, and some to her mother.  As she grows Eshloe tells her about her father – what she knows of him from their night together, and all that he told her over that night; and she tells her of her grandmother, who was impressive, fearless, dutiful.  She asks her daughter: "Will you follow your duty wherever it leads you? Will you love the forest in every part of your soul?"
She answers of course that she will.
And Eshloe sings to her, songs of the forest, songs her mother taught her, that her grandchildren, and theirs, and theirs, and theirs will one day know.
Picture credit/discredit: author's own work