Longing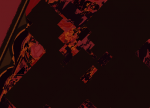 Sun, 17 Oct 2021
1 likes
Birthed by the shadows,
She, like lava, slips between them,
A disturbance,
A ripple,
A distortion so small and basic and integral
That perhaps it was never there.
Quicksilver vulnerable,
Hemmed in by fire,
But her eyes are blind diamonds,
Seeing without seeing,
And they reach through fire and shadow alike
Land like butterflies on surfaces too hot to touch.
He walks like he owns the world,
At one with the sunshine,
But does something…?
He feels it, like grease against the back of his neck,
Like a brush of nettles,
Except that when he turns there is just the empty courtyard,
And the pattern of sunlight through wrought-iron gates
That against the paving stones could be sepia lace.
Picture credit/discredit: author's own work