The Man with Golden Eyes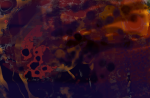 Thu, 14 Oct 2021
I had a few preconceived ideas about some of the perks and perils of starting work as a stripper. But one of them was not to be followed home every night by an army of cats.
I was expecting to have to deal with grabby men, with cat-calls and dirty jokes – maybe one of them might try to talk to me after, maybe one might follow me home, maybe some of them would think that stripper equals hooker, and if I'm up for the one then I'm up for the other… you see where I'm going with this?
And women: I knew there would be some who would resent me, be jealous of me, the ones who would call me a slut and a homewrecker and all the rest of it.
And my friend, Lizzie, asked me: "Are you sure you really want to do this?"
Well, the actual answer is 'no, not in a million years', but I'd had to come up with something. Here's why: I got stupid. I was having trouble getting ends to meet, I was living off a student allowance, getting a shift of two and Pizza Pete's, but then the rent went up and the shifts went down. Down to zero, actually. I remember the last night, the night Pete's closed, and we all sat around drinking until nearly dawn, and Pete just kept putting pizzas in the oven and bringing them out for us because we had all these ingredients and they needed to be used up and so…  It was a great night. It was one of those nights that live in your memory, and they just keep staying golden, keep shining in spite of the time that goes by. Shine a little brighter if anything.
But stripping. That's the part you want to know about. Right?
Well, my rent was up 20%, and I had no job anymore. I stood in front of the supermarket with a maxed-out credit card and nothing in the bank. If I went in there, I was sure whatever I paid with going to bounce like a rubber ball. And yes, I know, I should have asked for help. I could have called my dad, or maybe Aunty May. Hindsight is a beautiful and wonderful thing. I could probably even have walked into the food bank, or the city mission.
But I had what I thought at the time was my pride.
So I went to that loan shark instead. Seemed friendly, seemed legit, seemed understanding. And if you don't think too hard about an interest rate of 30% per month calculated daily, it doesn't seem all that bad.
Well, that's how $500 became $5000.
That's why I walked into that seedy, smoky, sleazy place; how I breathed in the courage and walked up to the guy at the bar, and asked if there were jobs available. "I can dance. I did some dance classes in high school."
And so I dance. I get paid to dance.
I can service my debt. Just.
And I don't feel dirty. Not exactly. Because look: when the lights are on, and the music's going, it's hot, you're sweaty, look: you don't even see the faces, you can tune out the things that are being yelled at you. You create a bubble around yourself and you dance as if the dancing is for you, as if it's in a field of flowers, as if the layers aren't slipping off one by one until there's nothing left…
#
So anyway. I would walk home after my shift – no buses at that hour, and I think my financial position explains no car. It was only a few blocks, and the lighting was decent. I knew there were some dodgy sorts out at this hour – some of them had been watching me up on the stage – but I'd rarely run into anybody.
Except for the cats.
At first there was just this one tabby who started following me. He was a shy little thing, who stayed at a distance, with his ears low and his back arched. But he quickly brought along a couple of little black friends, and then a white-and-ginger, and then there must have been about a dozen of them. They kept their distance, but they were always around, trailing behind me, eyes shining, curious.
Except for the man with golden eyes.
He was generally the only human soul I could expect to see along my way. And I would see him nearly every night. He dressed in a long, ragged coat, and had shaggy hair to match it, a scrawny beard, and those eyes: they were like brightly burnished coins, polished up to a moonlike shine. They pierced the night more fiercely than any of the cat's eyes did. And like eyes in a painting, I could feel them following me as I walked across the paving stones.
I should have been freaked. That would have made sense. But there was something about his attention that just didn't feel freaky. There was something warm and smooth about it. I half-imagined that he might shrug his shoulders and a magnificent set of wings would appear on his shoulders. My guardian angel. Or some such thing. A figure buried in the shadows, but emanating light. A fantasy, I guess.
#
"A psycho, you mean."
"Well, I don't think he's that…"
"And you'd know because…?"
I didn't know how to explain. And that hard way Lizzie was looking at me… But she was only trying to help.
She said, "you gotta give this shit up. It's not safe. I know some of the types of guys who go to strip clubs. I know what they're like."
"He… never goes."
"Well, the type who skulk around outside strip clubs are probably worse. He most likely got banned from the place or something. Now, you ask yourself: what does a guy have to do to get thrown out of strip joint? It can't be anything good."
"I could ask him…"
"Loni! Don't you even joke about something like that!"
#
Had I been joking? Not exactly. I'd toyed with the idea of talking to the guy, of saying a brief hello, or just maybe giving him a short, sharp little wave and a nod or smile. It seemed – you know, objectively – like it must be a bad idea, but it was an idea that tugged at me now and then.
I told myself I wasn't going to be doing this for very much longer anyway. I'd get another job. Maybe full-time over the summer. And then I'd get the debt paid off and get my shit together, line up my ducks, and call it quits on the stripping. If I didn't look too hard at it, it seemed easy enough.
And in the meantime, I had this entourage of cats.
They comforted me. And they made me feel like the Queen. Or an empress.
I toyed with changing my stripper name to Cleopatra. It was currently Tiger – which I guess was sort of fitting as well.
Once of those cats could have almost been a tiger – he was a mix of dark ginger with tabby, and his grey-green eyes seemed wise in his rounded, whiskery face. I had taken to calling him Syrup, and had even crouched down a few times to hold a hand out to him. He was slow to take the invitation, but eventually he'd come up to me, sniff the fingertips, before retreating from any actual touch. There were a couple of others who would approach me. There was one I called Treacle – a ginger-brown big girl – who was willing to sniff a finger. One I called Sylvia who would come up behind me and drop to the ground with her fore-paws curled up against her chest. She'd dart away at the first suggestion of a pat, but she'd stay close, watching with nearly-blue eyes. Midnight and After Dark could almost have been twins. Phoenix liked to run ahead of me, jumping around on walls and gates, rushing back to see where I was, and the running off again – more dog than cat.
I felt like a I knew them all.
#
I was surprised to find the cats, one night, nowhere to be seen.
For the first time since beginning my unorthodox career I found myself afraid of the late-night streets, jumping at noises and shadows. Just thinking over and over again: well, where are they? Why are they hiding? What are they hiding from?
I remembered the voice of a man in the crowd, how it had carried above the others: "Some more of that please, love!" and later: "How'd you like to come home for a private show?"  I'd been warned by the manager, and warned by some of the other girls: never, never, never. I hadn't needed the warning; it took next to no imagination to see where that could have gone.
But was he behind me? Did I hear footsteps? Was that the shadowy figure of a man's shape that was always just out of my reach and behind me? As I walked, I heard the faint echo of my heels clacking against the paving stones. Was it an echo? Did he walk in my footfalls? Looking for that private show?
And where were my cats?
The man with golden eyes had a place he liked to hang out – a little empty courtyard growing moss and vines, looking all broken and lost, even more so by day. And I was relieved when I rounded the corner and saw that he was there. I actually envisioned him protecting me. But then I noticed that he was slumped over, leaning against the wall in an unhealthy-looking way. And I noticed that my cats were all around him.
Moments like that, you don't make a decision, you just go over there. You need to know. And so I hurried over, and crouched down beside him.
"Excuse me, sir…."
He looked up at me, and I saw his eyes were as bright and golden as they had been from a distance. There was no trick of the light, these were real, solid-gold eyes, twin suns in a haggard young-old face. I could smell too that there was whiskey on his breath – it matched the large bottle he held loosely in one hand, half-full, leaning up against the wall. He gave me a crooked smile. And I noticed then that there was blood on his leg, a long cut beneath a worn pair of jeans that ran most of the way down his thigh.
"Sir, are you all right?"
My cats had defected. That was clear. They were all milling around, walking back and forth, sniffing, rubbing up against his arm or leg, before walking off a little way, coming back, claiming ownership again. The man stared at me in a way that was just a little blinding. "Had a bit of an accident, you could say."
I looked at his leg, "you might need some stitches."
"Oh. No. That. That's not the accident. Well, I guess it is an accident. But it's not the one that matters."
I cautiously put a hand on his shoulder, "What is it then?"
He held up the bottle: "This accident."
"An accident?"
"I prefer not to think that I did it on purpose."
"What happened?"
"A bad day, that's all. A few people spat at me. A few people told me I was a waste of oxygen. I saw a woman get attacked by the Darwin St fountain. It just takes enough layers to reach that kick-in point. And there you go."
"How long had you… you know…?"
"Sober? About three months."
"You were doing good."
"Was."
"I'm sorry. Really. This sucks."
He smiled again. He looked at me as if it were me who was his guardian angel. And warning bells should have been going off all over me, but they weren't.
I said, "well, these guys still like you," gesturing loosely to cover the cats.
The man held a hand and Treacle came trotting obediently over, offering a little head-butt, and tilting her head back for a chin-scratch. Nearby, Midnight opened his mouth for a toothy yawn. "They're always here for me," he said.
"Me too."
"Cats are a good judge of character."
"I heard that somewhere."
"They can see into a man's soul. A woman's too. If they want to protect you, it must mean you're okay." He scratched Treacle behind the ears, "Fudge likes you. I can tell."
"You call her Fudge?"
"You?"
"Treacle."
"Ah. Suits her." He reintroduced me to the friends I thought I knew, to Lady, and Creeper, and Black Pearl, to Sunset, and Mirror, and Barbarella.
"Hey," I felt like I had to be responsible here, "we really should take you to the hospital to get your leg looked at."
"It's nothing. Just a fence that wanted to keep me away from by baby," he caressed the bottle sitting beside him. "Never have children. Just a curse, I tell you."
I reached for his whiskey 'child'. "You might need stitches. It could get infected. We really need to get that looked at. I'll stay with you, I promise."
He considered, "Well, the cats do like you."
"And you, so it must be a good sign." I held a hand out to him, "Come on then."
He walked beside me.
"Hey, just because you fell off the wagon tonight, doesn't mean it's over, you can start again, you know."
"I do know. I'll be all right, I think."
"Yeah, me too," I held a hand out for him to shake, "Hey, I'm Allonia, by the way."
"A pleasure. My name, when I deign to remember it, is Edgar. You can call me Ed, or 'hey, you old drunk' if you prefer to use my other name."
"I think Ed'll do."
We walked beneath street lights, casting overlong shadows, while a trail of cats followed like a bridal veil behind us.
Picture credit/discredit: author's own work