Mindy Unsworth: That Night around the Bonfire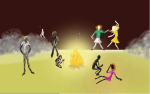 Sun, 17 Apr 2016
Is there such a thing as perfect happiness? A perfect memory, maybe, that brings back all that perfect happiness almost as if you were still right there living it?
I've got a photo I keep on my desk in my room that says there is.
It was a year ago, just under. It was somebody's birthday – I can't remember whose – and we'd decided that's what we'd do: pack the cars with booze and blankets, head out to the beach, go wild. Only Brendon and Keith had their licence then, so we piled into their cars, all limbs and heads, abstract art with its elbows sticking into itself.
We made a fire. We had marshmallows and bourbon.
That was the life.
And I remember thinking: this: I don't ever want it to end. This night could be my life. All and everything I wanted.
#
This photo. I don't even remember taking it, I only assume that I did because it was on my phone and I'm the only one not in it. There's a fire in the centre – this big, blazing bonfire, sucking all the light out of the world and into itself. You can see the beach in its light – sand and driftwood, rocks looming up in the background, waves crashing over them – white-and-gold fringed, frothy, coating the rockfaces in lace. The sky without evidence of stars: although I know there were, I remember them, even if the camera wasn't up to capturing that detail. No moon though – or almost no moon, just a faint sliver, as if someone had drawn it there with white chalk.
There's Tracey, sitting cross-legged, her line of marshmallows roasting on her scavenged stick. There's a few leaves still clinging to it. Tracey with her bare feet playing it the sand, firelight conjuring all kinds of beauty in her face, painting ruddy, sunset colour into her forearms.
There's Johnny Shorewood – before she developed her half-hearted crush. He's less to be crushing on, still fifteen, gawky and geeky, with his round glasses, his face criss-crossed with acne. Still with the walnut-soft curls. Those: I always liked. He's standing behind her, looking over the back of her head – dark hair infused with firelight – staring into the flames.
There's Rhonda Decker, long legs splayed on the sand. Short skirt. Her hair in a perky little ponytail, and she's talking animatedly to Brendan Capwell, waving her arms in that moment to emphasise some point. Brendan crouched there listening, his forearms rested across his thighs. He's looking at her, focussed – but on her face, or a little bit lower down? He's as gorgeous then as now, fine nearly-black hair, not one of them out of place, all chiselled jawline and soft, intent expressions. You can't blame a girl.
And there's Nina and Sharon dancing. Who needed music? Lights? The two of them throwing back their heads, tossing their hair around, dancing like they didn't care about anything. A bottle in Nina's hand, half-full: so maybe they were past caring. Living without reticence, there in the moment.
Lachlan Reddington: he could be a shadow, an otherworldly visitor caught by a camera. (Cameras don't really catch those sort of things where naked eyes fail – almost never. In fact they're more likely to be invisible to a camera's eye, hiding themselves from photo shoots for that reason.) Lachlan was born on this earth though, as solid and real as it is. He's an old oak, twisted and gnarled and so deeply grounded in the world he'll never be dug out of it. He's watching from the sidelines, looking more as if he's studying us than one of us.
Keith: in the background, amongst the rocks and wave-crests, almost as if he's guarding us. Watchful like a cat, like a wolf.
If cameras can capture a soul – and they sort of can sometimes, in just the right set of circumstances – then I think I'd want mine to be captured in that photo. I think that would be nearly perfect.
#
The beach was an old favourite. Kids for generations have been going out there and having parties. There's caves and bushes and ocean, rocks and a rockwall, a train track in the middle distance. My Dad went to parties there too. He kissed Mum at one – before they were a thing – tried to cop a feel as well and got a kick in the shin for it. Lucky for me, I guess, that they got past that, hooked up again so many years later.
I walked along the beach with Tracey.
"I can't believe I swung this," she told me, kicking up the sand with her toes.
"How did you?"
"Get this: I told Mum I was on a school camp."
"School camp?"
"I worked up a newsletter, got her a conset form to sign, the works."
"She'll figure it out."
"Oh, she will. But not yet. Not until it's over and it's too late."
"This. It's worth it?"
A grin that split her face, her arms out wide to take it all in. "Yes."
It was. What memories are made of. What'll make us smile in our old age. Compensation, paid unknowing, if we never get that far. We don't know when the zombie apocalypse is coming. Only that it is. And maybe in our lifetime. All those multitudes who ate and drank and were merry: their tomorrow came didn't it? Their tomorrow's our today. Our today: somebody's yesterday.
This photo: maybe one day in a history book. Unidentified teenagers out partying by the beach. Yet-unborn teenagers studying it in school, at desks that float around the classrooms; kaleidoscope ceilings, with acid rain hammering them; repair drones fixing a radiator.
I said, "Well, I'll see you when you're twenty-one."
"Nah. They're not that bad. You think she didn't get up to this and worse?"
"Your Mum?"
"I'm telling you."
And up by the fire there were chops cooking over open flames, and marshmallows being piled onto collected sticks. The bourbon flowing big-time. So we piled on into the mass, linking arms with the other girls, dancing around the fire as if we were witches and summoning it out of the earth. I could see little fire elementals taking form amidst the flames. Some of them had svelte, smooth bodies like tiny, golden-orange women, flickering as their limbs moved, as they joined us in the dance. Others had almost no form. Or there were strange forms, things with two heads and only one oversized arm; creatures of just flame and teeth. Taking forms as their imagination bid them, copying us – or not.
I noticed Lachlan that night – the ways his eyes moved through the fire. There are times when I almost think he can see the things I can. Not the way I can, but still, I think he gets glimpses and hints. Always the quiet one, but once you get to know him....
#
Sometime later.
A fight of sorts.
Nina and Sharon wanting to go swimming. Stripping off into their underwear. Brendan Capwell ready to join them. Johnny Shorewood saying that that's not a good idea. "You guys are drunk."
"Noesshe we're not:" Nina proving his point.
"I got them," Brendan insisting.
"You're drunk too."
And Lachlan: "He's right."
And me: looking off into the ocean, checking for monsters. Not seeing any. Suddenly longing to strip off along with them and go charging in. The waves were all but calling me, crashing on the beach with a sandy drawl, promising warmth and salt, darkness, weightlessness.
"Just to the knees," Sharon insisted.
Nina: "We promise."
And Tracey to Lachlan: "Go with them. Watch them."
#
Sometime later. The fire dying down. Fire elementals sleeping in the embers.
Tracy was out on the sand, writing her name in giant letters.
"Are you sure you're spelling that right?"
"Bitch!" She yelled back.
"There's too es in Tracey!"
"No there's not!"
And then she came to lie down beside me next to the fire, to look up at the stars – blue and white and yellow in a void backdrop. The universe falling upwards and away. We let sand get in our hair, wriggled our toes in it, allowed ourselves to feel as if we were falling, as if we were floating in the void of space.
Tracey: "I think maybe I'm a little bit drunk."
"Oh, you think?"
"Yes I do. And I think it's all because of you."
"Oh, yes?"
"I think you may be a very bad influence."
I stretched my arms above my head, fingers playing in loose, warm sand. I could hear the guys running races, out there in the darkness. I played in my head with a number of sentences that all began "if this were a horror a movie..." I could imagine it too, the shouts and laughter all suddenly stopping, an eerie quiet, just the sound of the waves, and then another sound, at first so faint we wouldn't be sure we'd really heard it. But then: it growing, deepening... Hardest for me, of course, because I'm the one who knows what's out there. I'm the one who has to check the sea for monsters, and decide how to keep everybody out if I see one. I'm the one who checks the bushes for goblins and dryads, makes sure there aren't gnomes or twitters to be cleared away first.
"You listening, Mindy?"
"Of course."
"And the last thing I said was?"
"Um..."
"You. You went to sleep!"
"No. Just thinking."
"What about."
"Life being short and terrible."
"You're thinking that now?"
"I'm thinking these are life's compensations for all the crap. If we end up addicted to crack, or dirt poor and raising six kids, or with a husband who bashes us around – it's this sort of stuff that gets you through that."
"You are drunk."
"Maybe not enough."
"No husband would ever dare bash you, Mindy."
Not unless he wanted pushing into a portal going straight into the Screaming Abyss.
The shouting and laughing came closer. The guys, still racing: they jumped overtop of us as they charged their circuits around the fire. I toyed with the idea of tripping one of them up, but the ashes were still hot, too easy for it all to go horribly wrong.
I imagined being disfigured by burns. Being almost inhuman with them, a skin that was rough and shiny, stretched, twisted, reddened. I could feel the heat beginning on my palm, and worse, the sudden shout from Tracey as she felt it – my hand in hers. I brought my imagination under control with a wrench of effort.
"Ow," she was shaking her hand.
She'd blame the fire. I'd let her. I focussed on the red embers, on the little flames still scurrying over them. I had an awareness in my mind of how this could have gone. The power of my imagination. The thought was sobering. I reached for a bottle.
#
"Who was it!?" Tracey demanded, pointing, gesturing at the beach.
First light revealing it.
Tracey Huntingdon, the beach read, will suck your dick for a dollar.
Brendan Capwell: "Was the price too high?"
"Was it you?"
"No." I doubted that. He had a half-sheepish, half-defiant look about him.
"Really?" She was strutting up to him, hands on hips, fight at the ready to be picked.
"Really. But look, if your rates are wrong, I can change..."
She shoved him, both hands on his chest, causing him to stumble.
"Hey, hey," he held his hands up, all peace-gesture. "No harm, no foul. No offence."
"You want to see offence?" but her outrage was touched with a fought-down urge to laugh out loud. "Because Brendan Capwell will suck it for free, guys. Just ask him for it. Just flop them out!"
And Johnny, going peacemaker: "I don't think it was meant... any harm, y'know." And he got down there on his hands and knees, rubbing it out for her. Is that where a crush began? That moment. Almost a year ago.
#
Walking back, well into the morning. And Brendan walking beside me. There was a flutter in my chest, a small burst of numbness in my legs. Did I fancy him already? Not sure. Hungover a little bit. And I was ravenous. Just take me to the closest chip shop.
"Fun night," said Brendan.
"Yeah it was."
"Hell for paying at home?"
"No. They know."
"Cool. Mine sort of know."
And him, so good-looking. Hard not to notice. I was pissed at myself for being felled by the pretty face of the most popular boy in school; but there he was, and gorgeous.
"We have to do this again," I said.
"Agreed."
"Maybe New Years."
"Yeah maybe. End of school?"
"That works for me."
"You know what they say about you right, Mindy?"
"That I'm hot and super brainy and bursting with talent?"
"Talent for what?"
"You tell me, you've heard them saying it."
"Something about being completely mad. Like bonkers."
I hesitated, half stopping, turning me eyes on him, making their expression count. "And what do you think, Brendan Capwell?"
"That I know a cool girl when I see one."
"And I like a smart guy."
#
This photo. Truth to tell: there are times when I reach out and touch it at night. Or when I'm meant to be studying, and instead I'm just sitting there looking at it. Brendan, Lachlan, Tracey, Johnny, Nina, Sharon, Rhonda, Keith. There are times when you wish you could capture it – the moment – reverse time, keep it frozen in that spot.
But time got away from us, and we're all up to our chins in it, all of the time. Life: its barbs in us all over. So I can't take us back there, can't undo a half dozen things. Johnny.... Nina... I pick it up, holding it in my lap, and it still seems as if firelight's flickering over it. I sometimes think I can see them moving, I can see them dancing, their hair flicking.
Sometimes I'll think: a tiny face in the fire? But in the next second it'll always be gone.