Mindy Unsworth: Some Words About My Best Friend (2)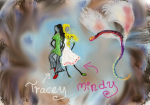 Wed, 02 Nov 2016
1 likes
Tracey.
She saved my life one time, and she doesn't even know it.
It was this time when we got caught out in the rain. We were walking home from school, it was sunny, we were comparing the chests of half a dozen actors and pop stars and giving them a rating out of ten – okay, sometimes eleven. Blue skies and bliss. And I should have been suspicious of just how perfect it all was. Picture perfect. The sky all radiant, lake-blue, burning deep. The flowers wide open, bursting with colour. That sense of saturated peace and well-being that hung in the air like syrup.
"... and I'd let him eat cookies in bed any day of the week..."
The clouds came over fast. Way too far. The air darkened perceptibly. I could see it happening. Tracey could. Clouds that were white and brown, striped with mud, with veins of gold, threads of deep black that could have been dark enough to hold universes. Rolls of thunder, flashes of lightning, frozen in the sky, waiting to happen. The undersides of the clouds bruised with impending thunder, pregnant with rainfall.
"What the...?" Tracey looking up and around her.
And me, starting to get a really sickening idea as to 'what the...'
"You trust me, right, Trace?"
"Uh, yeah."
"It's going to rain."
"Duh."
"Bucket down."
"So?"
"So let's not get wet."
"Good luck with that."
You
wanna die? But I have to control these things. I swallowed my breath. "Race you. Over to the scout hall."
"Okay."
"Now!"
But I had to turn. I had to see what we're dealing with. And sure enough, the universe was doing its thing. Everything melting into everything else. The dark side of everything was coming out of the woodwork. The trees all growing long and hooked and fingers limbs, their leaves becoming fur. Cracks erupting through the pavement, through the road. The fence nearby growing three feet, it's white pickets suddenly turning into deadly pikes. Sky dissolving into horizon, roofs into air, foundations into greedy, melting earth.
And the sky let go. Rain came down in sheets.
Rain like this. Living. Evolving. And high above, in tangles, falling and flying, winged serpents, feathered, furred, glowy eyed.
So go.
And the tear opening. A ragged shard of a portal. It puckered the air, filled it with swimming, blurring waves; collapsed it a little bit in on itself. I was staring. Even though I knew I should have been running. I could feel it, feel the spicy, prickling truth of another world opening up, reaching curious fingers through the gap, feeling our world, taking in all its wonderful, tactical novelty.
It touched my cheek. And I felt the pull of it. Like quicksand, like a whirlpool. And I was caught. It wrapped liquid arms around me and dragged me towards that point. I knew to run. And I tried to run, head down, shoulders squared. I felt my feet skidding under me, the ground gone slippery, slimy. I was twisted around, I was pulled onto one knee. Sharp, sightless fingers gouging scratches into my cheeks. Innocent blades.
And I screamed. And maybe I called out to her. You see, I don't know. It was sucking the life out of me. And even as I turned myself on it, I knew I was outmatched. Even as I stared it down, I knew I was looking at something ten times my size. I tried to imagine it closing; I tried to imagine it smoothing itself off, fading, sinking back into its own territory. … Please...
Answering visions: a mouth opening up, teeth-more-like-tentacles, and they flurried out at me, scraping and cutting, dissolving. One arm. Then the next. Blood, flesh billowing out from the middle, wool from an ugly school jumper, red-soaked. One shoe. Another. Confettied in the whirling blades of another universe.
And seeing is believing. It is in this game.
I could see the blood, in the corners of my eyes.
And I must have. I must have called her name. Or screamed louder than a screaming alternate universe. Because why else would she have turned back, why else would she have come running back for me?
She's never needed to understand. She's never questioned. On my knees, reaching out for her. "Tracey...!"
She grabbed my hand.
Focus-focus-focus!
The portal closing. Tracey -a ten storey statue, an iron golem, pulling me free of this nest of snatching arms, these barbed fingers.
"Min. Shit."
"We have to run."
"Min."
"Run!"
Swim. The rain was the air. It could drown someone – like me – who's susceptible enough. It could find ways to drown others. Ordinary people. It could.
And we scramble into the scout hall. Old and draughty and cold. But dry. And I drop to my knees right there, hard, sending a shockwave right through my bones.
Tracey, beside me: "You're bleeding."
"Let me see." I peered into her compact mirror. Straight cuts all along one cheek, on the tip of my nose. On my forehead, blood clustered around my eyes like bad eyeliner. This'd been close.
"You okay?"
"I tripped."
"You really can't do anything by halves can you?"
Exhausted, shaking on the inside: "Yeah, I try not to."
#
"Brick, he's sort of okay."
"If you overlook the fact he's called Brick."
"It's short for Byron."
"Byron."
"I know." She shifts a little bit to catch a shaft of sunlight. It's sunlight that shows the dust mites. So easy to just get lost in that dust, the way it swirls in the air. Just knowing its there all the time, only revealed by the sunlight, being constantly breathed in and out...
"Well, we breath ourselves in and out half a thousand times over a lifetime anyway. Each breath we exhale a bit of ourselves, absorb some oxygen, breath out some molecules, skin-air-light make this constant alchemical reaction. We don't have any of the molecules we're born with."
"What?!"
"I said that out loud?"
"Yuh-huh."
"Crap."
"Min." She has that voice that's almost telling me off. She glides into a cross-legged position, picking at a hole in her tights. "So anyway, Brick. She's his oldest. He's almost nineteen. He's okay. But her."
"The wicked stepsister."
"Exactly."
"What's so bad?" The whole molecule thing can just be let slide into the background. I don't really have to watch my mouth too much with Tracey.
"She takes after her mother."
"Are you sure..?"
"No this isn't some Daddy-stealing tantrum. I'm not mad at her because she hooked up with Dad. And I'm not mad at Yvonne because she's her daughter."
Leaning in: "So?"
"So, she's just got such an impossibly high opinion of herself. She thinks she knows everything, and she's just itching to tell me about it. And in this kind of detached, oh-I-know, I'm-just-telling-you-this-while-I-do-ten-other-things-in-my-head kind of a way. She doesn't look up from her book. Which she's always reading. The classics. Just to show off. And she tosses her hair."
"Oh?"
"Like this." She demonstrates. With gusto. Almost like a seizure.
I video her on my phone and play it back to her.
"Min!"
"What?"
"Well, yes. Like that. It's a good likeness."
"I'm just going to forward this..."
She grabs for the phone. I toss it. We scramble. We fall about laughing.
A year earlier, she would have still been writing stories about Yvonne. Her own weird kind of auto-therapy. And I suppose these must be something cathartic about it all. Letting all those feelings out into words. We'd sit up in the same attic, and she'd read them to me.
"....And Yvonne Idiot walked down to the station, tossing about her empty head. People kept their distance, thinking she must be possessed, or she's listening to head-banger music on invisible headphones. She doesn't pay attention to anybody but herself, so of course she runs into people and of course she steps in dog shit and vomit. And when she heads down the stairs she hits her head on a low hanging shop sign..."
I have to be careful not to imagine this too hard.
"... and of course she's imagining herself in her head, all her future successes, so she isn't paying attention to the train, or to the tracks..."
And I have to try really hard, shut that image out of my head. My heartbeat going crazy in my head, fuelled by Tracey's small malice, her ordinary human hurt.
She closes the notebook in triumph.
"Shit. If somebody read that stuff. If your Dad saw it."
Her face sobered. "Yeah. Yeah I know."
#
She has a thing for Johnny Shorewood. It's been an on-again, off-again thing that neither one of them has ever really expressed to the other. And it's nice. Because Johnny, he's sweet, he's the kind of guy you hope your friend or little sister is going to fall for because he's not going to hurt her, he's not going have bully-sex with her, or talk her down to his friends while she's right there in front of him....!
Okay, bygones. That was a year ago. Angus Brown is long gone.
"You were so far too good for him anyway," Tracey tells me - told me - in the middle of that breakup.
"I was wasn't I?"
"So far above him he'd need a step ladder and binoculars just to see you."
"A telescope."
"The fucking Hubble."
She's always on my side.
And Johnny. Me and her, we would follow him sometimes. Crazy daft. He'd be walking home, and we'd be skulking along in hedges, or we'd be taking some parallel road, catching glimpses of him through the gaps between houses. Or it'd be out in town, we'd see him walk past, we'd ditch wherever we were sitting and go diving after him.
If he noticed us – and of course he noticed us – then she'd flirt. Shamelessly. Making him forget any outrage about being followed. She can twirl her hair and arch a sexy calf just as well as I can. She's gotten pretty these last couple of years, developed a talent with the make-up, grown into those long, awkward limbs, the knife shoulders, the pointy elbows. Before I know it, she'll have him buying us chocolates and taking us out to a movie or something. I can usually melt off somewhere and let her have her wicked way with him.
Eventually.
They still do the sexual tension dance. They still duck and dive around it, friendship just touching on something more. Light crush? Or not.
They play.
But we're equals. I indulge her thing with Johnny – whatever it is- and she enthusiastically supports whatever it is I've got going on with Brendan. She has us picked for the school's glamour couple – beauty and poise matched with beauty and poise. "Everybody wants to be you guys."
"Oh, they don't."
"Oh they do."
"Do not"
And I guess since we're already regressing about ten years: "Mindy and Brendan..."
"Yeah, yeah. Up a tree. K-"
"I was going to start that with an 'f'"
"Jeez. You!"
Smug, calm, world-including smile. "Me."
"In a tree. I don't think he's got the balance."
"Brendan. Super-human, gift-to-all-women..."
I fancy him. And I like him. I'm sorta, kinda dating him. And still. "I'm just picturing the look on his face if he actually fell out."
#
We found her in this very attic.
Mathilda.
Well, I think she must have had many names, over the course of her years. Older than my grandma. Probably adored, treasured, turned to for comfort, by so many dozen girls. Each one of them giving her a name. And perhaps not even one of them was Mathilda. But as soon as I saw her I knew the name fitted. That it fitted each face just as perfectly as the other.
There's so much in Tracey's attic. Her Mum's a hoarder. She gets her inspirations, burns them out, catches the next one the way a magpie catches sight of some shiny thing. And so the cupboards, and the attic, fill up with all and everything. We've spent so many years exploring this place, rummaging through old boxes, old crates, holding up delicate dresses belonging to yesteryear, feeling as if we've stumbled back in time. How many generations have buried these things, burying with them a piece of themselves, a slice of their world?
Christmas cards. Letters. All written in faded, cursive script. All gateways to things other. To other lives. Other times.
And Mathilda.
She's a doll. A beautiful, big, porcelain creature, with hair that may be real, with eyes that open and close when you tip her head back and forth. With individually fashioned eyelashes, with fingers that have fingernails. And two faces.
Tracey holds her up, turning her around and about, trying to get the feel for her. "Oh my God, check this out." The hair can hide either face, it's designed that way – dark, dark-brown hair, just a little bit kinked, very thick. And a face on each side, one always curtained and in shadow, the other offered up to the sunlight. Each one of them is beautifully made, full of detail and gently expressioned. But there's no mistaking one for the other, there are differences, from the slant of the cheeks, to the colours of the eyes, tiny freckles, longer lashes, a tiny cleft in one of her chins. I wonder if she was created in the image of two girls, sisters, capturing their likenesses and difference, immortalising their childhood.
But why one doll? Why not two?
And Mathilda doesn't share the answer. Well, perhaps she doesn't know. She just sits, frozen, serene. Dressed in luxury, in velvet, with real buckles on her miniature shoes.
Tracey holds her out to me. "Mindy, this is the doll you should have had as a child."
Eerily: she is.
#
Me and Tracey.
Down by the river.
In the half hours between sunset and actual evening.
There's snow whispering in the clouds, and there's already a breath of frost on the grass. We sit together on a wall with fish and chips between us, hot doughnuts, battered sausages. We have the wind tugging at our hair, trying to unravel our scarves, we have our collars tucked up to our chins against the cold, and against the necessity of going home.
Because these moments can't be let stray. They have to be held and treasured. These times when they world seems to slow right down, and there's just us, and endless time, and a sense of things being exactly as they should be. The greys and browns of the building behind us, of the path alongside; the grey-green-navy of the river sliding quietly along at a south-facing periphery. Tracey with her hair all knotted and clinging against the furry outline of her hood. The sparkle in her eyes. The still-slanting of her teeth.
Best friends.
END