A New Day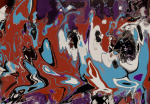 Sat, 06 Aug 2022
 "Will you marry me?"
He's adorable. He's so earnest. He goes all out, he'll be kneeling there in front of me with the ring poking out of its velvet-lined box, a real beauty: a big diamond; usually clustered, coddled by smaller diamonds. He chooses something that twists around a bit, the little diamonds reaching up to caress the big one like the hands of tiny children in need of holding.
His big wide eyes are bright and full. They're full of love. You know, I never doubt that he loves me, whatever comes, whatever changes, all the fucked-up permutations, but it seems like there is always that constant, whatever else happens, I can count on the fact that he loves me.
"Will you marry me?" he asks me, confident, but a little bit afraid, a little part of him wondering what will happen if I don't agree. What that could mean for our relationship?
I say, "Yes," every time. Why not? What's it going to matter?
#
Doug's great. There's no two ways about it. And I love him back. I've been clear about that, haven't I? And don't get me wrong. There are some good times. We plan a future together. We talk about the places we're going to travel, and how in five or ten years, maybe, we'll start a family. The words hurt a little bit. The smile is one I have to dig up out of a dark place that is full of barbed memories. But I dig it up, and I turn it on him, bright as the sun. Yes, of course. You and I, we're going to do anything we want. Forever.
Which is kind of true. In a way.
#
He loves that garden. He's out in the garden whenever he gets a chance, tending to his vegetables, covering his bulbs. He grows me flowers. He selects the seeds with care, he weeds them and nourishes them, waters, fertilises. When they're grown big and bright, he picks them and presents them to me in a carefully choreographed bouquet.
I have so many vases in the house. Always scared that one of them is going to go transforming on me or something. I see a vase, when I'm out in town, and it might be that we're not even together at the time, but it makes me think of Doug, and so I buy it, knowing that it may or may not fade, having no idea of its lifespan. What lifespan does anything have, right?
I watch Doug out there amongst the vegetables, fork in hand. He's found his zen out there, I can feel his contentment, it wafts in on the breeze, and it smells serene, there's hints of sweet and savoury, and the breeze has gold and citrus colours woven into it. It sparkles. He sparkles.
But it's always just a moment away from going wrong. He'll come inside one day, distraught, unable to understand why suddenly all his cauliflowers are rotten inside, months dead, crawling with worms and maggots. He tells me that they look like severed heads that have been stuck up on a spike for a month and left to rot. I don't go and look, because, God, you just don't know…
Or he comes in confused, how have all his cauliflowers turned into cabbages?
"What?"
"I planted cauliflowers, and now they're all cabbages."
"I don't think that can happen."
"Well, it has happened."
"Are you sure you remember…."
"Britzy, I know. I planted them."
"A prank, maybe?"
"They're still growing. In the ground."
"That's a good prank." Poker face. Comes with oh so much practice.
"That's no prank. No way."
"What then?"
That seems to work, because he is stumped. How can the universe turn a row of cauliflowers into a row of cabbages? It doesn't make sense. He can't conceive of a universe reworking and rewriting itself, falling apart, stitching itself back up, healing and wounding itself at the same time. If he could, he would be staring at me, horrified, whispering, "but we're all so fucked."
We are all so fucked.
One time he came in with a cauliflower in his hands, he parted the leaves to show me inside: a face, made partly of clay, partly of flesh, its features undefined, but a nose, a mouth, an eye and a half, suggested at in the shape. He just held it out, showed it to me, devoid of words to make sense of it. I remember being glad that the face didn't scream, that it didn't start to look like anyone he knew, that it hadn't attempt to bite him.
We made love that night with fire-starting intensity. He wondered at my burst of unbridled passion. For me, the thoughts were just: there can't be too much longer now.
#
It starts small, with subtle little changes. Often in the colour of things, or somebody's name might change. Things that Doug doesn't even notice. But after a while the memories start creeping in. He can't remember who this person is, not exactly, but he remembers the time he met the guy, he remembers another time he met the guy, he remembers the times he met me. Memories that come in these little storms and leave him confused. Memories of having grown up in Australia: but what? He's never been to Australia. "I had such a weird dream last night."
Oh, honey, that was no dream.
"I had this nightmare. I killed this guy."
Well, you had to do that. You didn't have a choice.
He starts to remember how things end.
"Oh God, it's all going to happen again."
"I'm sorry. I didn't want you to know."
And he remembers this one: the train. The three of us. Three. That great error that I carry inside me all the time, that hollows me out all over again whenever it touches me. The scenery shooting past us, the blur, the golden wheat, the blue sky. I see the colours change places, and I can see that Doug can see it. His brow wrinkles, he stares, he looks at me: what the fuck? And he can see that I'm not reacting, not surprised.
"Britzy?"
"You don't want to look."
He looks. They all look. The rails up ahead of us are buckling and twisting, they slide away from their steel being, taking on earth and water, crinkling with gold and flesh. Rebecoming. As the ground drops away from beneath them. Reality unmaking. And the train is going too fast to stop. It rolls when there are no rails left. There's fire and shaking, the cars tearing open like tinfoil – fibrous inside, pulling apart like sticky webs.
The boy. He turns to look back at me. He's not sure if he wants to be excited or scared. So much happening. All these changing colours. He can't see what it is that rears up from behind him, something like the shadow of a hand. Doug is running and sliding, trying to get to him, but that shadow swallows him whole.
Doug: screaming.
The boy. It doesn't matter what his name is, it's been so long; I don't keep that part of him anymore. My inner void needs his face, his smile, his voice, his smell, but it seems to be willing to let go of that name.
Doug: screaming. A name. I can't remember the name.
I take his cheeks in my hands, make his look at me: "he wasn't real," I lie, "he wasn't real. This is all going to go away, and then it's going to come back different. You and me. All of it. Just hold on, just wait for the next round."
"What have you done to him?"
"Not me, not me. No. No." I can't have him thinking that, not even if the thought will vanish, the memory, the existence of the thought. I can't have him thinking that this is my doing, that I would take that boy away from him, that I would undo this happy world of his, undo this us – this iteration of us. I get so tired. I think to myself: not again. But his face crumples, folds like overspun clay. Everything crumples.
And then: a new day.
#
I'll always find him. Or he'll always find me. In all the extraordinariness of a universe that can't recover but won't die either, there's the constant, the fact of him, of finding him somehow. Maybe I'll see him walking in the park. Or maybe at the supermarket. Or I'll be at some work function or other, and somebody will introduce me to him.
Maybe we'll be sitting at a bus stop together, and suddenly, out of the blue, he'll just turn to me and ask, "Excuse me, but have you got the time?"
Picture credit/discredit: author's own work