Paved with Mirrors (Part 1 of 3)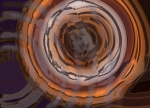 Fri, 27 Sep 2019
She worked at the mill when she first came to town, and nothing was what she had expected. She had imagined in Adrios a city of wonder, of light, gold, opportunity. And she had found it, seen it, been close enough to reach for it, but always, her fingers, not quite close enough to touch.
And beneath the gold, the shadows, the copper, the dirt.
Bedraggled, dress-torn, neck-scarred; Solshae had found her way through the gates. Emerging from the wilderness, she'd stood at the gate, shivering in the fear of being sent back.
"And what business brings you to Adrios?"
"No business sir, just hope."
"Oh, ah, hope is it? Do you plan to work as a whore?"
"No! I didn't come all this way for that."
"What then?"
It was the first time she'd put her heart's quite desire into words. "For learning, sir."
"Not for gold?"
"I want to be comfortable, sir. I want a better life. But learning, I came for."
"Books are expensive."
But she had heard that there was something in the city called a library, and that books could be rented from there for only a few coins. If she could find work, or something… some means of support, a patron. She could read… perhaps she could write. She. A woman.
The guards waved her through. She thought the sparkle in one of theirs eye was amusement. Doubt mixed in with it.
We'll see.
#
But it was she who saw. She saw wonders: strange birds who dripped gold, whose feathers were golden, called phoenix; folk with two heads, if not three; peoples whose skin was blue or gold or green or dappled like tree leaves. There was towering wealth. But she saw that from a distance, a supplicant, an observer. The towering wealth thundered, floated, flickered past her; but she found herself amongst the poor.
And she'd wondered if she might end up having to whore herself out after all.
She still wondered that sometimes.
But the mill earnt enough for her to pay rent on a small but weathertight room, it bought her cheap food, and lamp oil. A few coins left over on a good week so that she might go down to that famed library and rent herself out a book.
Thanks to Melidula that she found the mill. Meli was a girl she'd met in the local market; she was bronze-faced and had golden eyes, but beside that looked human. She attributed her appearance to a grandfather of the Larawau tribe, when such people had still been permitted to pass through Adrios' gates. "He had nothing to do with the massacre." She insisted it with bright eyes, eyes that became gold coins or miniaturised suns. That much knowledge had been passed on through the generations – her mother had been old enough to see with her own eyes: to see her father protect and hide her, not take part in all that killing.
Meli introduced her to the mill. A great, awkward structure straddling the river, out of which pumped grain, wool, cider, iron: anything that could be made from water-worked, beating hammers. Solshae got a job on the wool line, sifting and carding as the beaten wool floated along.
And Meli – who could not read so much as a word – gave her directions to the library. She went with her as Solshae walked around, staring at all the shelves, unknowing which book she should read first – many more than she could open in a lifetime, let alone read, many more than her weekly pay could let her rent – a book a week, perhaps, so long as the work held out. And so many to choose from.
She sat in her room, reading until she must sleep. Or Meli would sit with her, curled up with her on the bed and she'd read out loud to her. They discovered poetry together, and as Solshae learned the true magic that could be done with words, she felt as if she was flying, as if she'd been transported up amongst the stars, that she could see the world suddenly in new perspective, in new colours.
She had no money with which to buy paper or ink-pot, so she couldn't write her own, but she made them up in her head as she worked the wool-line, and she recited them to Meli after dark in one or other of their rooms, or as they walked together down the road towards home.
"….in the night she crawls,
Savaged and savage, raked with the cobblestones,
Burned with the vestiges, remnants of sunlight,
Her sight crippled, and her limbs in knots of paralysis…"
"But it's beautiful," Meli whispered, though it was inspired by a dying and defeated rat she's seen in alley on the way to work, "you belong in a king's court, not here on the streets."
In a king's court, where there were no rats to inspire, where poetry could never be about such things, but must describe great battles and glittering occasions, and women whose beauty made the world come to a stop.
"Well, there's no kings anywhere around here," Solshae laughed.
And Meli told her about the Faceless. She told her about many of the peoples here who were unknown in Solshae's part of the world, but it was the Faceless whose plight captured her imagination.
"They're a kind of vampire," Meli explained, "they feed off others. They have to though, because they have nothing of themselves, not any more. If they were ever like the rest of us it was long ago. They're blank, empty, like a piece of paper that hasn't been written on. And so they absorb other people, all bits and pieces of them, and create themselves likes sculptures.  But beneath that they're empty, they have no faces, and no minds really – they're just what they've created."
"They're self-portraits."
"Exactly.  Maybe you're an artist as well as a poet."
"I can't afford paint and canvas, any more than paper and ink."
"You could draw in the dust on the streets."
"I doubt if I have talent."
#
She met her first Faceless when she'd been in the city nearing two seasons. She was happy here, or at least she thought she was; she worked hard, but between her shifts she sat with her books and let the words flow into her. She learned and learned and learned. She drew a map of the known world inside her head, completing it more and more and more each day, like a jigsaw.
And then one day, in the market, she saw a man in fine clothing. He wore a towering hat, a red-and-black fine jacket, and his face was silver; it was an amalgam of many faces, all blended into one, but with the features of some shining brighter one moment, then dimming so that others could take their turn. He was handsome and strange; and he moved with an air of superiority, of invulnerability, and still somehow of wariness.
Some of them are centuries old.  So Meli had said, her voice all a-whisper.
And now, all the more whispery: "Look, he's one of them, the Faceless."
Solshae glanced: "He's got so many faces."
"But none of them are his."
"He must have been born with something."
"No.  None of them are born anymore. Their bodies won't take it. Their children are the vessels they suck the life out of." She shrunk a bit against Solshae's side, "they scare me, actually. The give me the shivers."
"He's beautiful," Solshae answered, meaning it. Finding her eyes so drawn to him. She watched him as he walked through the market, glancing at some of the stalls, but finding nothing there that could hold his attention.
Until he began walking straight toward the two of them.
Meli yelped in near panic, looking for a place to hide.
But it was Solshae this stranger approached. And he said, his voice all smooth like melted honey: "You are beautiful."
Less so than you. You… you're astonishing. You ripple like the ocean. You…  She found her tongue with effort: "Thank you," was as much as she could manage.
"Would you dine with me tomorrow night?"
"Me?"
"Yes. Would you do so?"
"I… I… Yes.  I…" have nothing to wear. The words shrunk away in her mouth, they melted like butter. What did one wear?
He handed her a small, square card made from thinned, varnished wood. "This is I. This is the address. Come at sunset, we will eat and speak."
"Of… of course." She tried to take the card without trembling fingers, but that proved somewhat impossible.
#
"I don't think you should go," Meli urged her.
"Why not?"
"He might be dangerous."
"He didn't seem it."
"He did to me. He gave me the worst scare. Why didn't he, you?"
Solshae shrugged. "He's fascinating."
"He can't be your lover."
"I don't mean it that way," she was too caught up in too much to ask the question: why not?
"I'm afraid you won't come back."
"He doesn't mean to hurt me. I'm sure of it."
#
The man's name was Elignathios Omnion, a Faceless name; and he lived in the high-and-mighty part of town known as the Hedges. It was all fine stone houses almost lost in exotic foliage. Streets paved with flowers. Solshae felt a small thrill of fear, after all, as she walked through this unknown neighbourhood. Her best dress was nothing special, was a little worn, and lacking in colour. Meli had helped her put her hair up and leant her her sister's hat. And still, she was a peasant descending upon the nobility, trying to pretend she was one of them, but her ragged soul blazing out of her skin, giving her away.
She came to the address, and she knocked, breath-held, on the door.
The faceless woman who became almost-faced answered. Dressed in patchwork livery, a servant, her face like a projection against the front of her head, a ghost-face haunting an empty canvas.
"Elignathios" – should she call him 'sir', 'lord' 'mr'? "invited me. He gave me his card."
"Of course," she said, "follow me please."
And so she was lead through the hallways, and up the stairs to a small dining room where Elignathios sat. He had a table spread out before him full of delicacies the like of which she'd never seen. Small, whole birds, insects, reptiles, strange fruits and vegetables, tiny cakes, and sugar sculptures, jellied fruits, and minced fish. The servant pulled the chair out for her and poured a goblet of some tingly, white-green beverage.
"I am so glad," he told her, "that you were able to come."
"But why would you want me?'
"You are beautiful, and you have a mind full of curiosity, full of experience. There is something very rich about you that drew my eye at once."
"I've no idea what to say."
"Will you live with me?"
She almost spilled her tingly white-green drink. "I…?"
"Yes. You will breathe life into our home. And… let me be honest. I want you for my daughter, more than for myself. I want to see your appetite for life in her. I want her eyes to reflect yours. Would the prospect terrify you?"
Oddly. Unexpectedly. "Not at all."
He smiled. "I thought perhaps not. You have courage. And the terms are generous. You would be free to do as you will, to come and go as you wish. You would be Linithmailild's companion. You will eat the best food, and be dressed in the finest clothing, you can be present at the most glittering balls. Will you consider it?"
"Might I have coin for the library?"
"For the asking. And, of course, we have our own library here. And I would buy you any book you wished to read."
"And ink. And paper."
"All here. At your disposal."
"What will become of me, in time?" Though of course she knew.
"If you stay, if we keep you: one of us."
#
Meli cried.  "This is everything I was scared off. They're taking you away from me."
"I can come and go as I wish."
"But you won't wish."
"It's a great opportunity."
"I know it is. I know." But her eyes rolled with tears.
"I won't forget you. I won't abandon you."
"You'll lose sight of me. You know you will. All the best intentions in the world besides. You'll change; and you won't be you. You won't be the girl I worked with, who read to me, who I walked home with talking poetry."
"I'll be a true poet."
"I'll never hear you though." She scrubbed at her cheeks with the backs of her hands. "But it is what you say, an opportunity. And if you want it, I know you gotta take it." She propelled herself into Solshae's arms and wouldn't let go until the both of them had cried themselves into exhaustion.
#
Never-the-less. She'd made herself this choice.
Solshae walked amongst the flowering hedges, along the cobbles, and up to the imposing door. She was as well dressed as she could manage, all her meagre possessions in her care. She felt as if she were indeed stepping into another world. Well, I didn't come to Adrios to live an ordinary life, I came to this city to be something more than I was. I came here to shine, glow, fly. Didn't I?  She didn't know what this flight would feel like, or the colour or the intensity that she'd glow. She just knew that she must find out what was behind this door.
So when the Faceless servant girl answered the door, she held her head high, chin pointed confidently out ahead of her. "Good morning, I am here to begin work."
Picture credit/discredit:  author's own work