Red Roof on Rumble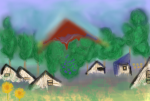 Sun, 16 May 2021
I can see my other house from here. Or at least I can see the tip of it, the sharp tooth of red colour-steel cutting a chunk out of blue sky. A surrounding of leaves and branches could one day grow to hide it – years away; but years from now, am I still going to be sitting here in this window seat, looking out over the grid pattern, thinking about home?
Other home, I mean.
But it is home. It's the home I know, and the one where all my stuff is, where my clothes are in the closet. Where Mum is. And this one just feels weird, it's all too new; all this furniture that's just been bought, all the walls that have no pictures, and there's no random mess of being lived in for years, there's no gathering of junk and trinkets and weird little things that you get in a house that has history with its people.
We had baked beans on toast last night. And sausages. And cheesy potatoes, the way I like them. And there was pavlova for pudding, and three kinds of ice-cream. He's trying to make it all homely and welcoming. But then I'll go into my room and there won't be my posters, and the bedcovers are all the wrong colour, and I know I'm supposed to try, and I'm supposed to be good and all that. But it just isn't the same.
This guy cycling past right now: he could be anybody. He's wearing a blue shirt, and has white sneakers, and scraggly hair just bouncing off his shoulders. He's weird and thin and wiry. Maybe I'll figure him out over time, maybe I'll give him a nickname, or even start waving to him. But it's not like he's the guy back home on Rumble Street who delivers leaflets every other week; and he's not the old lady who goes out on Sunday, three-o'clock, week after week, down to the dairy, then off to the park, and back home via the dairy. Or the man with the two poodles – one black, one white – who're always jumping all over each other when he walks them, and he can't control them, and they tangle him up in their leads…
And he's not Miriam, or Sarah, or Judy. And right now, they're probably walking down Rumble Street, stopping outside my house for a moment, remembering that I can't come with them this weekend, and wandering off down to the river to have their picnic without me. Doing things they can talk about at school on Monday; and I won't be able to add anything; and years later, looking back, I won't have the memory and I won't be able to share it with them and…
I could have cried. I wanted to scream and stomp feet like a six-year-old when they told me I couldn't go. But he says to me over the phone: "You'll be hanging out with me tomorrow, father-daughter time; we only get the first weekend of every month."
I want to shout, "Well, whose fault is that?!"
But whose fault is it? Looking back: there was that time when I packed up Steppy – our cat – and ran away for the whole night. And when I accidentally kicked a hole in the wall in the games room. Then when I was nine, and I drew on Dad's book when I wasn't allowed to go to that concert…
"Don't yell at her like that. It's not helping."
"Look at it, it's bloody ruined! That stupid little-"
"Stop it. You're the adult here, not her."
"When are you going to make her take some responsibility?"
"When am I? It was just one night out with friends."
Well, it's a lot quieter here, now, than what it was back then, there. There's none of the shouting that used to go bouncing off the walls of my other house, with Mum yelling at Dad that he's not doing his part, and Dad yelling back that she's the one not up to the job. And, "Oh, you're going to go out again?" And: "What if I am? I get nothing but grief while I'm here." Or he might just go to that lovely ornate liquor cabinet and drag out a bottle of amber liquid, while she stands with her arms folded and says, "Yes, of course, your best buddy Jack is going to fix this right up." Then later that night there might be more shouting, maybe the sound of glass breaking, or of something solid hitting a wall, a fist coming down on a kitchen bench, a kettle hitting the kitchen floor and skidding, watering the lino.
Well, there's no liquor cabinet in this house. It's the rules, Mum told me before I left.
"What rules?"
"The rules about your dad having you over."
"But why?"
"Because the drinking makes him… irresponsible."
I can picture Mum, moving about my other house now, vacuuming carpets, straightening curtains. When she's done, she'll go out to the garden and dig around the flower beds, mow the lawn, do some weeding, check on her vegies, on her little apple tree. She might call her friend up – Ellen – and talk about how lonely the house is, and maybe going out, or Ellen coming over, so its not as lonely. It's everybody's first day.
And Dad says, "Hey, well, we can go out for ice-cream."
I don't even want ice-cream. I want to be sitting by the river with Miriam, Sarah and Judy, talking about school, and boys, and boy-bands, and hair accessories, and secrets we've heard about teachers or famous people. I don't even know what to say about the ice-cream.
"Matchstick?"
I don't even want him to call me that nickname anymore. I want to tell him that it's Maggie, and I want him to call me Maggie from now on. I don't, I just say, "Okay," but I don't put any enthusiasm into it: nobody asked me about this whole new way of doing things, nobody asked if I wanted things like this.
"Hey," he says, "we can go for a drive. Go up to the lookout, watch the sun go down."
"Okay."
The garden here is nothing like Mum's, it's just shorn grass, concrete, a couple of scrawny bushes, and some weeds. When I walk out into it, I just suddenly can't go on, I can't take a step further. It's all wrong and imperfect, I don't want any of it. I just want to sit down right where I am and start crying.
"Matchstick, what is it?"
But when I turn my head, I can see there's tears in his eyes, just like mine. And I just find these words out of nowhere: "I want to plant sunflowers in the garden."
"Here?"
"Yeah. Over there by that wall. Can we get some on the way back after ice-cream?"
It feels like his hand is shaking when he takes hold of mine, "Of course, sweetheart, anything you want. Let's do that."
Sunflowers should look nice up against that wall.
Picture credit/discredit: author's own work.