So, Choose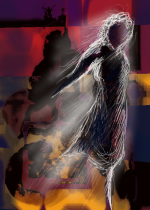 Thu, 03 Jan 2019
You stand on a precipice.
Or maybe it's more like you're standing at a crossroads.  A T Junction.  And all the paths are in shadow.
Maybe literally: you're parked at the traffic lights, it's dark, and there are road signs, and painted yellow arrows, and fractured white lines.  There's north, east, west, south to choose from.
You can see the rear-view mirror, the back seat all loaded up with your stuff.  With a neat set of matching luggage; and then everything that didn't quite fit is just piled in on and around.  This is the sum total then.  A little bit over three decades and this is the sum total.
You remind yourself: the world is limitless.  You can drive off into fame and fortune, maybe into a hurricane, maybe into love, maybe into hate.  The possibilities are exploding in front of you, multiplying, enticing with you promises, whispering threats.
The only thing known is the way you came.  The road behind you. The one already travelled.
#
You stand on a precipice.
There's wind in your wings.  Wind and fire.
There's no limit to what you could do.  Once you step forward, once you leap and let your wings billow.
At home, he'll be walking in.  He'll see the letter.  He'll stare at the letter, trying to decide of it's a joke or not.  Once he sees it's not: will he ring?  The phone sits on the opposite seat – in a seat too big for it – all on its own.  Just waiting.  Waiting to ring.
The lights are red.
Any minute.  Any moment.  One of them goes green.
#
You stand on a precipice.
You stand at a crossroads.
In the midst of squawking birds.  In amongst a flurry of wings.  The wings are green and grey and brown; they flood your vision.  They flap and bat and batter.  This moment is all bruises and cold fear.
He splits in two: the angel holding flowers, smiling sheepishly: I did forget, I know I did.  But I want to make it up to you.  The devil: flowers thrown on the floor, stamped on, trampled on: I try and try to please you, but all you do is find something else to grizzle about!  Why can't you be satisfied with what you're given?!
A light changes.
A phone rings.
Picture credit/discredit:  author's own work