Summers at the Beach House (Part 2 of 3)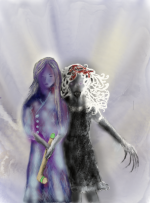 Mon, 26 Mar 2018
Funny.  Life.  Somehow it went on.
I was nine when we went back there.  I was looking forward to it.  I was thinking about the beach, and barbecues, the family fun, all the trappings of a holiday.  I was singing along in the back of the car, I was playing I-Spy.  Only as we got close to the beach house my voice started fading, I felt the disquiet, felt it build into something near panic. We were here, again, with her. 
Her.  Miri.  Beating beneath the floorboards.
I felt as if I could feel her in my veins, an extra heartbeat.
"Jodie?  You okay?"
"Yeah," I half glanced at Mum.
"Stop daydreaming."
"Sorry."
But it was the night dreams that really got me.  It was the nightmares that had me waking up barely able to breath. Nightmares of lying, folded in a chest, bloodying my fingers on the inside of the lid.  Calling.  Crying.  But there was nobody coming.  There was never going to be.
I thought about her all the time.  A child's face.  A monster's face.  But I remembered the child's face more clearly.  The monster seemed to blur around the edges.  Had there been a monster?  Had there been a cave full of bones and trinkets, a posed dead boy?  It had the feeling of a story.  Of something I could have imagined.  A shared game…?
But-  But, no-
I imagined after we left.  Dad's friend going down into the basement and going to the chest for something, tidying up maybe.  The lid opening.  Her face staring back at him.  Or what if my parents went down there and found this, or if one of my sisters, or my little brother, went playing down there and started opening things up… ? The sight that would be waiting for them.  Or what if – alone, down there – one of them met her – her, waiting, with her sharp teeth and clawed hands, wearing her monster face…
I played sick the next day, while the rest of the family went off to the Lake Fair.  I hid beneath the covers and listened as the car drove away.  It counted ten minutes out, minute by minute; then I got up and went down to the basement.  I'd never known my heart could beat as fast as it did that day – it felt as if it would break right out of my chest.  My breath was held all the way down – slow, tentative, baby steps.  Was she waiting?  Would she be standing there with her claws extended?  I thought you were my friend.  You said you were my friend.
I'm sorry.
I think.  I-  I think- 
I know what I saw.  I know it. I know it.
She didn't stand waiting for me.  The basement was just a jumble of old stuff.  A stack of boxes on one wall.  A crib.  A large doll.  Some shelves.  Some folded blankets and curtains.  Nothing to fear.  Just that one pile, looking no different from all the others.  Only that I knew what was under it.
I knelt over the chest and opened it slowly.  I wanted to find it empty: just a dream, just a thing imagined when I was only eight, something that had never been real after all.  I feared that I'd open the lid and she'd sit upright, eyes snapping open, head turning to smile at me.  She didn't though.  She just lay there awkwardly, bundled at an uncomfortable angle, folded like a human body shouldn't fold.  Her face was something between skeletal and human; grey leather skin rotted and clinging, scraps of hair still clinging around her face, teeth exposed in something like a grin – little teeth, blunt and human.  It wasn't a girl's face, or a monster's; it was a dead thing, like the remains of a bird or animal you might find on the beach and try to guess what it had once been.
A child.  A friend.
Did it mean that I'd…?
You're a monster, Miri.  I know you are – were – and you can't trick me now.
I took a breath.  Sooner or later she'd be found here.  I had no idea whether or not they could trace her back to me, if it would even occur to them to try.  Or if I could keep my face still, impassive, when the news broke.  I imagined that my parents would see at once that I knew something.  When they started questioning, when they started in with accusations and trick questions: wouldn't I break?  Cry?  Spew the whole story, unable to stop myself?
Well, I might.  So I wasn't going to let it happen.  I started moving things.  Checking the floorboards.  A couple of loose ones. I could… I could…  I knew where to find a hammer in here, a shovel; and in any case there was space beneath the floorboards – like it's already there for her and waiting.  Wrapped in one of the curtains, she didn't even feel like a body, she could just have been rolled up fabrics, carpet, a doll.  I lay her in there, covered her, nailed the floorboards over her and pulled the chest across.  It was covered too in whatever I could find.
There.
Done.
She was my past now.  She was over with.  I was just another kid.
#
A few years passed before we holidayed there again.  I'm not sure if I felt relief.  Life kept happening, and it was possible most of the time to forget what was there in that house.  It was possible to think of it as something like a dream.  The older I got, the less real it all felt.  A nagging truth, but buried, beneath floorboards and blankets, a solid chest, and time.
I was twelve when we went back there again.
The house looked different.  It couldn't be just my imagination.  It looked haunted.  And it looked bowed, as if all the strength had gone out of it.  As if its whole bone structure frowned or scowled.  I swear it was more than my fantasy.  I kept waiting for somebody to comment, for somebody to say 'what's up with that place?'  I hoped Mum or Dad would say, 'that doesn't look structurally sound, does it?  I'm not sure we should go inside.'
They didn't.
We did.
It didn't fall down around us.  It didn't turn to dust.  And she wasn't standing there in bare feet and dress – feet bared down to the bone – with her hair bloodied and her face caved in.  There was just the lounge – somehow drained of colour – a drabness, and a sense of doom.
I thought: I can't stay here.
And then I did.  Because what else was I going to do?  How was I going to explain myself?  I just counted the days, waiting for escape.  Counted the years, before I could choose to never go back there.  All the while playing cards, eating dinner, doing my best to laugh at Dad's jokes.
But she ruled the night.  She was ever-present.  I was sure she'd drained into the house, into the walls and floorboards.  Her essence had bled into the building's soul, and she flowed there now, infecting, enslaving.  She was my cage.  And in the night, I'd hear her. There were rarely any words, just the snuffling, whispering sound of her voice.  So quiet I could only just hear it.  A little stronger when I pressed my ear against the wall.  As if her voice ran up and down the boards, slid across the beams, trickled down to where I lay sleeping.
Every now and then the twitch of a word or two:
I thought you were my friend.
Come play.
Something… interesting.
Beyond midnight.  On the second night, I whispered back to her – a sound just barely touching the air: "I didn't mean to.  You know I didn't mean to."  And I clapped my hand over my mouth, suddenly terrified that someone might have heard, might have extrapolated out of that what I'd done four years ago.
I imagined her down there, slowly working the floorboards, gradually scratching her way free, walking slowly on her flayed legs, gaining ground in millimetres, but reaching the stairs, starting the slow, excruciating crawl that would take her to the door, to the doorknob, slowly making her way into the main house, to where my family were sleeping.  Her claws slowly forming, her eyes a-glitter.
I imagined it with such intensity that I was convinced it had happened.  The first moment I was alone in the house I went to the basement and looked for her.  My torch found her everywhere, for moments at a time, then revealed only the shadow of the giant doll, or a pile of clothes, or some knick-knacks arranged on a shelf.  She was silent.  Past stinking.  Invisible.  Undetectable to all of the senses.  Except to that cold spot that dug itself into my back, that got a grip and wouldn't let go.
I nearly told Mum a day later: "I don't like this place anymore.  Let's go on holiday somewhere else next year."  But I was sure as soon as I spoke she would see my secret as if it had been etched into my face.  She'd know.  And in knowing, I didn't know what she'd do, or how terrible that look of realisation on her face would be.  I just had to stay quiet, just had to let those few four-year-old minutes fade into the background.  I had to.
I pretended to sleep on the way home that year, head buried in my arm, while in truth I cried silent tears I didn't know how to stop.
Picture credit/discredit: writer's own work