WebWorld (1.4)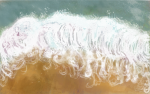 Fri, 09 Jul 2021
We probably shouldn't have gone. But really, in what universe? And along with my misgivings there was that itching curiosity. What the fuck's going on here?
So we went down to the garage, drove out onto the street, and we sight-saw. There's no point in dressing us up in anything fancier or more noble. We were out there sight-seeing; and we weren't alone. The streets were stupid-busy. And the footpaths were too. Like the first snowfall in winter. Like the first snowfall on steroids. I could see half the neighbourhood piled out onto the street, snapping endless pictures on their phones, posing in front of cars that looked more like mushrooms. It seemed as if the spongy coating on the ground was already thicker than it had looked from the window. I could feel that miniscule tug on the tyres of our car. Or at least, I thought I could feel that.
Zara tilted her head to indicate a tree where some of this was hanging like blossoms or icicles.
"Wow." It felt like too small a thing to say.
"Well, don't just gawp. Take some photos."
"Am I the only person who thinks this might be at all bad?"
"Nate, tell me, where has that pessimism ever got you?"
"For all you know it's kept me alive this long."
"Uh-huh."
"Well, am I dead?"
"No…" she conceded.
"And so…"
"But me neither. In all my sunny optimism."
"I'm two years older than you."
"Think of the grandkids you'll want to show this to one day."
"Ungrateful little brats." But I fumbled for my phone and started taking some blurry car-window shots of things going past me. I saw that this new gum-stuff came in different forms – for most part it was kind of ropey, loosely tangled; but there could be bits that stuck up all smooth and round like mushrooms, bits that seemed smooth and finely woven, having a quality more like silk or glass than rope. It was mostly white, but there were traces of other colours; pinks and golds and browns.
#
When we got to the beach it was summer-holidays packed. Anybody who was anybody or nobody was out there. There were lines of them, all facing the same direction, all talking animatedly, looking out towards the ocean.
And I'm going to give it this: it was spectacular.
It was as if the entire ocean had turned into a kind of semi-hardened foam. It rolled in and out on waves, moving with the flow of the water, but maintaining a spongy solidity. The sand had been replaced with a carpet of this stuff, too thick to be truly reminiscent of snow. The sun shone on it so that it glared, so that it was gilded in places, and had bluish shadows in others. These shadows that almost looked as if something was curled up in there, biding its time, growing maybe.
There were people swarming down there. Insane.
And Zara seemed to have lost touch with extraneous things like caution or common sense. She was already threading her way down to the beach. I was riddled with foreboding, but of course there was no way I was going to leave her to go down there on her own. I found the frivolity and light-heartedness of the whole thing disturbing. Had nobody thought…?
Zara reached backwards for my hand.
At close range, in full glory, that glare was devastating. My eyes hurt. I found it easier to look at this phenomenon through my phone's camera. And I took photos. Well, I was there, it was right in front of me. It would have been crazy not to take a few reminders. Every camera in every city in the world… But I snapped these shots. And I snapped some shots of Zara with her mouth open, taking all this in.
"It's stunning," she said.
I was beginning to detect in the surrounding murmur some threads of unease. I found that comforting, some proof that it wasn't just me who was seeing this as end-of-days. Other people were scared. Other people were waiting for this stuff to leap up and attack them. The disquiet worked its way through the crowd, a broken-glass edge on the laughter and chattering. A cold edge of knowing that this was the unknown. And I suppose there must have been unseen others barricaded up behind their doors with their shotguns in hand, counting their tins of baked beans.
And then there were others. And those people were wading into water, bashing themselves side-on against the cushioned waves. I could see the gum recede around their bodies, but curve back in again, surrounding them. I saw some of those same figures take a breath and just drop down into the water below. I saw others diving under the crest of a wave.
And I think to this day: were there some who just never came up again? Were there so many people, and then the disasters just happening so fast we that lost track and never knew that there were people drowned and strangled, or eaten under that water? I tried at the time to keep track of some of them, make sure they really did re-surface. I wondered idly if I'd go running in to save one if they ever didn't.
And then I saw those two kids building a snowman. A gum-man. The world's newest superhero: Lastine-Man – how far will he stretch? Well, that was the straw I think, to see those two dim-witted parents just standing there watching it all, taking their photos, chatting, revelling in the novelty instead of just fucking thinking…
I was over there, or heading that way, without having precisely decided that I was going to do so. I felt the stickiness of the gum against the soles of my shoes.
"Don't do that," I said.
They looked at me, puzzled.
The kids had bare hands, bare legs.
"You really shouldn't be letting them touch that stuff."
"Oh, it seems harmless enough."
"Nobody knows. It could be highly toxic."
"People seem okay."
"Shit. Those are your kids."
"We're just looking after them, James's brother…"
"For fuck sake!"
"Hey now, there's no need…"
There was every fucking need. God only knows what must have happened to those children. I hope nothing. I hope that went home and they were okay. But who knows? No-one had died yet, but there were deaths already in the pipeline, there were people already on that trajectory, it was just too early. And I could see from the corner of my eye that Zara was working her way over to me, she had that worried look on her face, like what's he stirring up over there?
The babysitter I'd mistook for a father was saying to me, "these guys are okay. They're just having a bit of fun."
"They're playing with an unknown substance. Honestly, I think you shouldn't let them."
Both kids looked up.
The guy said his first semi-sort-of-not-ridiculous thing: "Look around you," he said, "this stuff is everywhere. There's no avoiding it."
His wife(?) chimed in, "they're just playing."
"Along with half the city."
There were kids here. Plenty of kids. Didn't parents think? And yet, here I was. Me and Zara.
She glided on up to my side.
"You two seem lovely together," this woman said, not knowing a thing about us.
One kid said, "Can we have a snowball fight?"
"It's not real snow, sweetie."
"Can we have a puffball fight then?"
She looked at me, she looked at her partner, then at Zara for good measure.
"There's reports about people getting skin rashes and stuff." I reached for my phone to Google home my point.
She reached for the kid's hand. "Best not, love, you don't want to get this in your hair."
#
"Making friends wherever you go," said Zara as we drove away.
"Sorry."
"No, it's okay. But what was that?"
"A snowman! I mean, shit, is everybody clueless?"
"They don't know whether to be fascinated or terrified, so they go with fascinated because it feels better." She kept her eyes on the road as she spoke, so that her words almost didn't seem to be for me.
"S'pose," I muttered.
"Just people being people."
In hindsight, that was a better side of people than I was going to see a lot of for quite a while. Maybe I should have appreciated snowman-family more when I had the chance. And as we drove home, I began to see signs of more unease. There was an increased police presence, and I saw a couple of majorly banged-up cars. I saw a few broken windows, and some police tape. As we passed the supermarket, I saw that the carpark was packed and people were man-handling laden trolleys, supplies almost falling off them onto the tacky asphalt.
"We should stop," I said.
"Panic buying? Really?"
"Well, I wouldn't if nobody else was. But we want to get in and get our share before they strip the shelves."
"It'll be mayhem in there."
"Still."
"I suppose I can't wait in the car?"
"Do you trust me to buy everything?"
"Touché. Fine. But can we not be too insane about it?"
Insane was a relative term. Maybe I was over-reacting. Maybe. I said, "Agreed," though I wasn't sure how agreeable I really was.
When we got in there, the shelves really were half-bare. There was no toilet-paper to be had, no bread, and the supply of baked beans and pasta was getting low. There was still plenty of food though, it looked as if the worst hardship we were likely to face would be an inability to get exactly everything we might want. I focused on tinned food and long-life milk, chocolate, beer, a big bag of dried potato flakes, a big bag of rice. Zara rolled her eyes and made sure she had her favourite cereal, and bought herself some muffins. She bought an extra bag – "just in case, Nate" – and some tropical smoothie mix, and Fudgy-Smudgy ice cream.
In case of apocalypse, pull lever.
My head did a few somersaults over the course of over an hour battling crowds to reach checkout. At one point a packet of biscuits was stolen right out of our trolley.
"People!" Zara shook her head.
"Should I chase him and tackle him to the ground?"
"I don't know, can you take him?"
"Hey…"
"He looked big. Didn't you think?"
"He was quick. I hardly got a good look at him."
The girl at checkout looked absolutely exhausted. She ran our items over the scanner with zombie enthusiasm; her painted lashes and blue-green eyelids left her eyes almost completely covered.
"Long day?" Zara sympathised.
"You're not kidding."
"Has it been like this all day?"
"Most of the day."
"You got much longer to go?"
"Two hours, unless they run out of food first."
"Good luck," Zara flashed a melting smile, and the girl did perk up a little. No surprise, not really. I've been the recipient of smiles like that from Zara, and they can be world-changing. The Zara of the old world, she was an elixir of life, she was forever shiny-under-the-surface, as if you couldn't break or dull her.
We got back to the flat to a further-thickened coating of fungus on the ground. The groceries were almost more than the two of us could struggle to the lift with, and they took us about twenty minutes to unpack. The heavy-stocked shelves made me a feel a bit better. I stood at the window, watching the sun set, watching the scene painted yellow, then red, then blue, then black. The darkness didn't feel still though. I felt as if there was something out in it moving, hunting, expanding.
I feared the morning.
And in the morning, it was like looking out on cotton mixed with mushrooms, mixed with cloud-cover and melted marshmallow. It lapped at the walls, had half-enveloped a little wooden bench, swirled around tree trunks like whirlpools. It must have been about a metre high. And this time the morning street looked deserted.
Me and Zara looked at each other, speaking just with our eyes: So, what now?
Picture credit/discredit: author's own work