WebWorld (2.3)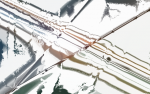 Mon, 26 Jul 2021
My home town.
There's just something about the place you grew up, isn't there? Especially if you were born there, and spent your entire childhood there, along with most of your youth. If your dad did the same, and so did your granddad. There are things, there are images, memories, that just become a part of your psyche.
That, as well as Dad. I had to go there and see. Make sure.
And cards on the table: I was beginning to feel some threads of hope. As we headed up into higher country, we saw more land that was less ruined. There were still places where the gum had choked a valley or ravine, places where it'd swept out over an area for no apparent reason. And there was a spot where it had clumped so thick, and so full of dark, undulating colours that we'd actually stopped to stare. Yes, to sight-see. We were tourists for ten minutes or so before we went back to being refugees. Zara took some photos of the scene before we left. It was beautiful. In a profoundly fucked-up sort of way there was beauty in this.
I looked at the swirling lumps that had formed in places, looking like frozen whirlpools. There was something in them. I refused to doubt myself, staring across the waste. Inside these lumps there was something that approximated a dark, maybe viscous, liquid; and further inside that liquid there was something moving. Now I'm not saying I could see limbs and heads or anything like that, just that I could see changing colours, lapses in darkness and light, and I was sure that came from a solid substance moving around.
It's not just hindsight. That was what I felt at the time.
And it all fit. The rumours of creatures that hunted by night and ate the bellies of anyone they caught… and hadn't we seen… been attacked by…?
"We should burn it to the ground. No. Hack it all into tiny little pieces."
And I imagined this: the two of us wading into the gum with kitchen knives in hand, stabbing into those cocoons – I'd decided that was what they were – killing whatever slept inside. Angry black blood seemed to vindicate me. But then the sacs opened, and slick, humanoid babies rose up, fanged and ugly but not exactly not human. Swarming; even while the strands of gum leapt to their newborn defence.
But should we… shouldn't we?... I couldn't make myself move.
"Let's go," Zara murmured.
"Okay."
#
And then we hit a small bridge; spanning a river; and swaddling that, another profusion of the gum. Zara documented with her camera.
"They like water," I said, looking at the river, at how choked it was with the white stuff. There were houses nearby, but they looked to have been thoroughly trashed. I considered that we had enough food, and that we were unlikely to find more in there anyway. And then I remembered the promise I'd made to myself to do better. "We should check," I murmured.
She swallowed. "Okay."
But there were bodies there in the farmhouse. The first one was in the corridor, and it was a woman lying askew, her head bent back, her legs crumpled against the wall, one arm spilling out towards a doorway. She'd been shot in the forehead, but cuts and bruises spread out along her body told me that it hadn't happened at once. She'd been beaten and abused before that final shot at probably point-blank range. I wanted to stop Zara from seeing it, but she was right beside me, taking it all in at the same moment I was, stifling a gasp of shock.
I had to do it.  Knowing the answer or not. I had to step over her upturned knees and check for life. My fingers found cold skin and no skip of a pulse. There was a circular symbol carved into her thigh, dissected with two lines. A calling card. A warning.
They could be here…
But there was silence. It was the kind of silence that smothered the possibility of anything being living and moving around in it. We stepped past her and into a lounge where a couple of men lay side by side on the ground, outlined in their own blood, and as cold as the woman had been. And I'll tell you: I wanted to stop, I wanted to admit that this had been a brutally stupid idea, and we needed to get out of there right that minute. But we were committed now. We had to check for survivors, even though it meant going room to room, holding our breath for the sight of more carnage.
We stepped into a child's bedroom and saw a lump beneath covers. I couldn't quite keep that whimper from escaping my throat. Zara gripped my hand like iron beside me. For a few seconds we could couldn't go forward. A dark bloodstain topped the lump. We knew what we'd see; and Zara whispered at me: "Why? But why?"
He was a boy, and he must have been no more than five or six. The bullet had lodged in the back of his neck, and had been fired through the covers. Something about the unnecessariness of it made my knees want to give out from under me. Like Zara had said Why? Why in all hell? And then I wondered if somebody had considered it a kindness, since they'd already slaughtered or would slaughter the adults in the house. What if they'd actually thought they were sparing the kid a worse way to die? That thought made me feel even worse, made me dizzy enough that my vision blurred and I almost stumbled.
"We gotta go," I managed.
"Yeah."
We couldn't do anything for them. We couldn't bury them. And what would be the point, they're all dead and they don't care? We hadn't been able to bury our own dead after the fight in our building.
This sick new world was the way of the future, was it?
I saw Zara blinking back tears, so I tried not shed any of my own.
We couldn't go over the bridge, so we'd have to backtrack. I rested my hands on the roof of the car, collecting myself. "There's not going to be anything, is there? No human uprising? The world's not coming back."
"Probably not."
#
"It's a couple of minutes up ahead," I told her, glancing once more at the map.
"Okay."
"It hasn't been too bad for the last half hour or so."
"We've gained some height."
But those tendrils of hope were short-lived in the end. You see, Peanut exists in a long, fertile valley, full of lupins and wild dandelions, and clovers. It used to be beautiful. But as we approached the town, as we passed farmsteads and fields, we began to see the frosting thicken, and worse, we began to see it clump up in areas, we saw it fell trees, and saw the scars where it had toppled houses.
And when we topped the hill and overlooked the long valley, all I could see was white. It was a glacier enveloped in a snowdrift, white on white on white. A slice of fuzzy whiteness, tangled with vines and puffballs, some of them blushing with sunset colours.
"Oh my God," Zara breathed.
Overwhelmed. Overrun. And Dad's house was down there, maybe Dad was down there, wrapped up in all this. Dead…?
I'd known something like this must be possible, and I thought I'd prepared for it, I really did, but I was having trouble catching my breath. My chest constricted to a point that it felt as if my ribs would break.
Zara was looking at me. She said softly, "what now?"
And I knew that the answer was to keep driving, head on to Camp Foggerty, because we had our answer, and there was nothing more we could do about it. But I found myself saying, "I've got to be sure."
And she nodded at me, understanding.
Picture credit/discredit: author's own work.