WebWorld (3.11)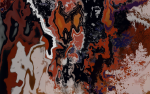 Sun, 15 Aug 2021
We held a funeral on a cloudy day with a bitter taste in the air.
It was two days later and we were all still in freefall.
I hardly knew Dinah, really, but the sight of her dead, feasted on, bloody: this was something I already knew I was going to carry forever. I felt as if we must all have some cause to be inured to loss by now. But it didn't seem so. It was so hard for anyone to keep it together.
It was a stiff, still day, the air was iron. The clouds pressed down on us. George stood over the grave we'd made and tried to read some words out. They didn't come out right and he stuffed the piece of paper into his pocket and told the fresh earth he was sorry he couldn't protect it. Greg promised to finish the legend of Sir Wildenvog of Kepthilia, he told the fresh earth that there was still a long way to go, there was a lot for Sir Wildenvog still to do. And he told her he wished he could have taught her how to play, how much fun they'd been going to have. She was like his own sister, he said, and if he never found out what happened to that sister, he at least knew that he knew where she was – Dinah – that he could visit her, talk to her, remember her.
That was the day I learnt that Greg had a sister.
Penny was angry. She snarled at Greg, "That was my daughter! She wasn't your real sister!"
And George reached out for her.
She spun on him. "No, no, no, no, you don't! You did this!"
"Pen…."
"You brought her out with us, you agreed."
"We were trying to keep her safe."
"You brought her out there, into the fight. You did."
I ventured: "We all did."
Tristan said, "it's on me. I didn't want any of us split up."
Penny shook her head. Her eyes and nose leaking, her lip trembling: "No! No, I can't trust anybody. But you were her father, George. You were meant to keep her safe, you were meant to keep her safe. But you couldn't protect her like you couldn't protect Ellie. You can't be trusted with daughters, can you? You can't be trusted with the care of daughters."
And so I learnt that Penny and George had had another child, and she was no longer with them. My imagination supplied some options for what must have happened to her.
"I'm sorry," George murmured.
"We're all sorry," Penny shot back, "but how can you be trusted?" The logic didn't jar in her ears, and the words just rolled out of her, all tangled and grief-fuelled. "This is the problem, this is the problem. If I leave them in your care, I lose them," as if the sound of her own voice was a lifeline, as if it drowned out the full force of the loss, "I can't do it any more George, I can't, I won't, I won't." She reached out for Todd, "We're going our own way. There's plenty of space, we're taking our share and we're going our own way." She looked around at us all as if challenging us to stop her.
That night she packed up a share of the food and supplies, and she dragged Todd away to a separate dorm. She said he was safer with her, and she didn't want George and his buddies to taint her last child, her last hope.
"She's unstable," George murmured.
Tamsin said, "But what should we do?"
"Leave her."
"And Todd? But we're safer together."
"They're just over there," Tristan said, "we can keep watch over them. Just for now. Just until… I really don't think we can get her to behave rationally right now. There's no point in fighting it."
"It's not George's fault."
"I know that."
"Or even yours."
"Well…"
"It's not."
"It doesn't matter. We can't coulda woulda shoulda Dinah back to life. And we're only going to get Penny and Todd back over here by dragging them. It'll only make things worse."
Tamsin insisted, "it isn't George's fault."
"I heard you the first time."
"So why's he letting her beat on him with this?"
George was right there. He said nothing, he turned away.
"Let it go." Zara murmured.
Tamsin stared at her.
"You can't tell them how to grieve."
"Fine." She walked away. She sat outside, and after a while I could hear her sobbing. She had handfuls of her hair clasped in her fingers and her head buried between he knees.
Greg started to say something to Tristan.
"She's just a kid," Tristan said, "what do you want from her? A rational response to fucking that!?" And he gestured towards our fresh graveside, our sad little wooden cross. "It's not going to happen. Just leave it, okay, just leave it."
Ours was an awkward vigil of silence, borne less of intent, than of words having run out, and none of us knowing what to do next with ourselves.
#
The gum-cave got a burial of its own. Since we knew fire was out, and we didn't have poison, and didn't know what would work if we did, burial seemed like the only option. We hoped the cave was all dead, inanimate stuff, but it wasn't. It rippled and rolled, it reared some tendrils in defence of itself. We braced for more spiders, blades ready. But we seemed to have taken out the last of those, at least for the moment, and for the immediate vicinity. The sun was high in the sky, it was filtered by a thick canopy, but it was murky here more than it was truly dark.
We stamped down the earth, and looked around at each other.
"That's it." Tristan said.
I said, "looks like it."
Tamsin said, "I guess Penny didn't want to help, huh?"
"Don't." Zara soothed, "She won't leave Todd. And she can't bring him out here, back to this scene."
"George is here."
"Somebody had to stay with Todd."
Tamsin pressed her lips tight. Her face fought against caving in. She didn't want to acknowledge the logic. She'd chosen a side.
I pulled Zara against me as we headed back to the camp.
She said, "if this fuckery had happened ten years later, that could have been a kid of ours."
"Don't go there."
"I know. But it could have. What if you get me pregnant?"
"You've still got that thing in your arm."
"For another two years."
"It's got to be over by then," I felt my arm tighten around her shoulders. "We won't still be living like this in two years. We won't be. This world has gotta get back on track."
Zara buried her face in my sleeve. Her forehead dug into my swollen, aching wound, but the pain was cathartic. "Yeah, right," she said, "yeah, because that's going to happen."
The camp, up ahead, green and sunlit, felt suddenly alien. Something of a sense of being family had eroded, was still eroding, and the future hung by ever-fraying threads. I don't even know if I knew what I hoped for. Upside-down. Broken. I noticed the tears only when the first one dripped from my chin onto my collar-bone.
Picture credit/discredit: author's own work