WebWorld (3.2)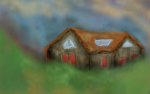 Tue, 03 Aug 2021
There was a tiled courtyard with plants in big ceramic pots. Hopscotch and four-square games were painted across them in multiple colours. There was a mixture of obstacle course with playground set up just behind it, just beyond the long, slatted, wooden benches. A big climbing net with a shallow pond at the end of it opened up the challenge, swing-ropes, up-ended logs. Children swarmed like ants, they flowed over the obstacle course as if they were devouring it. Their sounds carried all through the camp, along the echo of balls bouncing of concrete and wood.
That's what it was like back then, not now.
Now, it was faded, there was stillness and weeds in every direction. There were cracks in the concrete, and the hopscotch was faded just short of recognition. There was an aura of abandonment that swept the whole former camp. But what there wasn't – and this was key – was almost any sign of gum.
We emerged from the main hall with a healthy dose of trepidation – who knows what we might find out there? – with knifes stuffed into the back of our jeans. The day was chilly. It's funny, but we had almost forgotten the seasons while we'd been trapped in the city, with the ground looking like midwinter and the vegetation strangled. But out there were signs of early spring, there was a clump of daffodils, and a tree sporting white blossoms.
Zara pointed it out.
"I think it was a plum tree. Actually, yeah, there were a few plum trees. They were absolutely chocka with plums too."
"Something to feed ourselves on."
"Yeah. Maybe."
"Do you think…?" she was gesturing around at thin screes of gum on some of the slopes, sometimes condensed into ditches or the lee of low hills. It could have been a light frost from the distance we were seeing it at.
"There's not much. I don't think it's close to the trees. Chances are they're safe."
"Well, we won't know for about five months."
We didn't have food for five months – for three people now. I hadn't done an inventory, I hadn't sat down with pen and paper like I was going to do later and worked the figures out, but I was pretty sure five months was at best optimistic.
Think, I told myself, was there a vegetable garden. Did the camp keep bees or chickens or… anything…?
But this was promising. I told myself not to go looking my gift horse in the mouth. There was a dandelion by my feet which I picked up and presented to Zara like it was a diamond ring. She let me snag it into her hair.
Tamsin was inside, sleeping. She was still hurt. She must be grieving. Probably traumatised – why not? I felt traumatised – and I wanted to do this, just me and Zara. Get our bearings, get our facts straight, before we started trying to work out where Tamsin fitted in with everything.
"Of course, we have to keep her," I said, as if she were a stray dog.
Zara raised an eyebrow.
"Well, you know, keep her with us."
"She's just a kid."
"Sure. Yeah. It's just weird, having someone else. And I don't know…"
"What to say to her?"
"Something like that."
"They would have killed her. Left alone to it."
"And us," I said, "Once they took our stuff. The one I shot in the face, I think he would have done it just for fun. He told me, actually, at the time. He told me that he was enjoying this whole world-coming-to-an-end business. Like he'd been waiting for it all his life."
"It's a thug's paradise."
Out beyond the obstacle course there were playing fields. A block of toilets and changing rooms, some storage sheds, and the building where staff and camp leaders slept separately but within reach. It was all coming back to me now. I remembered that there had been a bar in that adult section. Us kids, of course, very strictly not allowed in there. But I could remember a time when some of the older kids – older, maybe twelve – had planned to break in there and steal a couple of bottles while we were all out at the river eeling.
"Oh, that's right," I said out loud, "there's a river just through the trees."
"We should check that too," she sounded apprehensive.
"Okay, buildings first though. We should map stuff."
Stepping into the buildings was a bit of a leap of faith. It meant walking into semi-darkness and not knowing if something life-threatening right be just behind the door. I'm not saying I'm a fan of horror movies or anything, but I've seen a few here and there. Enough to know that the guy walks into the building, he's careful, trembling, panting a little bit, he's looking every which way, but the zombie/psycho/monster still leaps out and sinks its teeth in before he sees it coming. They're always quick.
But what we found was emptiness. Abandoned shower blocks and toilets, damp but not especially dirty. Abandoned sheds full of tools. Beyond one of the sheds was the garden I'd been trying to remember the existence of. Seeing it didn't bring back any memories, so perhaps that was just a part of camp I'd never paid much attention to. It was entirely overgrown with weeds and thistles, and incongruously with big red poppies. But there were still a few vegetables indicated. Not too much had survived the process of going feral, but there were signs that maybe some brussel sprouts, some carrots, some blackberries, cabbages, beans might still be growing, enjoying their years without captivity. Maybe we could bring all this back to life?
What we found was emptiness. Until we reached the staff barracks. It was silent there still, and there was no movement. But dried muddy footprints that couldn't be ten years old caught my immediate attention. I brought my finger up to my lips in a 'ssh' motion as I looked back towards Zara. She nodded. She followed at my heels. We were constantly waiting to be startled by something. A cat? A rat? I found myself thinking that – for some different reasons – I wasn't sure I could bring myself to eat either of those.
In one of the dorm rooms we found unmade beds. There was a sweatshirt lying on the floor, and discarded chip packets, muesli bar boxes. A pair of rolled up socks.
I picked up one of the chip packets. Sweet, sticky ribs. It was a new flavour – relatively new, and I turned it over to find the expiry date. There was nearly a year to go. This was recent.
Four of the beds had been slept in. Little else had been disturbed. There was no sign of a struggle, no scuff marks, no traces of blood.
"But where did they go, then?" Zara looked at me.
"And why?"
"And are they coming back?"
"Well, maybe, if they're going looking for supplies or something."
"Maybe."
"And they might or might not want to kill us if they do return."
"Or they might or might not have already been killed out there."
"This brave new world sucks."
She grinned at me. There was something about a crisis, about a near hopelessness that brought that out in her. It made me want to scream sometimes. Try to be scared. Try to be at least worried. But she just said, "and then some. But at least it's not dull. Well, maybe I could use a bit of dull. I just don't know if we'll get it."
"We should… fortify…or…"
"Set traps?"
"Sure. I don't suppose…?"
She shook her head. "Not really."
"Ditto. I mean in theory… if we were playing D&D or something… No idea in real life."
And anyway, some hapless family, as wandering and desperate as us comes along and steps right into some pit trap or swinging log trap… That was always going to be the trouble. Distinguishing friend from foe.
"We should at least know our escape routes, and have weapons and stuff where we can reach them."
"And things that make loud noises if a main door gets open."
I forced a grin. "We're pros." I put my arm around her shoulders, squeezed her, pressed a kiss against the top of her head. I felt weirdly like crying, and I thought I saw a glimmer in Zara's eyes too.
Picture credit/discredit: author's own work