WebWorld (3.9)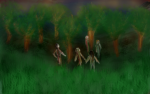 Fri, 13 Aug 2021
It was the long night. The one that seems like it's never going to end. If I thought I'd had nights like that before, this night was proving me naïve and ignorant. I still think it must have been the longest night of my life. Longer than the night before we made our escape. I felt as if the sun might never rise. We were all camped out in the common room, swathed in blankets and nobody sleeping, not even the kids.
We kept weapons to hand. And we twitched and turned at every small noise.
Penny rubbed the back of Todd's shoulders now and then, giving and receiving solace in the same motion. George rubbed her shoulders in a way that mirrored that.
Dinah was sitting on Greg's lap, and she was listening as he spoke in a quiet voice. I could catch a few lines of it every now and then. The latest instalment in the 'Adventures of Sir Wildenvog of Kepthilia'. Wildenvog, I'd learnt, was one of Greg's D&D characters. A brave paladin, apparently; but the stories had moved beyond the game exploits, as Wildenvog went further and further from his home. "…came to a city that was all sheathed in darkness… a beautiful maid… promised that he would free her in exchange for the jewel… moving through the water not-quite silently, but he could hear the gurgle…"
I was on the cusp of reminding him not to scare her, but I saw that she wasn't a bit scared; she lapped up Greg's stories. And I could see from that tired smile that slid over Penny's lips, that she saw this too, and was grateful for it.
Todd said, "But they can't get in here, can they?"
"No, of course not," his mother assured him with too little thought.
"Not," said Tristan, "unless they have opposable thumbs, or claws like razors, or they're the size of elephants and have bigger tusks."
Todd's brow knitted.
"Which they don't."
"Oh. What are they then?"
"Well…"
"Then how do you know?"
"We got a look. Enough to see that they weren't much bigger than us, but that they weren't people. And since only people have opposable thumbs, and since elephants are way bigger…" he spread his hands as if to prove: there, my argument explains itself.
"And razor-sharp claws?"
"I didn't see any. Zara, did you?"
"I don't think so."
"Nate?"
"Nope. Couldn't see that." Nor could I see not-that, but while Todd and Dinah were amongst us the answer was no, no big scary claws.
Things went bump in that night. There was a spell of ten to twenty minutes when we could hear something out there, moving around, it had a kind of slow, bipedal feel to it – or maybe our fears and expectations did that – and a deliberateness. As if there were soldiers moving in, scoping the place out, quietly and efficiently surrounding it, and then on the signal…
We held our breaths, weapons to hand. Even Greg's story fell silent. And we listened long after the sounds had died away.
"That wasn't anyone's imagination," Zara said, "they were out there."
"But looking for us?" Tamsin asked.
"We don't know. Maybe just moving around." I wanted that to be the case. But we'd been attacked. What seemed like years ago but had just been a couple of months. And stories, always stories, of the dead found sprawled and eviscerated, maybe eaten, maybe just torn.
Tristan said, "Well, we have to hunt them down."
"Okay. But not at night. No way at night."
We agreed on that. And we agreed to sleep in shifts – or at least try to - for the rest of the night and halfway into the morning. Then we'd talk this through, make a plan, and we'd hunt around midday, in the broad, reassuring daylight.
"All of us," Tristan said, "we need to stay close."
#
More guns would have been better. A flame thrower would have been disastrous. An atomic bomb was mostly just good fortune that some government or other hadn't dropped on us all by now. A few AK47s or a couple of Uzis would have been handy.
Since we had none of that, not even a chainsaw, we counted Zara's bullets – we had seven – and we gathered together bladed weapons – an axe, a machete, a couple of kitchen knives, a weighty meat cleaver.
"Dinah's only six," Penny demurred, "I'm not sure about this."
Tristan took a stand, "We can't split up. It's daylight, it's comparatively safe, but look, you can't leave her and Todd unguarded back here, and we need all hands, we're safer in one big group."
"He's right," George said.
I did, I think, agree. Of course, it all comes flashing back now, those words before that hunt, and the possibility that things might have turned out differently. Hindsight can fuck you up. That's the truth of it. Hindsight can make you want to turn around and start bashing your head against a wall. And you know what? We didn't have that at the time. All we had was something that could vaguely be referred to as a plan, and as much bravado as we could talk into ourselves.
Armed with that and gardening, cooking tools, we set out.
#
It was a short walk. We knew where we were going. We got to the area. I had this weird little daft hope that we'd get there and find the stuff just gone. It was stupid, but I think it must have gotten pretty thoroughly into my head because I felt quite crushed when I saw it, all tangled and bulging. There were two flower-like growths, striated with rich green and purple shades. Something clear and thick still coated those, it was half-dried, and had a faint sheen to it. Greg approached one slowly, reaching to touch it with one finger, pulling back something that was tacky and stretchy.
Amniotic fluid, I thought. And once that was in my head, and the imagery of a womb, it gelled there. I took the kitchen knife in my hand and walked over to the intact puffball. It was now. I waited as the others crowded around me, and then I slowly slid the blade across the surface. It was tougher than I had expected, and I had to press hard, to saw at it before it would yield. The surface puckered like chain mail, closing in on itself to keep my blade away. But it did open up, and something lumpy and watery trickled onto the ground. The left half of the puffball collapsed and something hit the grass with a wet squelch.
We all crouched down.
It should have leapt up and attached itself to one of our faces. In any decent horror movie that's what would have happened. It couldn't. It was either dead or not yet alive enough. Whatever it was, it was the size of a small cat, but insect-like and clearly some distance away from being fully formed. An embryo of whatever was out there, and all I could make of this creature was that it looked like a wet hacky-sack, but with a light covering of grey, tufty fur, and with legs that were yet to properly differentiate from each other and instead curled in on themselves, a kind of mess of still-forming limb. When I picked it up it felt like lifting a wheat-bag coated in slime.
"This is it?" I wondered.
"It's a baby," Dinah whispered.
Her mother put two very firm hands on her shoulders.
Tristan said, "well at least it seems to be dead." But raised his machete and cut it in half all the same. A lumpy, clear fluid seeped out of along with some fibrous threads.
"Okay," George said, "Well Mummy and Daddy, and a bunch of aunts and uncles are still out there somewhere. Unless they migrated out of here." There was a definite lilt of hope in his voice.
We should be so lucky.
Our luck. It doesn't run that way.
Or maybe it does, since we've lived to tell.
Most of us.
I crushed the putative legs with the heal of my shoe – a pointless action that never-the-less gave my mood a small boost – and looked into the murky forest. "We may as well get on with it then. Let's all just stay close please, just because they like the dark doesn't mean they won't fight back if we corner them in daylight. And it doesn't look like they turn to dust in direct sunlight either," vampire bugs, worth a shot, "so we'll probably still have a fight on our hands. So: numbers."
"What he said," Tristan's voice was somewhere between encouragement and an all-out smirk. Were we competing now for alpha male?
Greg and George didn't seem much interested in throwing in their hats.
Penny was saying to Dinah and Todd, "stay behind me please, if anything happens."
There was a trail of sorts to follow. Not a great one. And that was exacerbated by the fact that none of us were hunters, and didn't know how to track game. Never-the-less, there was some hint of broken twigs and crushed grass that led us further into the woods, and down into the crease of a hill. The canopy closed in around us, and I was just beginning to think, hm, it's actually starting to get a bit dark in here… when something moved. And whatever it was, it moved quickly. It shot between a couple of tree-trunks. And then there was movement from the opposite direction.
Zara called out, "They're here."
"All around!" Tamsin yelled.
And she was right. Hidden amongst trees and bushes and tall grass, amidst low branches, these things were moving. And they gave up any interest in stealth once we started shouting. They moved in on us, multi-legged, hairy, with a bulbous torso and seemingly no head. Not quite as tall as a man, but wider, thicker, muscular.
Zara turned around and fired two shots. Something that had come skittering out of the trees towards her now flopped to the ground. A similar creature had launched itself out of a tree just above my head and landed on my shoulder. This was a younger one, it must have been – or chances are I wouldn't be telling this tale now – but it still had a full-on bite. I screamed as its fangs dived into my shoulder, finding bone and sinew, flesh, muscle, blood. I was knocked off my feet and landed badly on one side. There were chaos and movement as more of them came out. I was pre-occupied, wrenching my knife free and then plunging it into the weight clinging onto my shoulder. The knife went deep. I could feel its tip dig into my upper arm. I rolled over, bracing my legs against a tree trunk to pull the knife out again. The creature was moving, it was trying to crawl onto my face. I could see Greg swinging an axe at another, while Tristan came at it from behind with his machete. I heard another gunshot. Another. I turned my face against the ground, half burying it in dirt and leaves, trying to dislodge the thing. My angle was useless, but I swung the knife anyway, probably not doing much more than grazing it. Teeth scratched at my cheek, seeking purchase.
My whole body jerked with the next gunshot. The bullet landed right next to me. It was loud, and the ground reverberated with it. The dead gum-creature fell away from my face. I heard Zara fire once more, a different direction. And then again.
Seven.
I was hauling myself to my feet now, raising the knife in readiness. But there was nothing to attack. There were four bodies, and whatever else there had been was somehow in retreat. I felt a grin start to form all over my face, despite the fact that my shoulder was throbbing and my cheek felt numb and misshapen.
"Well, thank your girlfriend," Zara said a little bit smugly.
But the banter and relief died away a moment later as Penny rushed forward, yelling "Dinah! Where is she? Where's my daughter? Dinah!"
Picture credit/discredit: author's own work