friday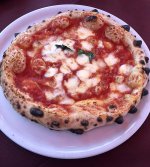 Mon, 08 Apr 2019
1 likes
It's Friday evening;
it's Friday fucking evening! 
Excited chatter slips through 
the gaps in the music
that bleeds from my earphones. 
London beckons;
silver shoes and gold socks,
Leopard print trousers, 
deep red lipstick;
London reckons 
it can cope with you.
I wanted to take a photo,
I love it when people aren't afraid
to go for it. Is there
etiquette around that? It's weird
right?
The chat doesn't die;
I turn up the pretentious 
jazz. Do I even really like
Chet Baker? God, and I bet 
I think I look cool,
Writing poetry on my phone
that doesn't rhyme,
who has time?
Yes, I feel sick too.
This isn't even a poem.
Through the gap between the two empty seats in front,
I see a man wearing brand new shoes,
knock off caterpillar boots,
so new they're still orange.
His jeans have a huge grass stain across them. 
Imagine having such bright, new shoes; not so much as a scuff,
Yet, such grubby trousers. 
I'm squished right in the corner;
plenty of seats but I almost hide,
legs crushed against the cold,
grey metal backs of the chairs 
in front.
It's Friday fucking evening,
but all I want is to hide.
Tonight is dread;
dread of drink,
dread of 
having to think
on my feet
when somebody asks me
anything.
Let me be
so I don't have to be
anything
to 
anyone.
I have nothing to 
give to this scenario.
I am already there, 
uncomfortable;
loud music making it
impossible to hear 
A
Sorry?
No, sorry? I'm not sure...
What?
Figures in darkness shouting increasingly non-sensical words into the dirty furniture; at their empty glasses.
I don't know if I care.
Where are we?
Gold shoes.
Silver socks.
Leopard print trousers. 
Did you have a fun night;
because you really wanted to. 
I just wanted 
a pizza.