The Art of Art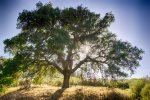 Tue, 05 Apr 2016
At school they made us paint a picture
of a tree...one in our road...in our garden...
in the park.
"Become that tree," Miss said. 
As I recall, I was uninspired, but I tried,
real hard.  Hugged it...stroked it –
even talked to it...to no avail.
People stared, thought I was balmy...
off my trolley.  What the hell was the point?
A tree, is a tree, is just a frigging tree!
In the shadow-lands of now, more than
fifty years on I stand beneath that very tree,
with its green, wet smell.
Marvel at the contours of its bark – how
it had grown.  The noble way it had weathered – 
gathered lichen, ivy and moss; 
home to as many insects and birds
as feathery tufts on dandelion clocks...and got 
an answer to the question I'd asked myself
a lifetime ago.