The Blue Chair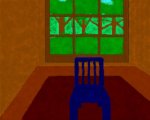 Fri, 02 May 2014
I'm too old to be your muse...
too old to be beautiful, and yet
you insist I am.  
Old, like
the library chair 
with the fraying arm – stands
in the hall by the bookcase.
Remember? We bought it
in Aberdeen; didn't think
we'd ever get it through
our front door, but we did.
I love that chair – it's soft,
and comfortable – holds
me just right when I sit to read.
A beautiful girl you say I am
despite being older than
middle aged...
just back,
from running out to feed 
the newly-hatched chicks...
still in my nightdress, at
half-past midday.